VM Summer Bucket List: Nanaimo, a relaxing summer getaway for families
Guest post by Lillian Salchner.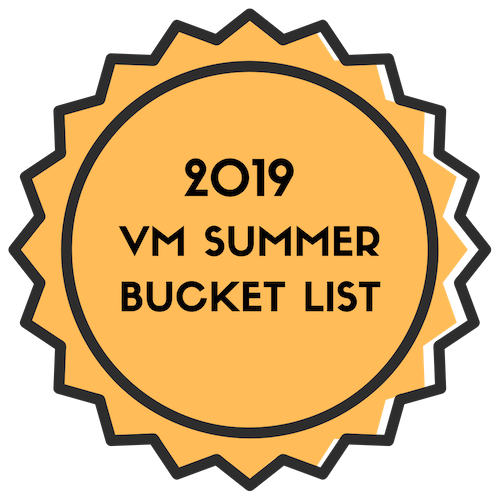 Every vacation warrants at least one splurge spend. An 18-minute Helijet flight from downtown Vancouver to Nanaimo Harbour is just the ticket. If you want to maximize your precious vacation time while minimizing the hassles that come with getting to your destination, this is the way to go.
Our sunset pass over Stanley Park and the breathtaking view of the North Shore Mountains and Salish Sea, made me wish we could linger just a little longer in the sky.
First Helijet ride!
It was the children's first helicopter ride. Were they excited? Do kids like to push every single elevator button? You betcha. The coin-operated helicopter kiddie rides at the shopping mall were no comparison to the real deal. Even though they were sugared up after raiding the complimentary snack bar in the departure lounge, they fell bug-eyed quiet once they set foot on the helicopter pad. Still, I was afraid they would pee in their pants or start kicking the back of the pilot's seat. An empty barf bag is always a good day in my book. Thankfully, the children's lunch stayed put in their bellies as we watched the tarmac suddenly fall away beneath our feet.   
Did you know you can fly to Nanaimo Harbour in 18 minutes via Helijet?
On board, the children wore headphones to protect their little ears. My son thought it was cool that he could tune mommy out at the same time. A flight attendant helped the kids with the five-point harness seat belt. When she hopped into the cockpit, I realized she was one of the pilots. Having travelled up north in bush planes, I was always relieved to see my pilots with a little bit of grey hair. It hit me that I was guilty of gender bias and ageism. My kids were too young to know any better and I hope this experience gets them used to seeing women in non traditional roles.
The only disappointment about our flight was it was way too short! I wished I could have savoured the moment for just a little longer. Try wrapping your head around this fact – the 60 km distance from Vancouver to Nanaimo by helicopter takes almost the same amount of time sailing across Burrard Inlet by Seabus. With a jumpstart to our weekend getaway, we wasted no time in checking out the Bastion, an 1853 wooden tower kitty corner from the Coast Bastion Hotel. It was the perfect location to soak in the view of the city's pretty harbour and explore the Old City Quarter.
Wildplay Elements Park
From a bird's eye view in a helicopter to a squirrel's eye view, we cranked the thrill factor up a notch at Wildplay Elements Park. Outfitted with safety harnesses attached to a line, we navigated all kinds of cool obstacles high above the ground. Not only did it deliver an adrenaline rush, the kids had to problem solve their way through the obstacles. Log ladders, ziplines, cargo nets, rope swings, and wobbly bridges were just some of the suspended surprises we faced and conquered.
Cultural outings in Nanaimo
A visit to the Nanaimo Museum was just what we needed after the exhilaration of hanging 15 feet above the ground. The museum is a showcase of Nanaimo's rich history and culture. From a replica coal mine, a turn-of-the-century school room, and a bathtub speedboat, it was a fascinating glimpse into the city's past. We took another step back in time with an outing to Newcastle Island. A 6-minute ferry ride from downtown Nanaimo transported us to an one-of-a-kind rustic island park. We stumbled upon old coal mines and villages of the Snuneymuwx First Nations.
The children kept themselves busy as they hunted for slugs, crab, driftwood, and seashells along the numerous beaches and hiking trails.
Retail therapy Nanaimo style!
Nanaimo is a great destination to indulge in a bit of retail therapy. The museum's gift shop beckoned as did Hill's Native Art and the Nanaimo Art Gallery. Edible pleasures were aplenty in the Hub City. Gina's Mexican Café with its tasty salsa and chips did not disappoint. If ice cream and other sweets are an essential part of your family's escape plan, look no further than Cold Front Gelato and Mon Petit Choux on Commercial Street for your sugar fix.
There's more to Nanaimo than bathtub races, those gooey decadent bars, and the Departure Bay ferry terminal.
The Harbour City may not be an obvious choice for a short vacay and it often gets overlooked for places like Victoria and Tofino. However, we soon realized it was the perfect spot for our family to chill out and enjoy an authentic local experience. We've witnessed how the 100 Mile Diet has galvanized the local food scene. Why not take it a step further and check out the beautiful trails and beaches in our own backyard? You can go big or go closer to home and unwind in our very own oceanfront playground. You can't go wrong with Nanaimo – a home away from home.
This post is sponsored by Tourism Nanaimo, and written by the winner of our Spring Break getaway contest Lillian Salchner who travelled to the Harbour City and wrote about her experience.
Tourism Nanaimo represents the interests of tourism stakeholders in the region of Nanaimo, BC., located centrally on Vancouver Island. Through inviting travellers to experience its coastal destination, Tourism Nanaimo drives the benefits of the visitor economy for all residents of British Columbia. Tourism Vancouver Island is under contract with the City of Nanaimo to deliver destination management services as Tourism Nanaimo. Tourism Vancouver Island is a not-for-profit organizations and one of five regional organizations working with Destination BC to drive tourism in BC.
Vancouver Mom
Would you like to write for us? We welcome well-written guest submissions with a local interest slant. Share your tips, review local businesses and highlight hot trends for Vancouver moms. Get all the info on our Contributor Page!