Soaring Amidst Nature: Our WildPlay Elements Park Adventure
Ready, set, adventure! A grinning family of explorers unleashes inner adventurers at WildPlay Elements Park, Maple Ridge. With our waivers signed, wristbands secure, and harnesses on, there was no turning back. It was time to experience the world from the treetops!
Wildplay Elements Park Family Adventure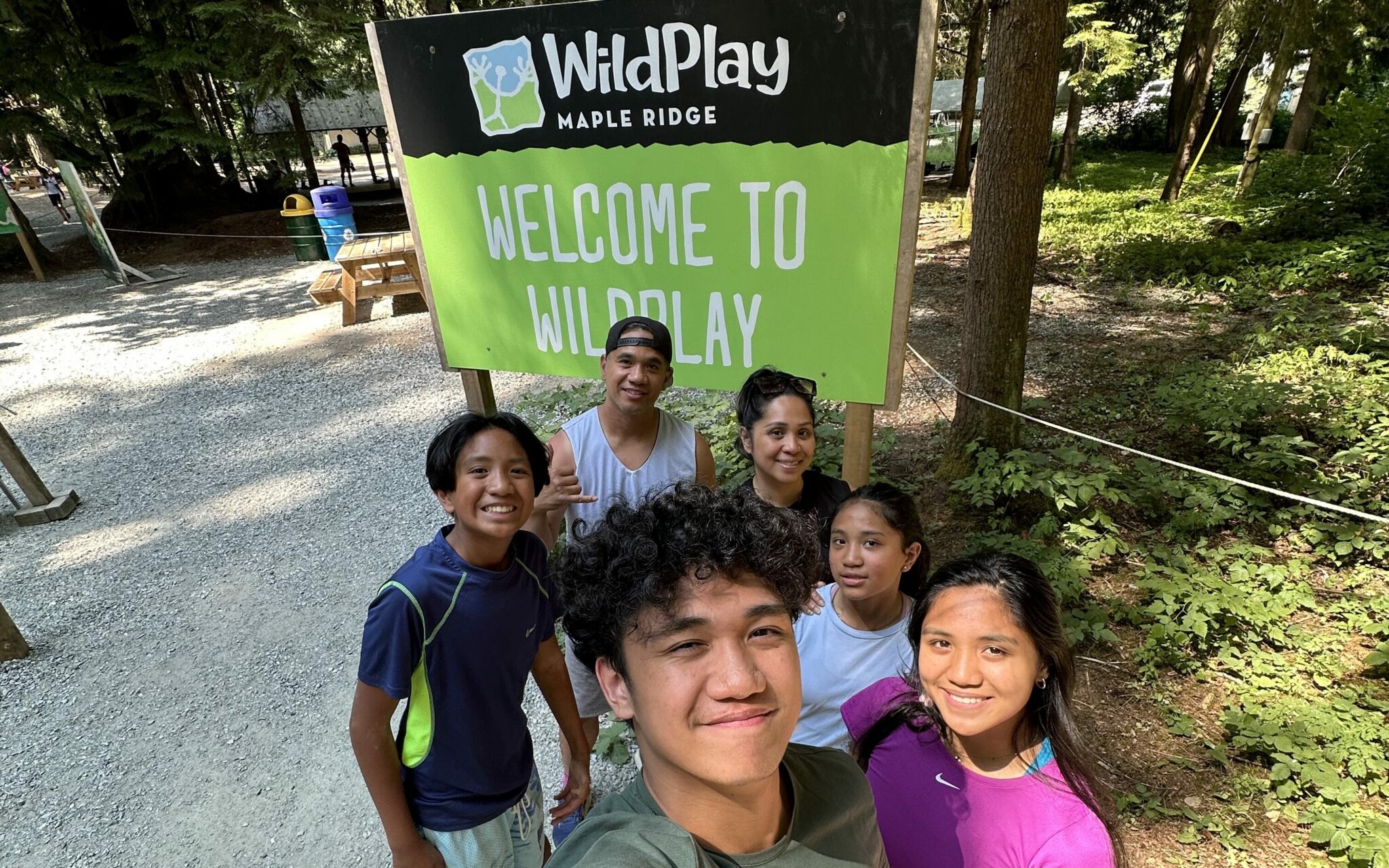 WildPlay Elements Park offers a variety of courses for adventurers of all ages. The park's thrilling Kids Course was designed specifically for young adventurers from 5 years old to 12 years old. Although our kids decided to skip the Kids Course this time, we were impressed by its setup, tailored perfectly to suit their age and abilities.
As a family, we decided to tackle the Classic Course together. Geared up, we ventured into the treetops, awestruck by the lush forest canopy. The Classic Course, was an awe-inspiring journey that promised to test our mettle and push us to new heights.
What To Expect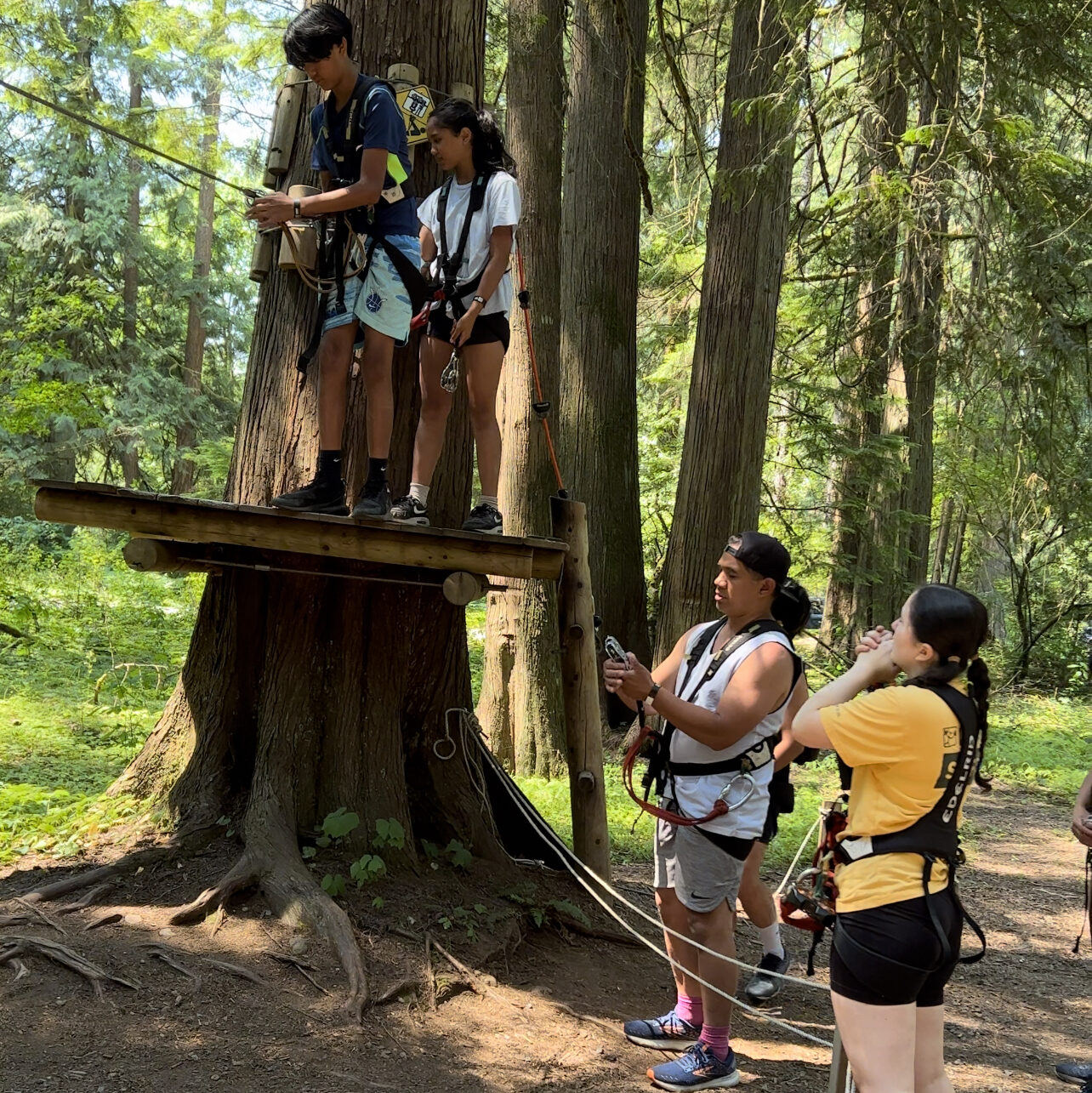 Our adventure began with a comprehensive training session on the ground. Expert instructors guided us through ziplines and the belay system, boosting our confidence for aerial challenges.
With our newfound knowledge, we eagerly climbed up a ladder to reach the starting point of the Classic Course. From there, it was a thrilling and heart-pounding experience as we made our way from tree to tree, traversing an array of exciting obstacles.
We walked across tightropes, testing our balance and focus as we carefully placed each step. Climbing up cargo nets challenged our strength and coordination, rewarding us with a sense of accomplishment at each ascent. Sliding down ziplines allowed us to experience the thrill of flying through the air, feeling the rush of wind against our faces.
The rope swings had us feeling like acrobats, soaring through the treetops with delight. Swinging logs tested reflexes, wobbly bridges called for steady nerves and teamwork.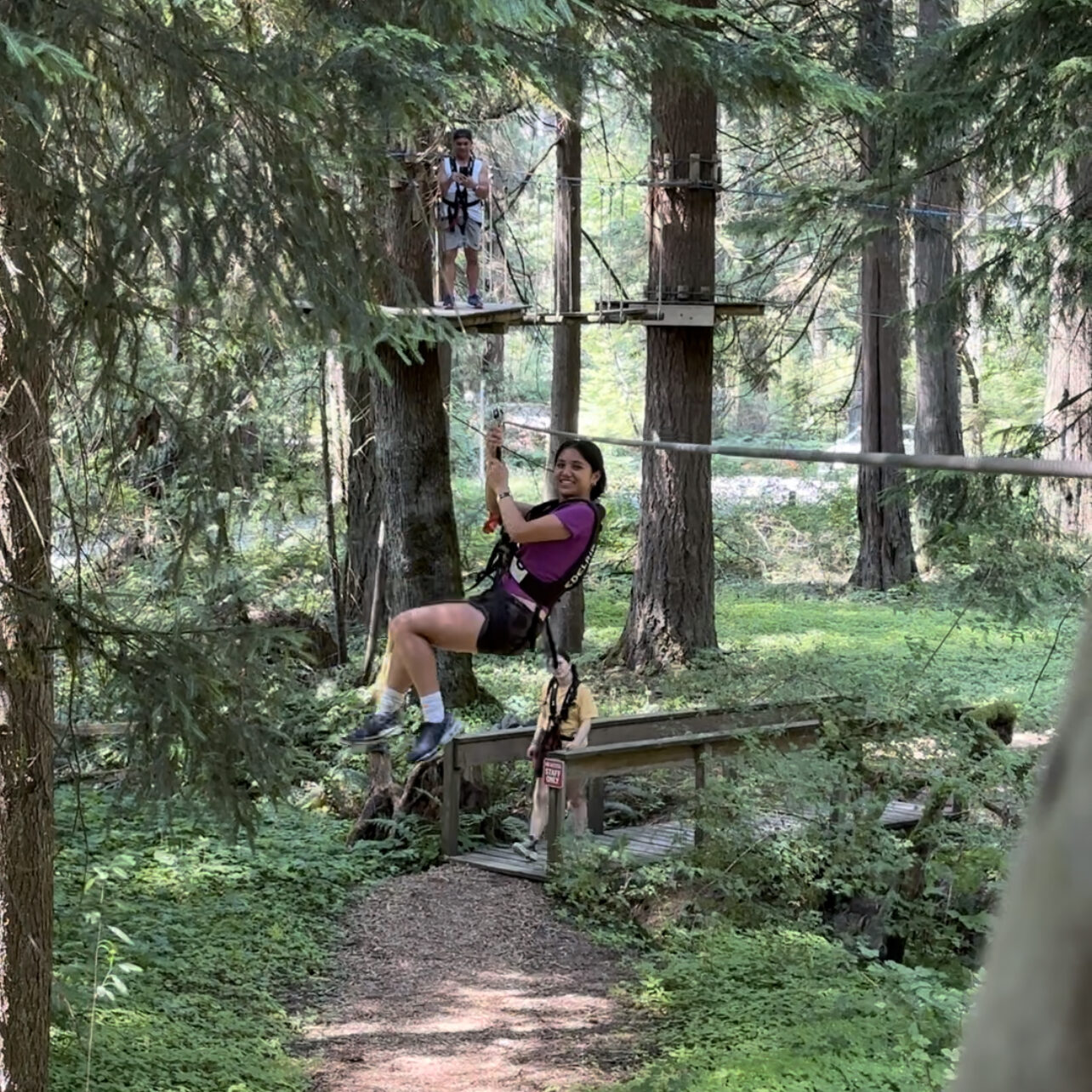 Throughout the course, we were surrounded by the beauty of nature, immersed in the sights and sounds of the forest. The laughter and excitement echoed through the trees as we conquered each challenge together, strengthening our bond as a family.
While we decided to save the Extreme Course for our next visit, the experience was no less thrilling. Observing adventurers, we anticipated our next visit brimming with thrills and heart-pounding moments.
Quality Instructors and Safety
WildPlay Elements Park's commitment to safety was evident at every step of the way. The park's quality instructors were always on hand to provide expert guidance, safety tips, and endless encouragement. Their reassuring presence allowed us to fully enjoy the adventure without worries.
Defy Gravity: WTF Jump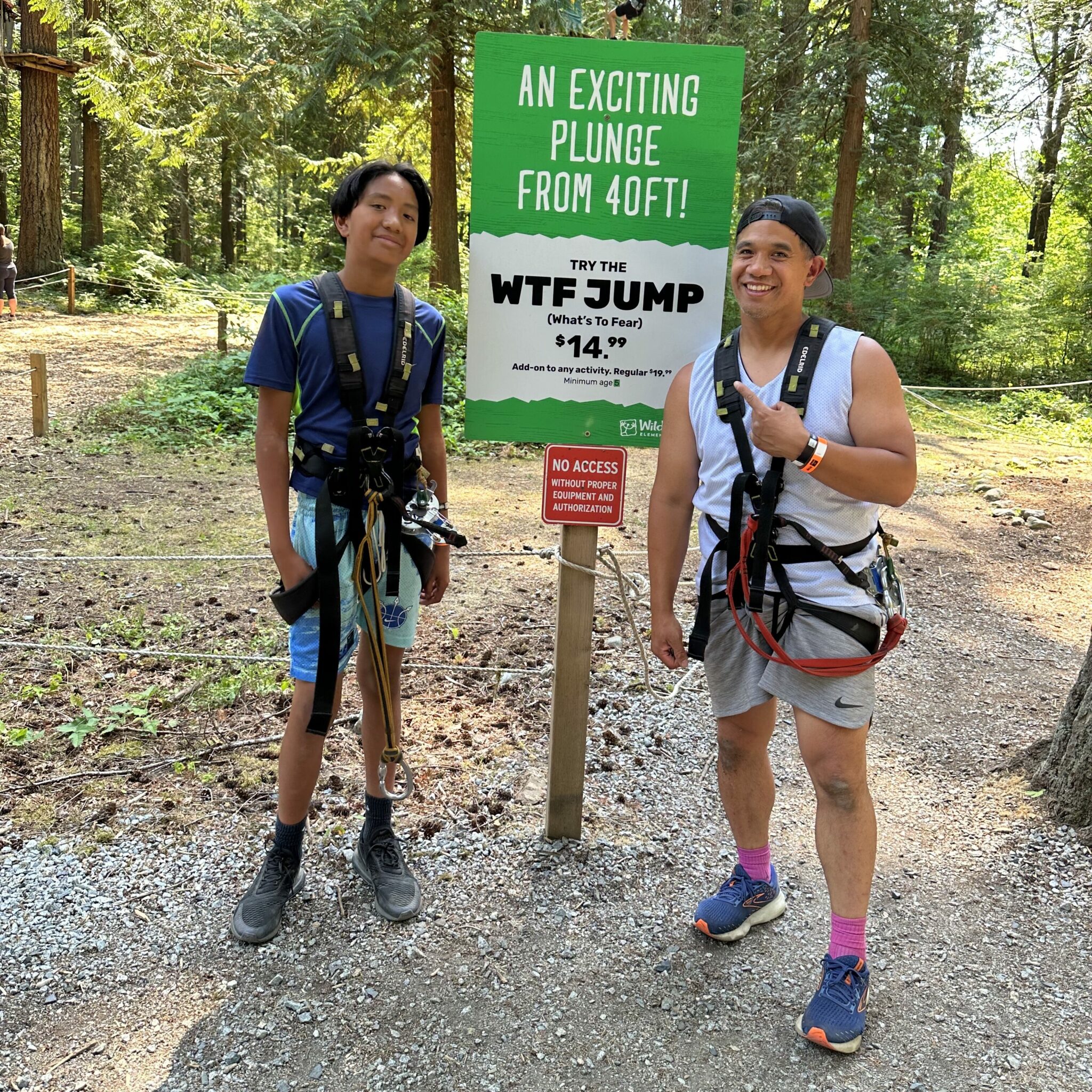 But the real daredevil highlight of the day awaited us at the 40 ft jump called WTF Jump – short for "What to Fear!" This exhilarating challenge involved climbing up a 40 ft rope ladder, reaching a wooden platform where a staff member helped clip us in. Standing at the edge, with the ground far below, we felt an electrifying mix of excitement and nerves.
As my husband and son fearlessly stepped to the edge, ready to take the leap, a staff member shouted out the infamous acronym: "WTF!" The atmosphere was charged with adrenaline as they took the plunge, their cheers of triumph echoing through the park.
Summer Camp Programs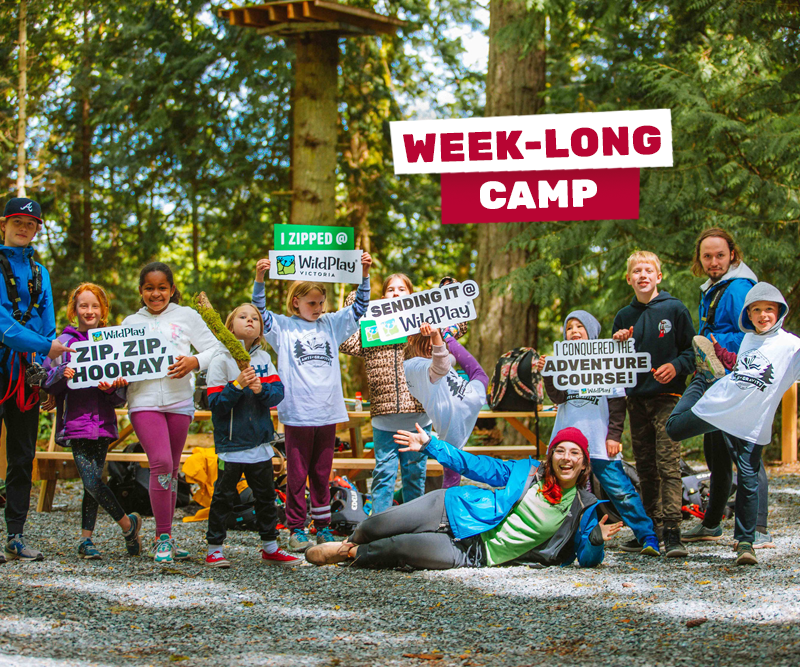 We also discovered about the park's summer camp program called the Anti-Gravity Camps, an exciting opportunity for young adventurers seeking a week filled with fun and growth. With activities like zip-lining, suspended ladders, and climbing trees, this camp promised an unforgettable experience for kids aged 5 to 12 years old.

If you're looking for the perfect summer activity for your kids, there's still space to register for camps for August! Make sure to use the code "VANCOUVERMOM" during registration for an exclusive 15% discount on your entire visit.

Want to know more about Wildplay's Summer Camp >>READ MORE
Also explore their other BC locations in Victoria and Nanaimo for equally thrilling adventures amidst stunning settings
Our family left with joy, already planning our next visit to WildPlay Elements Park. It's a place where thrilling adventures and cherished memories come together in the lap of nature.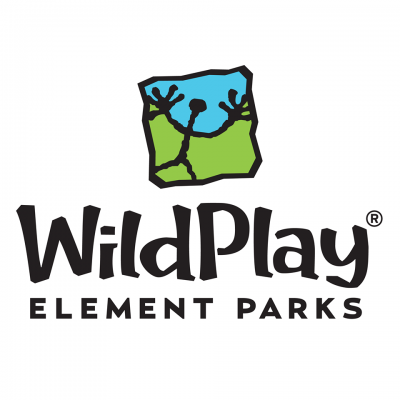 WildPlay Elements Park: Your Thrilling Outdoor Adventure Haven in BC! Zip, swing, and soar through breathtaking courses for all ages. Safety-first, fun always!