Metro Vancouver polar bear swims + pro tips for first-timers
Nothing cures the hangover of the Christmas holiday quicker than jumping into frigid water for a New Year's Day Polar Bear Swim. Here are a few swimming events for the whole family, happening January 1 in and around the Lower Mainland and a few tips on how to survive a dunk in the icy waters.
100th Vancouver Polar Bear Swim in English Bay
Join hundreds of other brave swimmers for an invigorating dip in English Bay – a tradition dating back to 1920! In fact, it's the 100th annual event! Highlights include creative costumes and the Peter Pantages Memorial 100-yard swim race. Donations for the Greater Vancouver Food Bank are also accepted and greatly appreciated.
>> Vancouver Polar Bear Swim in English Bay
Penguin Plunge in Deep Cove
Support the North Shore Rescue at this free Polar Bear swim, by having your generous family members and friends pledge your plunge. Prizes awarded to those who wear the best costume during the big dip.
>> Penguin Plunge in Deep Cove
Delta's 39th Annual Polar Bear Swim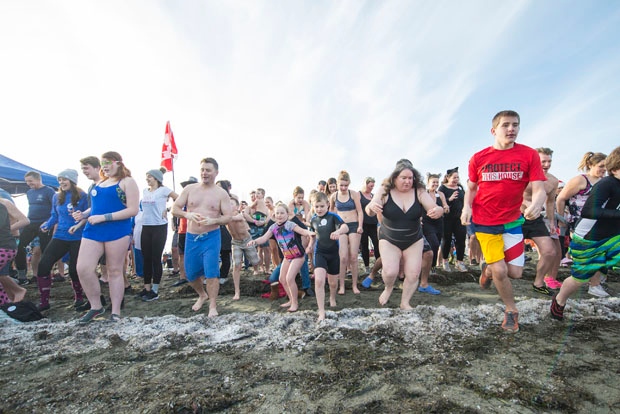 Dive into the chilly Pacific with a few hundred other polar bears, and enjoy a few kid-friendly family activities afterward. Prizes awarded to the top three swimmers. The city recommends wearing swim gear that protects from potential ice in the water.
>> Delta's 40th Annual Polar Bear Swim
White Rock Polar Bear Swim
Unconfirmed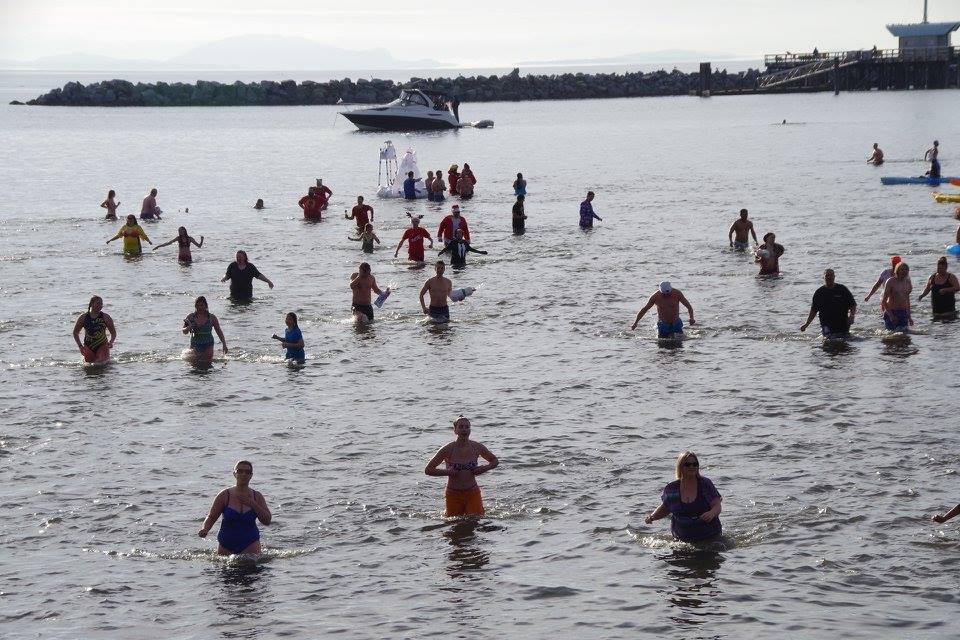 Dive head first into the New Year while freezing your buns off in the Semiahmoo Bay. Warm up afterward with a hot cocoa and a hug from Mr. Polar Bear himself.
Port Moody Penguin Plunge
Come for a quick doggy paddle in the chilly waters of Burrard Inlet; stay for the entertainment and refreshments.

>> Port Moody Plunge
Tips for first timers!
If you're a first-time polar bear, the City of Vancouver offers a few tips on surviving the plunge.
• If you have heart problems, best to stay on land.
• Keep your children close during the events.
• Leave your fur baby at home.
• Forget the flask; alcohol won't warm you up. It actually accelerates hypothermia.
• Because more body heat is lost faster in water than on land, head for shore sooner rather than later (15 minutes max).
• Keep your winter coats and clothing on until the swim starts.
• Warm up with a coffee or hot chocolate afterward.
Banner image credit: City of Vancouver
Angela Robertson
Angela Robertson is a writer, mother of two and classic rock aficionado. She spends way too much money on sour keys, and when she's not spinning her records for her kids, she's blogging about them at Rock 'n' Rattle.