Mornings at my house can be a struggle. Getting two kids under 5, fed, dressed, teeth brushed, shoes on and out the door often leaves me exhausted before my day has begun! I know that my littles thrive on routine and knowing what to expect. To keep momentum, visual cues and third-party reminders (Alexa's timer rather than my nagging) work well. I found some tools to get the kids more engaged with a consistent routine while giving them some independence to manage their tasks. Below are some of my favourite local options for chore charts and kid's calendars.
Local chore charts and kids calendars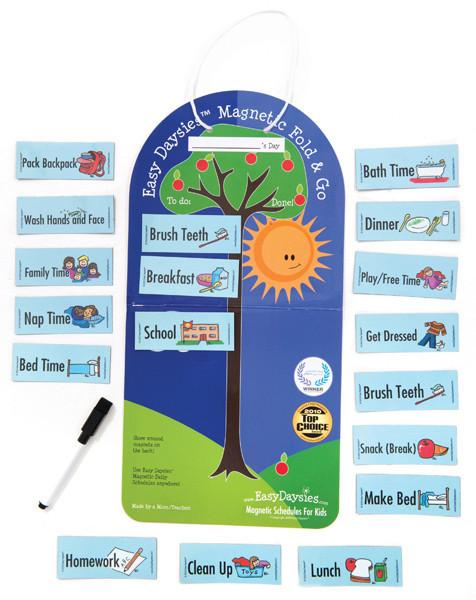 Both founded by Sonia, a Mom in Victoria, who created a reusable chore chart that allows kids to see the day of week, the task and then tick it off as things are completed. These boards are visually appealing and have magnetic backing so can live on the fridge, front and centre. Free printable calendars are also available.
This local company was founded by Elaine Tan Comeau, a Vancouver Mom of three and elementary school teacher. She created calendars for classrooms and at home with durable, coloured magnets, perfects for little fingers. These charts are visually appealing and easy for kids to understand and use independently.
This stellar chart was designed by parents Jayme and Phil Derkson, a marketer and family physician in Toronto, for their son, to ease his transition into kindergarten. This 3-in-1 educational kid's calendar, healthy habits chart, and skill-building game aims to help parents raise resilient kids with tools rooted in education, playfulness and inclusivity.
Founded by Richmond Mom of 2, Steph, these eco-friendly, non-toxic charts use dry-erase or liquid chalk markers to track chores and rewards, so kids have a visual path to success. I love the large space at the top to personalize with the child's name. For younger kids, draw symbols or pictures instead of writing chores.

Jenn Wint
Jenn Wint is a writer, communications strategist and a public relations specialist. She is passionate about storytelling and community. Jenn lives in East Vancouver with her husband, 3yo son and 1yo daughter. You'll find them hanging around Vancouver's playgrounds, water parks, coffee shops and anywhere that bakes fresh cookies in-house!