Family friendly holiday fun this weekend in Vancouver, December 21-24 2019
This weekend marks the final days for some family friendly Christmas happenings including Santa visits, live Christmas tree sales, and the Vancouver Christmas Market. Oh and that little issue of last-minute gifts. Eek!  Luckily, many events go right through the hols and into January. Here are few events the kids will enjoy this weekend!
PS: Have you picked up a Christmas tree or paid a visit to Santa yet?
Family friendly holiday events in Vancouver this weekend
Jingle Bells Night at Lafarge Lake
Friday, Dec 20 2019 Coquitlam
Help set a world record for 2,000 voices singing Jingle Bells at the lit up Lafarge Lake. Multiple caroling groups will be stationed around the lake, filling Town Centre Park with the sound of holiday cheer. Bring their own jingle bells and dress in your holiest jolliest festive duds!
Spot Santa at Seymour!
December 20, 21 2019 North Vancouver
Snap a ski-selfie with Santa on the slopes. He left his sleigh behind and will be travelling around Mt Seymour by snowboard and snowmobile (that's not actually him in the photo above ;-). If you spot him, be sure to snap a photo with him!
Solstice Lantern Festival
December 21, 2019 Vancouver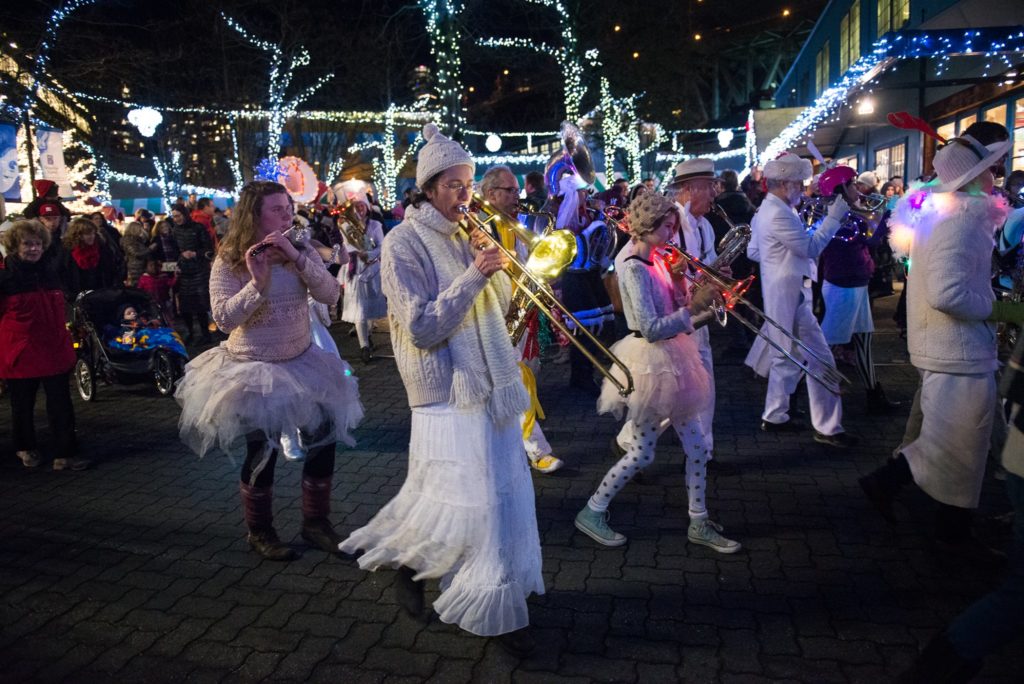 The Solstice Lantern Festival happens in several neighbourhoods across Vancouver at the same time. These festivals use lighted lanterns, beeswax candle labyrinths, fires and the celebration of music, song and dancing to mark the longest night of the year and the coming return of the sun.
Final Weekend for the Vancouver Christmas Market
Ends on December 24 2019, Vancouver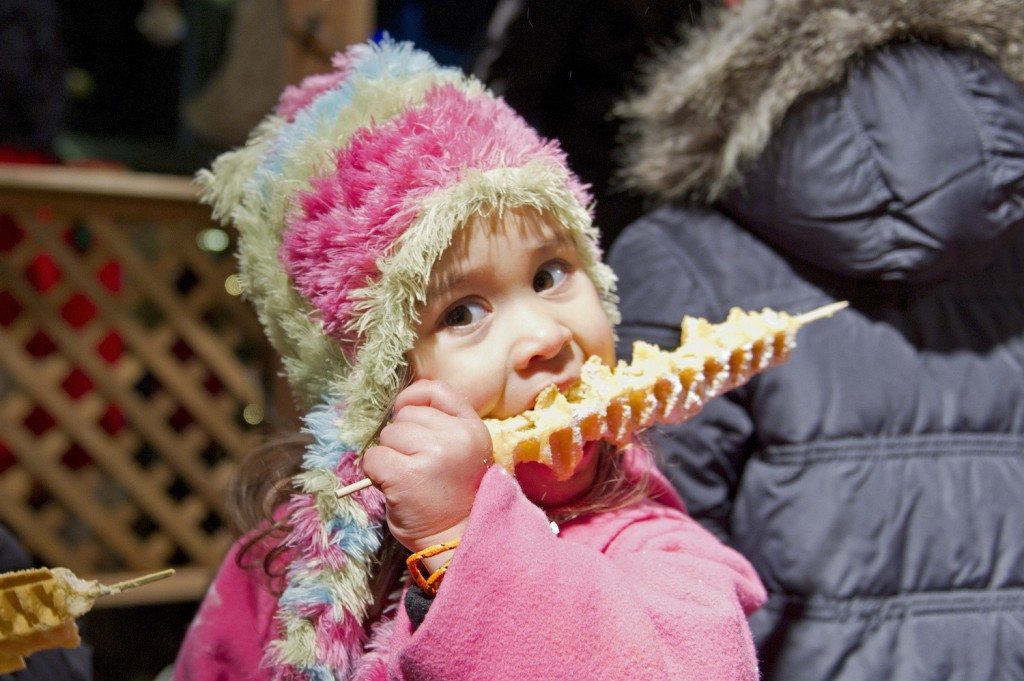 The Vancouver Christmas Market really has it all. Live music, a covered kids play craft area and vintage carousel, delicious food from Bratwurst and gooey raclette to mulled wine served from a backpack! Of course there are loads of instagrammable backdrops including the walk in Christmas tree, the lit tunnel and the stunning frame overlooking the water. Oh and it's a great place for last-minute gifts too!
Final Weekend for the Man in Red!
If you haven't caught him yet, he'll be around until the afternoon of 24th at malls, mountains, festivals and rinks. Catch before he flies off on his rounds.
Holiday Lights!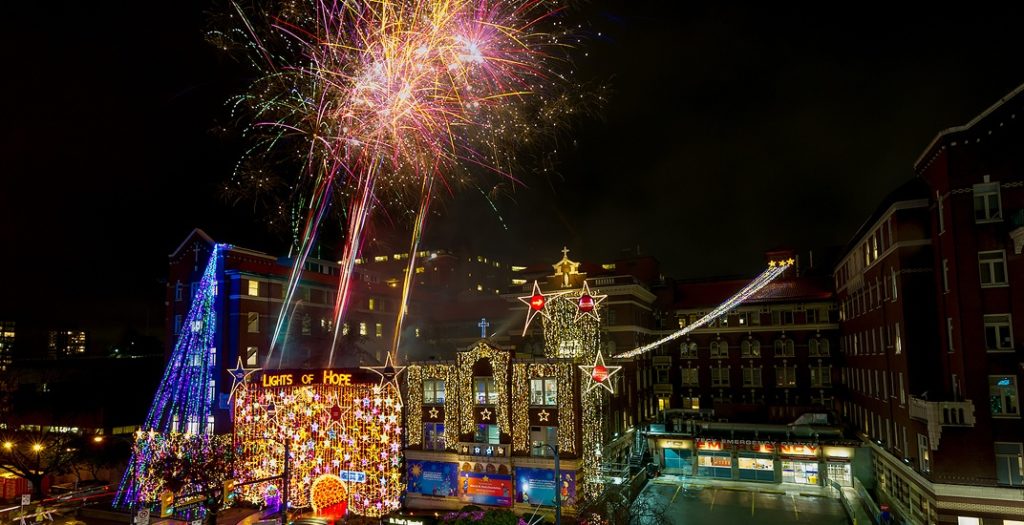 The days are short and the nights are dark. Thankfully, twinkly lights are here to brighten our dark evenings as the holidays approach. Vancouver has everything from jaw-dropping spectacles to flashy neighbourhood displays. Here are a few places sure to light up your night and put you in the festive spirit.
>> 15 dazzling Light Displays!
The Nutcracker, Goh Ballet
December 20-22, 2019, Vancouver
Get dressed up and head to the theatre to see The Nutcracker! Watch Clara's dream come to life as she dances through the Land of Snow to the Kingdom of Sweets and along the way you'll meet the Sugar Plum Fairy, the evil Mouse King, and the Nutcracker Prince. There are more than 200 glittering costumes plus dramatic sets and your kids will love seeing kids their age on stage.
Winter Ice Palace
 December 20 2019 until January 5 2020
The Winter Ice Palace at Cloverdale Arena in Surrey opens this Saturday! It dazzles with lights, decorations, and an old-fashioned pond. Bring your friends and check out the 22nd annual Winter Ice Palace.
Final Weekend for Merry Kissmas – A Royal Romance
Runs until December 24 2019 (with matinees all weekend) Vancouver
This is the time of year when screens large and small are filled with sappy, warm-hearted romantic comedies, and the stage at The Improv Centre is no exception. VTS' holiday special parodies all the inane clichés and tropes you'd expect to see in any popular holiday TV special or film. Suitable for 8 and up.
Oh, and there's more! 👇🏼
Harriet Fancott
Harriet Fancott is the Editor and Social Media Manager for Vancouver Mom. She has over 20 years experience in the arts, tech and mom-based blogging arenas. She lives in East Vancouver with her husband and son where they enjoy exploring all that Vancouver has to offer from festivals and events to playgrounds and beaches to sushi and ice cream (although not together).