Fall for these local pumpkin treats
The pumpkin patches are opening up, the scarves are out, and every second mom has a PSL in-hand. Why not go all out and pair it with a pumpkin bar, bun, cookie, pie or yes, gelato!
Here is a list of the best places in Vancouver to get all of your favourite pumpkin flavoured treats.
Pumpkin treats to fall for
Pumpkin Spice Buns – Grounds For Coffee
Pumpkin spice and everything nice! Pair these buns with a PSL, Grounds style for an infusion of fall flavour. They've got it all!. Think Pumpkin Spice Cinnamon Buns as well as a Pumpkin Spice Latte, Iced Pumpkin Spice Latte, and Pumpkin Spice Frappe. Usually available the second week of October. PS: No extra charge for the Pumpkin Spice icing.
2565 Alma St & 2088 Commercial Dr, Vancouver
www.groundsforcoffee.ca
Pumpkin Butter Chai – Railtown Cafe
Railtown uses it's house-made spiced-pumpkin syrup in their Pumpkin Buttered Chai, using TeaLeaves Masala Chai, grass fed butter, salt, and whole milk. Doesn't that sound amazing? The classic Pumpkin Latte is also on tap this fall as well as individual pumpkin pies and pumpkin spiced softies (cookies)! A pumpkin-lovers dream. 
429 Granville St., 397 Railway St., 968 Howe St. , Vancouver
www.railtowncafe.ca
Pumpkin Pie & Pumpkin Cheesecake Gelato
La Casa Gelato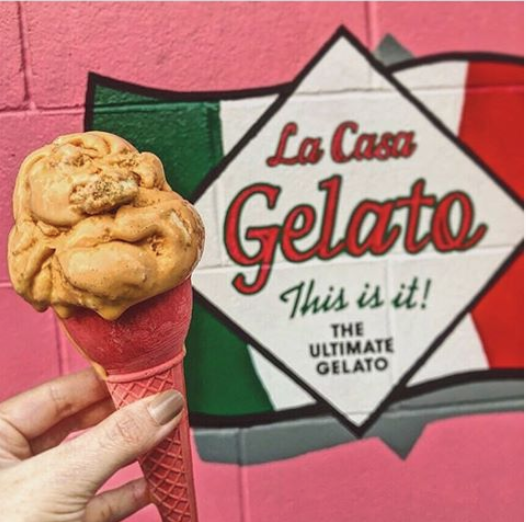 Gelato is the perfect treat for summer or fall. If you want to find the best gelato in Vancouver check out this bright and vibrant shop – they are they only place in the world to have 238 flavours available at one time to choose from. They will have several specialty flavours just in time for pumpkin season — including pumpkin pie and pumpkin cheesecake. Yum!
1033 Venables St, Vancouver
www.lacasagelato.com
Pumpkin Cheesecake Donut – Lucky's Doughnuts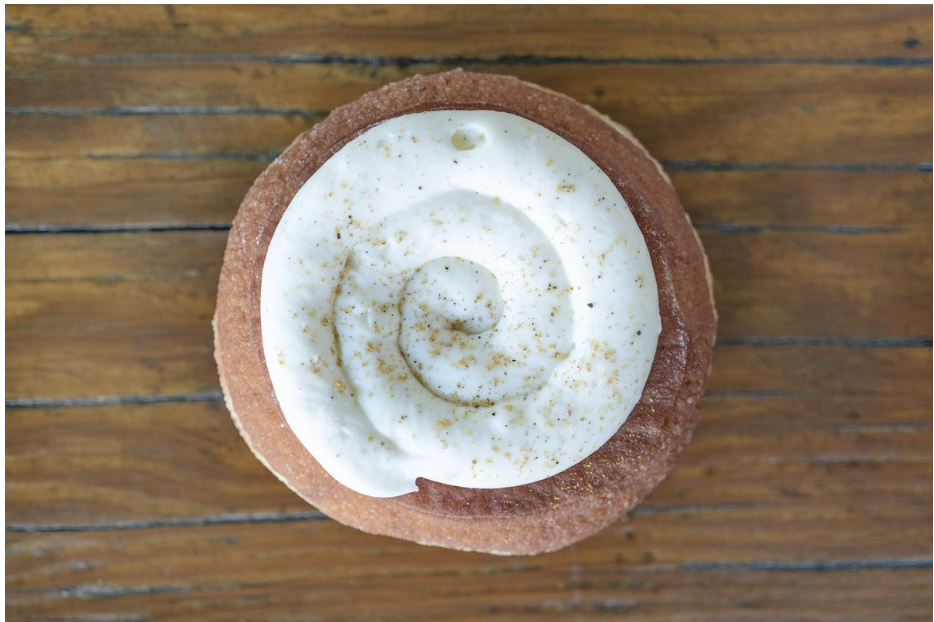 Lucky's Doughnuts are so fresh they are made throughout the day. They offer vegan-friendly and gluten-friendly options. Online ordering available — pick up in store.
2902 Main Street, 689 Thurlow St., 2198 West 4th Avenue
www.49thcafe.com
Macaron – Butter Baked Goods and Cafe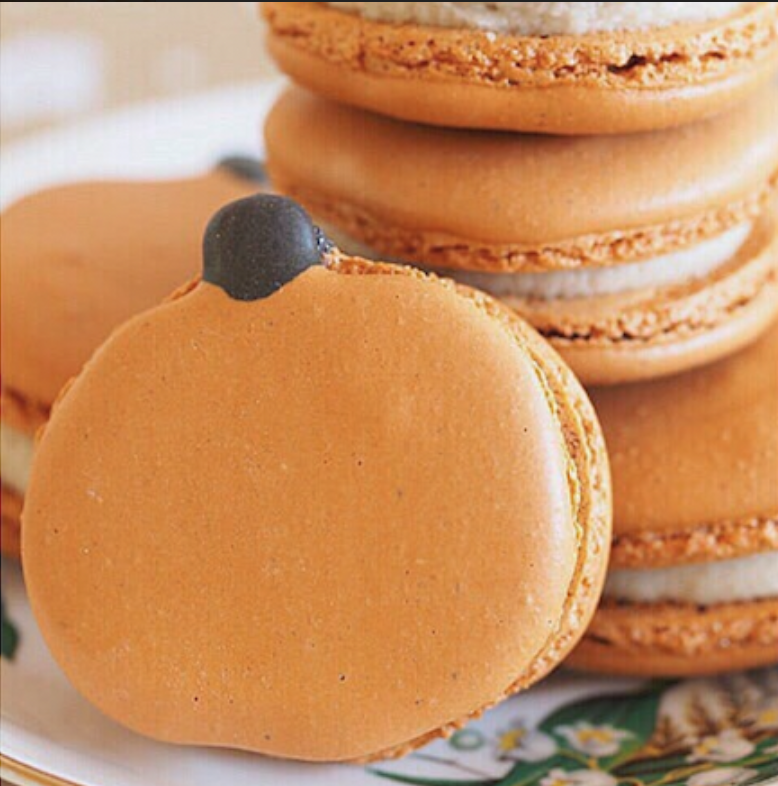 These macaron's are almost too cute to eat! They are beyond adorable, festive and yes — so delicious!
4907 Mackenzie St., Vancouver
www.butter-baked-goods.myshopify.com
Pumpkin Pie Bar – BjornBar Bakery
This North Vancouver bakery has a new online ordering system and is offering a take away service. The pumpkin pie bar is a pumpkin-lovers dream come true.
3053 Edgemont Boulevard Unit 102, North Vancouver
www.bjornbarbakery.com
Pumpkin Cheesecake – Breka Bakery & Café
For all of the cheesecake lovers, this pumpkin cheesecake is a true gem. Breka Bakery & Café has seating options available as well as online ordering and in store pick-up. Or have it delivered to your front door through Uber Eats.
6533 Fraser Street, 812 Bute Street, 855 Davie Street, 821 Denman Street, 3750 W 4th Ave. www.breka.ca/#our-food-selection
Pumpkin Pie – Aphrodite's Café & Pie Shop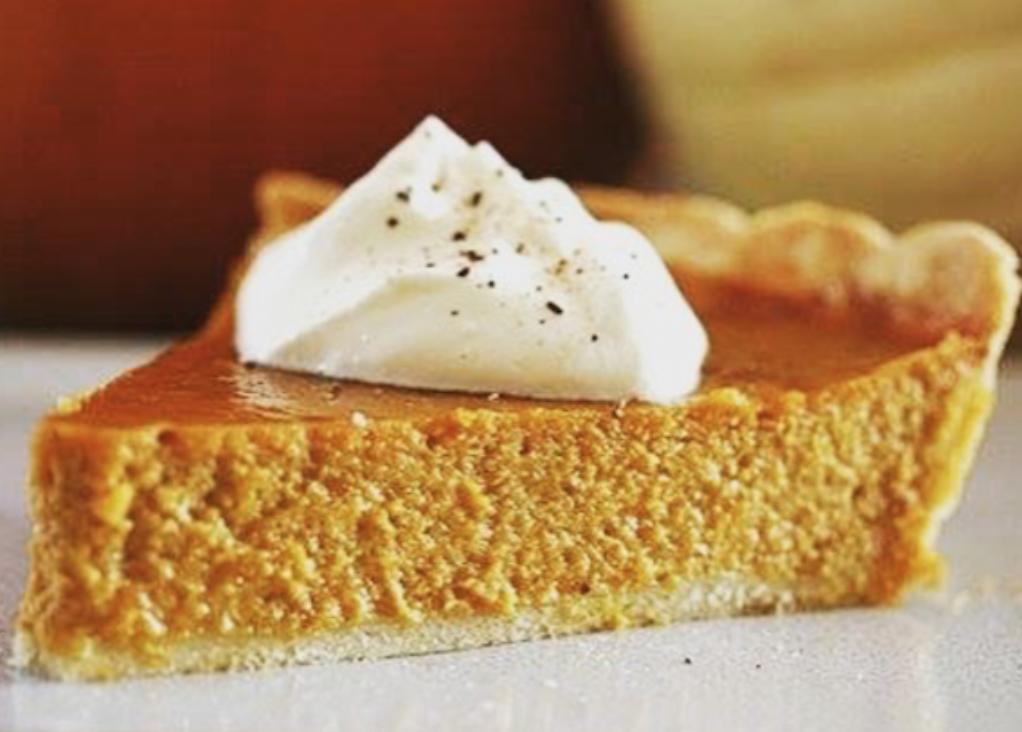 What is fall without a slice of classic pumpkin pie? Aphrodite's Café & Pie Shop offers pie by the slice or if you can't stop at one slice — you can buy a whole pie. You can enjoy it from the comfort of your couch, as they offer delivery services through Uber Eats and Skip The Dishes.
3598 West 4th Avenue, Vancouver
www.organiccafe.ca
Krause Berry Farms & Estate Winery
What's better than regular waffles? Pumpkin waffles! Just a short drive from Vancouver Krause Berry Farms has this perfect pumpkin treat. Delicious!
6179 248 St., Langley
Pumpkin Spice drink – Starbucks
A Starbucks pumpkin spice latte is a pretty classic fall favourite, but if you want to try something different order the Starbucks pumpkin cream cold brew. It is amazing.
Address: pretty much everywhere in Vancouver
Where are your go-to places to get your favourite pumpkin themed treats?
Happy fall everyone!
Kera Skocylas
Kera is a full-time mom with three kids. She lives in the suburbs of Vancouver and recently started Kids Cuddles Coffee, a 'mommy-news' blog. She loves going on adventures with her kids all over the Lower Mainland. She has a passion for writing and the news. Before becoming a mom she worked at CBC radio and at a local newspaper. Follow her on Instagram @kidscuddlescoffee