The Ultimate Guide to Last Minute Santa Photos in Metro Vancouver!
Willowbrook Santa Photo credit: Donna Fenwick
The season of eggnog and holiday lights is here. And, although December came out of nowhere there's still a few things to check off the holiday to-do list. We've got the Ultimate Guide to Last Minute Santa photos in Metro Vancouver.
The Greater Vancouver area has so many amazing holiday events and activities to choose from, where you can get a picture with the big man in red himself. Now, we all know the traditional Santa lap photo will still look a little different than what we are used to, but at least this year there are a few more options than the last holiday season. Now is the time to get organized and arrange your in-person visit. Here is the ultimate guide to last minute Santa photo opportunities in in Metro Vancouver. Don't worry, if you haven't done it already, there's still time to get a your last minute Santa photo opts in Metro Vancouver. Here's the best up-close and from afar last minute Santa photo opts near you.
(Note: Appointments for some Santa visits have already sold out, so don't wait too long to book yours!)
The best up-close Santa photo options:
The traditional photo of your child sitting on Santa's lap is still going to look a little different this year. Organizations have created various safe ways to visit with Santa. Some have Santa wearing a mask, others have Santa behind a clear shield and some are comfortable with Santa sitting at a distance or behind you. No matter what the set up – there are lots of fun ways to visit with Santa and get a super cute in-person photo this year.
1. Photo with Santa at the mall
There are lots of shopping centers offering photos with Santa throughout the Lower Mainland this year. Make sure to check out whether pre-booking is required and to follow any local guidelines around covid safety at each location.
Here's a list of malls offering pictures with Santa:
>>Park Royal >>Brentwood Mall >> Royal City Centre >> Highstreet Shopping Centre >>Semiahmoo Shopping Centre
>> Coquitlam Centre >> Sevenoaks Shopping Centre >> Bass Pro Shop >> Cabela's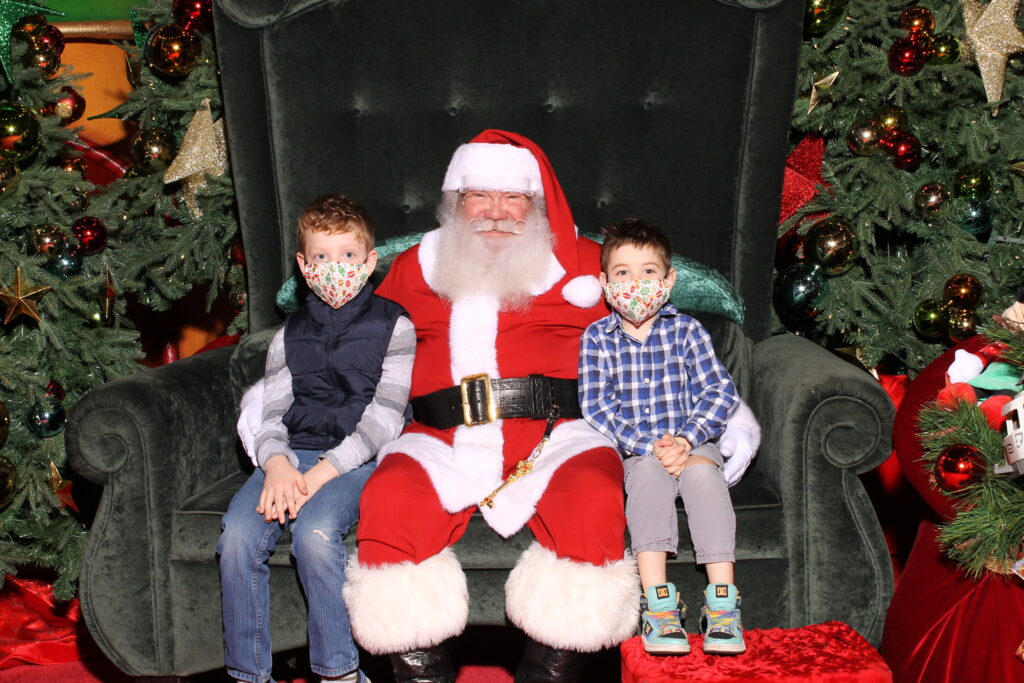 2. The Peak of Christmas at Grouse Mountain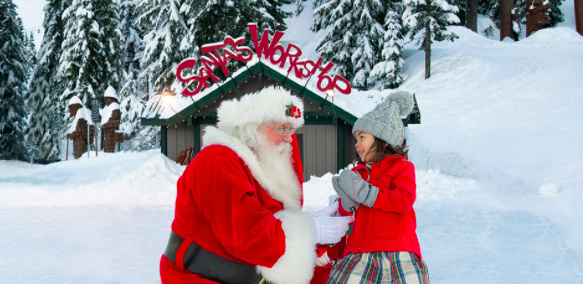 For the ultimate festive experience The Peak of Christmas is the place to go. Santa photos are taking place inside his workshop. There is also ice skating, a light walk, real reindeer and so much more. You can even book a Santa breakfast. This is a truly magical experience for the whole family.
>> Peak Of Christmas Santa Bookings
3. Christmas at Enquist Lodge on Mt Seymour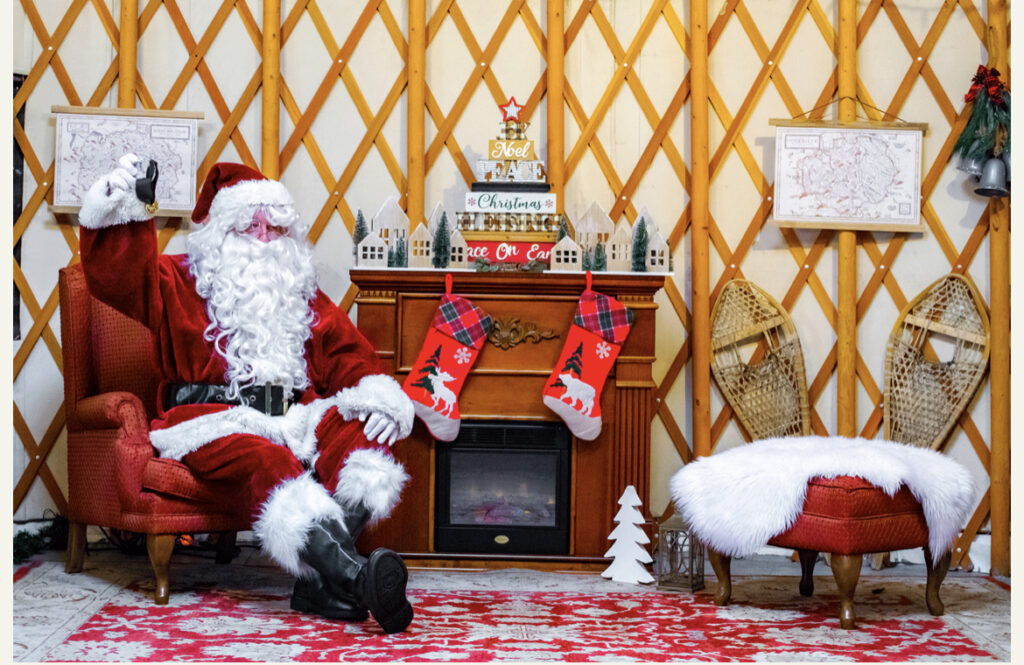 Visit the snowy mountains of Mt Seymour to have some special Santa photos taken in a Yurt. You can also enjoy Christmas treats and drinks in Harold's Cafe while you are there. And the Enquist Lodge has a full Christmas store selling festive decorations and perfect gift options for you.
4. Santa Photo at Surrey Holiday Lights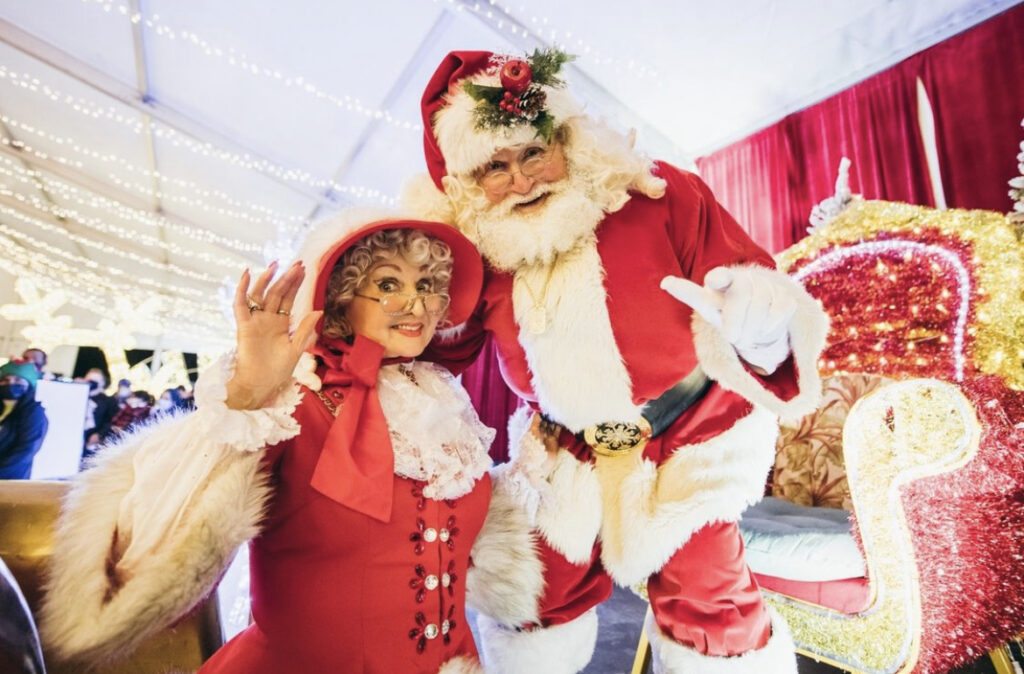 Another great option is a brand new indoor/outdoor light festival in Surrey. There are many festive light displays to enjoy as well as live music and food trucks. The best part is you can have your photo taken with Santa. Photo times are limited to between 5:30-6:30 and 7:30-8:30pm, so plan your trip accordingly to sneak in a visit with Santa. The best part is an elf will take the photo on your device so everyone can be in the picture!
>> Surrey Holiday Lights Santa
Options for seeing Santa from afar
Due to the ongoing pandemic, we wanted to share some options to see Santa are from a distance. This also works out perfectly for those kids who are little less inclined to sit right up close with Santa. Here are a few super fun and festive ways to get a Santa photo. These take a little more planning and will require you to be strategic with your timing!
1. Steveston Village (Richmond)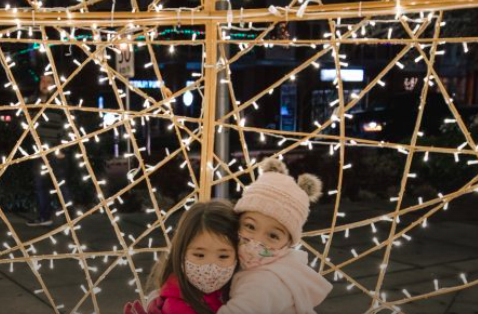 From December 1 to 31 Steveston Village will be transformed into a winter wonderland. There will be many free or low-cost Christmas activities taking place. Santa will be arriving at the village at 1:00pm and will tour the streets by horse and carriage.
A few festive spots include Britannia Shipyards National Historic Site (5180 Westwater Drive, Richmond) , The Steveston Museum (3811 Moncton Street, Richmond), Steveston Tram (4011 Moncton Street, Richmond) and the intersection of No. 1 Road and Bayview Street.
2. Santa at PNE Winter Lights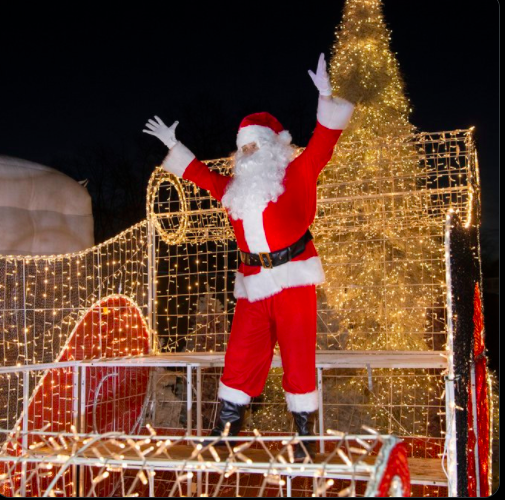 This winter wonderland event is enjoyed from the warmth and comfort of your own car. You will be transported through nine magical lands all leading up to Santa himself! You'll be able to capture a photo of Santa or maybe even one of your little one waving to him from the car. At the very end you can visit a variety of food trucks to grab a snack for the drive home. You do not want to miss this one.
3. Santa at Glow Langley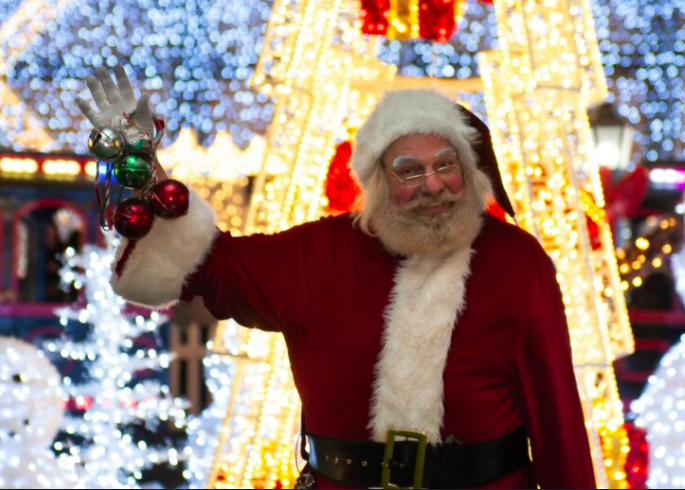 This experience is sure to dazzle the whole family. This journey begins with mini donuts, popcorn and a surprise ornament for you and your family. You then travel through many festive scenes and get to enjoy millions of twinkling lights. This event ends with a jolly smiling Santa Claus himself, who waves to each car and even has a quick conversation as you drive by.
>> Glow Langely
There are so many fun options to experience Santa in-person this year! Tag @Vancouver_mom on Instagram in all of your Santa photos for your chance to be featured.
Kera Skocylas
Kera is a full-time mom with three kids. She lives in the suburbs of Vancouver and recently started Kids Cuddles Coffee, a 'mommy-news' blog. She loves going on adventures with her kids all over the Lower Mainland. She has a passion for writing and the news. Before becoming a mom she worked at CBC radio and at a local newspaper. Follow her on Instagram @kidscuddlescoffee