Live Christmas trees: Where to get them & how to care for them
Photo credit: Dogwood Tree Farm
Have you set up your Christmas tree yet? You can go to a big box store and get your tree, but there are local Vancouver options too. Be aware that COVID-19 protocols are in place so lineups are likely. PS: Did you know there's a Drive-Thru lot in North Vancouver?
We've also got Christmas tree care tips from a local mom and master gardener to keep your tree looking fresh and healthy.
Cut tree lots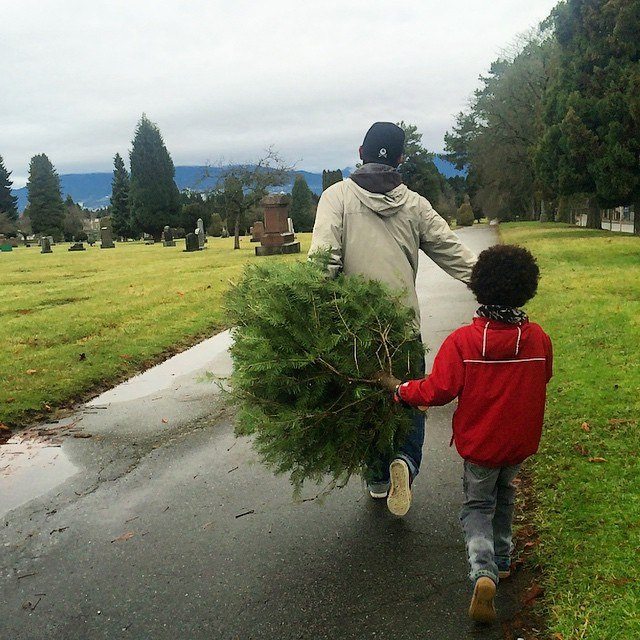 There are tree lots all over the city, some of our favourites are the Vancouver South Lions Club lot at John Oliver Secondary School, the North Country Christmas Trees lot at East Hastings Street and Windermere Street, the TREK Christmas Tree lot at the Prince of Wales Secondary School in Kitsilano and, of course Aunt Leah's Trees.
The Vancouver South Lions Club Christmas Tree lot has been running in the same spot for 40 years, and volunteers say they've seen four generations of families come through buying their trees. The North Country Christmas Trees lot is another venerable seasonable institution, who also offer wreaths, decorations, and more. At the TREK lot, you can expect lots of enthusiastic help from kids in the outdoor education program helping out, as the tree lot is one of their best fundraisers. Along similar lines, Aunt Leah's Trees raises funds to help prevent children in foster care from becoming homeless, and young mothers from losing custody of their children (PS: They deliver!)
Cut tree lots
Vancouver South Lions Tree Lot at John Oliver Secondary, E 41st Ave, Vancouver
X-mas Tree lot, Arbutus & Broadway, Vancouver (cash only!)
TREK Christmas Tree Lot at Prince of Wales Secondary, 2250 Eddington Dr, Vancouver
UNCONFIRMED: North Country Christmas Trees lot at East Hastings Street and Windermere Street, Vancouver
CLOSED DUE TO COVID-19 Lord Byng Christmas Tree Lot, 3939 West 6th Avenue, Vancouver
Aunt Leah's Tree Lots
River District Neighbourhood 3555 Sawmill Crescent, New Westminster
St. Stephen's United Church at 54th and Granville St, Vancouver
Eagle Ridge United Church at 2813 Glen Dr, Coquitlam
All Saints Anglican Church at Royal Oak and Rumble, Burnaby
CLOSED FOR 2020 DUE TO COVID-19: Lonsdale Quay — East Plaza at 123 Carrie Cates Ct., North Vancouver
Drive-thru lot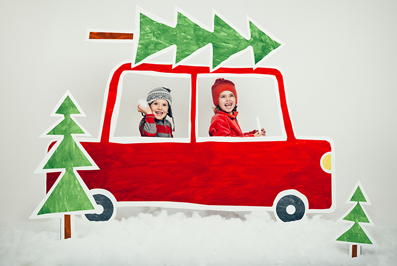 Responding to safety concerns, the Lynn Valley Lions Club in North Vancouver has come up with the ingenious idea of a Drive Thru Tree Lot! You can choose a tree online – variety, size, price – or drive through and view the trees and pick one from their car at the site at East 2nd & Ridgeway Avenue. PS: They also offer free delivery when you order online!
>> Christmas Tree Drive-Thru Market
Tree farm experience
You can go out into the valley to saw down your own tree too. There's a great option in Richmond, a quick drive from the city: H & M Christmas Tree Farm. A lovely day out, you can head over to the farm, pick your tree and saw it down (saws provided!), and then cozy up in front of their big bonfire for a hot dog roast and hot apple cider. They also have pre-cut trees available if you're not keen on the sawing part.
>> Top Ten Christmas Tree Farms
Potted live trees
If you're looking for something a little different, try a living Christmas tree. Many local nurseries are selling them, including Gardenworks (Lougheed location), David Hunter Garden Centre, and Southlands Nursery. After Christmas, you can plant it outside in your yard, or keep it growing in a container for next year, depending on the variety.
Gardenworks, 6250 Lougheed Hwy, Burnaby
David Hunter Garden Centre, 2560 West Broadway, Vancouver
Southlands Nursery, 6550 Balaclava St, Vancouver
Rent a live tree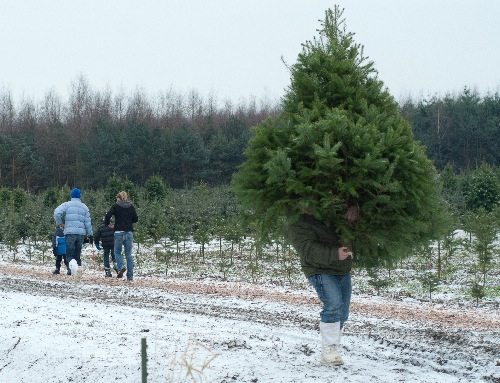 If you're not really able to plant your tree anywhere after Christmas, but you're still keen on a living tree, Tristar Nurseries will deliver a live potted tree to you, and then pick it up after Christmas. However, they are quite pricey now that it's December ($75 for two weeks including delivery). You can also join their Adopt-a-Tree program, which means you get the same tree year after year, and the nursery cares for it between festive seasons.
How to care for your tree
Michelle Goss Baxter, a local mom and master gardener, shared her advice for getting the most out of your Christmas tree: "For both cut and live potted trees, avoid putting them near a heater or a fireplace – besides being a fire hazard, the tree will dry out quickly and drop needles."
For cut trees, she suggests sawing about an inch off the bottom of the tree when you get it home, placing it in a sturdy stand, and watering it every 1-2 days. "For live potted trees, try to place it in your coolest room if you can," she says, "and keep it outside as long as possible before bring it in to decorate, last year I brought mine in about four days before Christmas." Michelle makes a good point about decorations on live trees: "Avoid using tinsel, flock, or sprays. These are hard to remove and can damage the tree." With a live tree, keep the soil in the pot damp, but not soaking wet, check on it every couple of days. Live trees should go back outside within 12 days, though "if it starts looking unhappy before that, take it back outside."
The Tristar Nurseries site suggests putting ice cubes in the pot, as they take awhile to melt making sure your tree isn't over watered, and has the added benefit of keeping the roots cool.
Erin McGann
Erin McGann is the former Managing Editor for Vancouver Mom and Toronto Mom Now. She drinks just a bit too much coffee, is a bit obsessed about sourcing local food, plays the cello moderately well, spends too much time on Twitter, keeps honeybees on a rooftop, and has a thing for single-malt whisky. Erin is working on a novel set in turn-of-the-century Vancouver, which her husband, son and dog have to hear about all the time, and also blogs at Erin at Large.
Harriet Fancott
Harriet Fancott is the Editor and Social Media Manager for Vancouver Mom. She has over 20 years experience in the arts, tech and mom-based blogging arenas. She lives in East Vancouver with her husband and son where they enjoy exploring all that Vancouver has to offer from festivals and events to playgrounds and beaches to sushi and ice cream (although not together).