5 Classic Fall Comfort Foods Made Healthy
Once the temps drop and the cozy sweaters come out in Vancouver, we start dreaming of warming, filling foods that keep us full and satisfied. Whether it's a grande PSL or a steaming plate of mashed potatoes and gravy, the cravings can be mighty powerful, amiright? We put together some good-for-you alternatives that still keep you warm and make you feel even better with these classic fall comfort foods made healthy.
Instead of mashed potatoes and gravy:
Swap that way-too-carb-heavy staple for creamy cauliflower mash. There are a ton of great recipes our there you can google and we swear it feels just as creamy and comforting as the real thing. Srsly so good.
Instead of lasagna:
We know. There are few things quite as delicious as loads of pasta and cheese, but the sad fact is that it's not very heart healthy (or waistline friendly). There are lost of healthier alternatives, including ones with zucchini noodles and cauliflower ricotta. You can even try out a sweet potato crockpot lasagna!
Instead of big bowls of too-rich chili or canned clam chowder: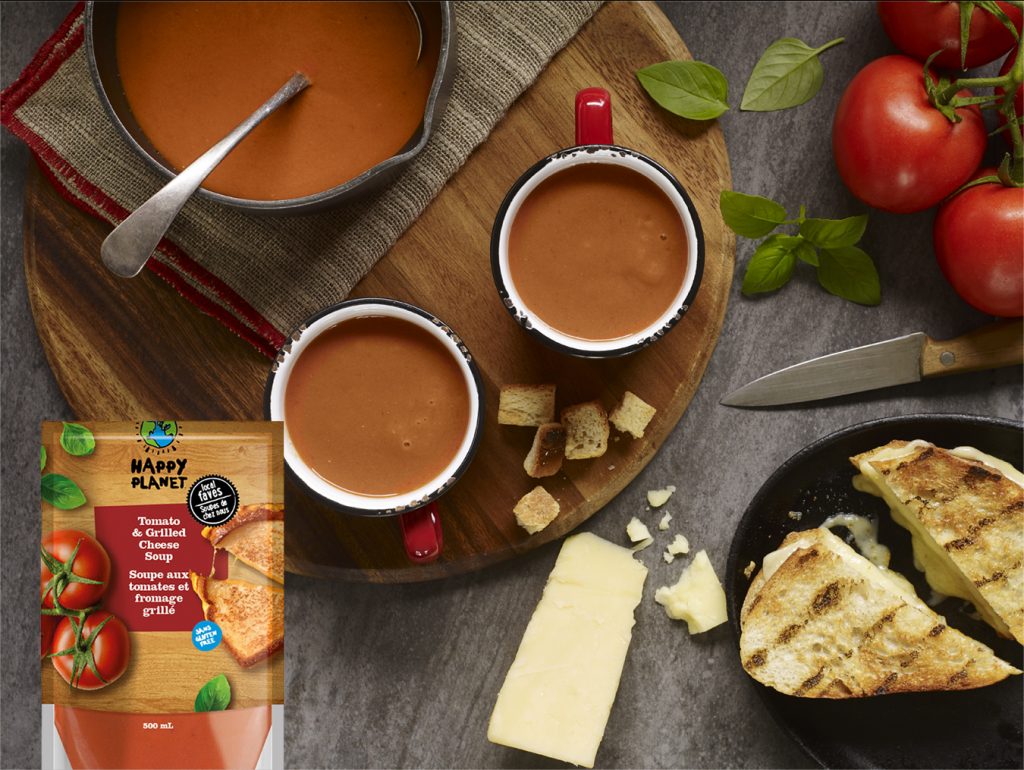 A good alternative is fresh and healthy soups that are nutritious! Happy Planet's new globally-inpired soups are delicious and so easy to prepare. They're made with premium, natural and certified organic ingredients, are gluten free, and have no preservatives or artificial yucky stuff. All you have to do is heat and enjoy. Our fave is their new Tomato & Grilled Cheese soup. Another plus is all the soups are made in BC and Ontario!
Instead of calories heavy mac-n-cheese:
A family-friendly favourite and all around crowd pleaser – ma-n-cheese! Mac-n-cheese can quickly be calorie heavy, but there are ways to make this warm cup of sunshine a bit healthier. It's so easy, just make a few swaps in your ingredients:
-Swap milk for a plant based milk
-Swap dairy cheese for a vegan cheese or nutritional yeast
Add in your favourite veggies to make it even better!
Instead of chicken pot pie:
Switch your pot pie out for a carb -free Creamy and comforting, Happy Planet's new Chicken Pot Pie soup.
What do you swap out for unhealthy fall comfort foods? Tell us in the comments below or tag us at #vancouvermom! We'll be sharing more tips as we move toward sharing our Healthy Balance theme, stay tunes.
Vancouver Mom
Would you like to write for us? We welcome well-written guest submissions with a local interest slant. Share your tips, review local businesses and highlight hot trends for Vancouver moms. Get all the info on our Contributor Page!