Where to Shop in Vancouver: West Elm and West Elm Market
With Thanksgiving behind us we'll soon be heading into the holiday season, and we have a suggestion for where to shop in Vancouver in preparation.
Is your holiday decoration collection is beginning to consist entirely of avant-garde pieces by 'emerging young designers'? You know them, they have a passion for cutting snowflakes out of paper plates, sticking pasta on coloured paper and liberal amounts of poster paint. If so, perhaps a trip to West Elm in South Granville is for you.
Where to Shop in Vancouver for Quirky-yet-Affordable Home Decor
West Elm collaborates with independent artisans to stock an eclectic mix of quirky and stylish yet affordable homewares. The American company now has three stores in Canada and is working on partnerships with Canadian designers and craftspeople to add to their portfolio. Their current collections are focused around three delightful themes: Heritage, Snowdrift and Enchanted Forest. You'll find they feature something for every home.
Nestled amongst the soft, cozy cabin-style throws in their 'Heritage' collection are some fabulous ideas for the holiday season.  Folk art turkeys by Sarah Campbell, and fun homely plates produced in collaboration with designer Shanna Murray adorned their Thanksgiving table settings.  The Christmas decorations are also appealing with kitsch 'dapper animal' plates featuring rather serious looking animals (choose from an owl, doe, bird or bear) dressed in dashing outfits. Hand-stitched lumberjack, llama and canoe tree decorations are sure to work in sync with your own little designer's efforts.
A Touch of Hollywood Glamour
If you prefer to channel J-Lo rather than Bing Crosby head to the rather more glitzy 'Snow Drift' theme. The metallic vases, tea light holders and tree decorations will bring a touch of Hollywood glamour to your home. Even in this area there are accents of independent craftsmanship. I particularly liked the crockery made using natural materials for moulds by DBO Home, such as the elegant serving plate indented with a pomegranate seed pattern.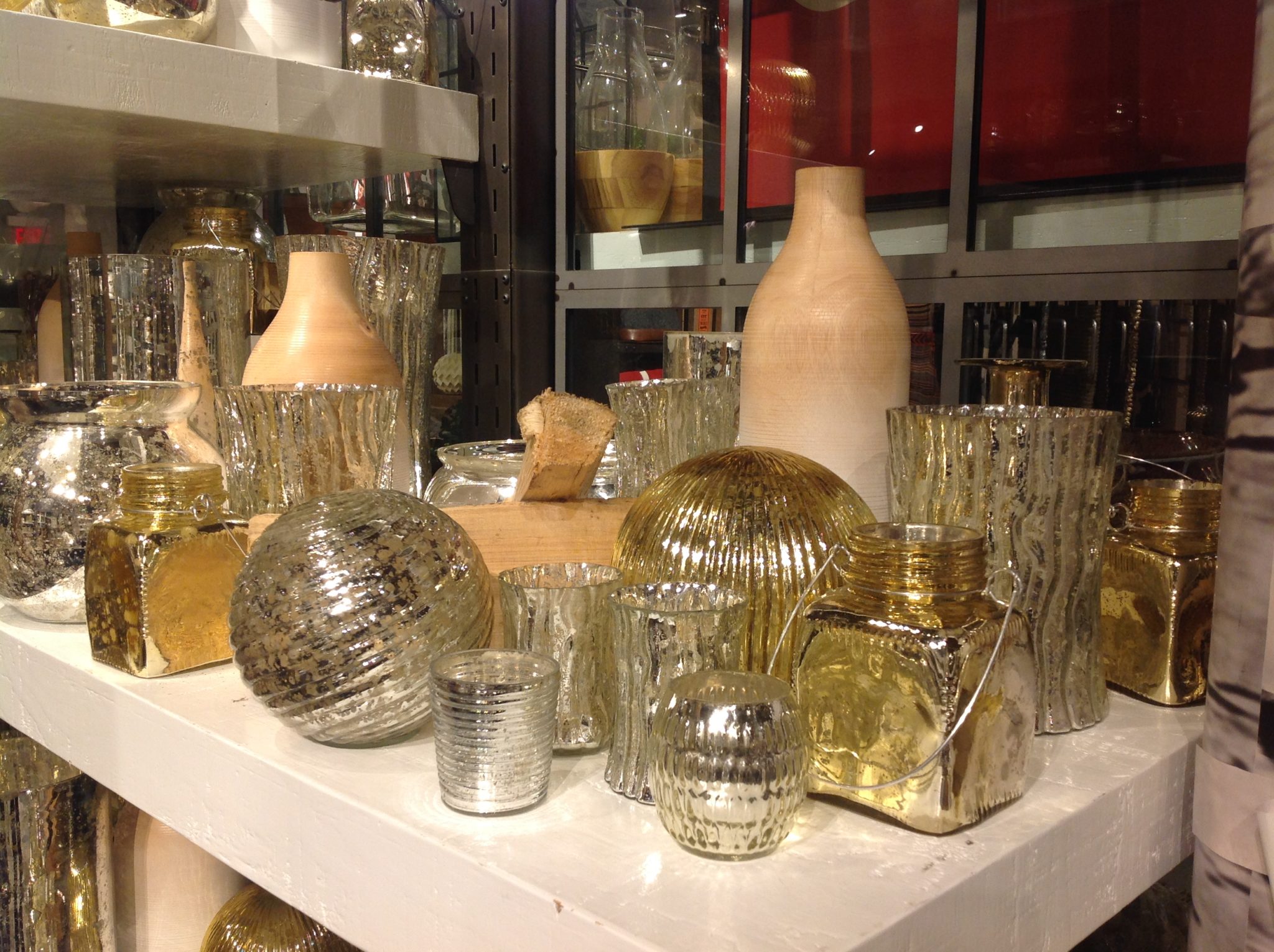 In-Store Events and West Elm Market
Don't despair if festive décor themes and co-ordinating table settings seem a bit out of your comfort zone. West Elm is organizing a variety of in-store events to inspire you such as a Pumpkin Decoupage evening, Holiday DIY (on November 14, 2013 – inspired by their Snow Drift concept) and Top Ten Holiday Gift Ideas. Visit the store for all the details.
West Elm's sister store (also on Granville Street) West Elm Market is well worth a visit too, and not only because of the in store coffee bar. Concentrating more on fun and colourful but functional kitchen and bathroom items they are also committed to collaborating with the community. A lot of the food they stock is local, such as olive oils from Dundarave. It's where to shop in Vancouver to stock up your pantry in preparation for the holiday season.
West Elm
www.westelm.com | Facebook | Twitter
2947 Granville Street, Vancouver, 604-733-6730
West Elm Market
2915 Granville Street, Vancouver, 604-734-9302
Jo Ramsay
Jo Ramsay is a producer, director, writer, Brit abroad, mom of two mischievous bundles of fun, a newly converted yoga obsessive and lover of all things comedy. Jo blogs at Titchy Jo and tweets as @JoRamsay1.