Where to Shop in Vancouver: Pirate Joe's
Like most moms I'm always on the lookout for where to shop in Vancouver for quality ingredients, healthy organic snacks for my ever hungry growing boys, and handy meals for the whole family. I was delighted to find just these things in a small, attractive and friendly store on 4th Avenue in Kitsilano.
A Business Like No Other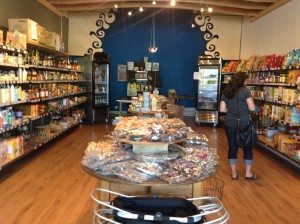 Pirate Joe's sells products made by US retailer Trader Joe's almost exclusively. Whilst living in California, Pirate Joe's owner Mike Hallatt became a big fan of the brand that offers ethical, non GMO food at reasonable prices. He realized that this would also be a big hit in Vancouver so he decided to set up Pirate Joe's. They currently buy their stock at normal retail prices in the US and resell it here at a slight mark-up.
Although they sought legal advice before setting out on this adventure and make it very clear with signs both inside and outside the shop that they are unofficial and unaffiliated with Trader Joe's (and let's face it there's also a less than subtle hint about that in the name of the shop) it hasn't all been smooth sailing.  This maverick approach to business has ruffled a few feathers at Trader Joe's HQ and they are currently being sued for trademark infringement.  As I write the Pirate Joe's legal team is putting together a motion to get the case dismissed and save their little shop. I do hope they manage it.
Where to Shop in Vancouver for Cookies, Kitchen Staples and More
Despite all the drama Mike and his trusty shipmate Barry have real affection for the brand. Even with buying at retail prices and reselling, Pirate Joe's still manages to keep their prices competitive with shops neighbouring their 4th Avenue location such as Whole Foods and Safeway.  My boys love the Cinnamon Schoolbook Cookies which at $3.99 for a one pound tub can't be beaten (and I've found, all in the name of research of course, that they go very well with a cup of tea). The freeze dried strawberries and blueberries don't last long in our house either.  They stock an array of interesting and useful products including great baking mixes and salad dressings, raisin rosemary crisps and tasty organic cereal bars.  I can't get enough of their Indian Fayre Punjab Choley (mix in a bit of chicken and it's as good as any take away).  Plus, keeping up to date with the ongoing saga certainly makes doing the grocery shopping a little more interesting.
Like the very pirates they profess to be, the great lengths these business owners have gone to in order to bring back their haul of treasure have provided them with many tales of derring-do. The original plan was to buy from the nearest Trader Joe's store in Bellingham then simply hop back over the border. Things got a bit complicated as Trader Joe's became disgruntled and the pirates started having to head further afield.
Going to Great Lengths
They've travelled through Washington State and on into Oregon encountering collapsed bridges and heatwaves as 8×10 'wanted' pictures of Mike have been placed on managers' desks of the closest stores.  Even his expert bagging technique has begun to raise eyebrows. Though not all the attention is unwanted – impressed women have been known to ask if he's single.  All this to bring back Quinoa Black Bean Chips for Vancouverites. They're like modern day Robin Hoods. It does seem a crazily stressful way to run a shop and it makes me wonder why they do it at all, but the glint in their eyes, like Captain Jack Sparrow himself, makes me think they actually enjoy it.
There's no doubting that Mike and Barry go to an absurd amount of trouble to bring Edamame Chips and Fig Butter to the good people of Kitsilano, but I for one am glad they do.  I hope they settle their dispute and we get to keep this quirky local store that is packed with good produce and bags of personality and that is so very 'Kits'. For now, if you'd like to add it to your list of where to shop in Vancouver, do it soon!
Update: There's good news for Pirate Joe's. They emerged victorious in their court battle with Trader Joe's. For now it looks like the shop in Kits will remain open for business. (Read more here.)
Pirate Joe's
www.piratejoes.ca
2348 West 4th Avenue, Vancouver, 604-620-9242
Jo Ramsay
Jo Ramsay is a producer, director, writer, Brit abroad, mom of two mischievous bundles of fun, a newly converted yoga obsessive and lover of all things comedy. Jo blogs at Titchy Jo and tweets as @JoRamsay1.