What to do in Vancouver in Autumn: Our Top Picks
For many Vancouver moms, Labour Day is a little bit wistful. Even those of us who don't have kids in school may mourn the unofficial last day of summer. We have good news, though. There are lots of things to look forward to as summer turns to autumn. Today we're sharing our top picks for what to do in Vancouver during the fall months.
What to do in Vancouver in the Fall
1. Get Inspired at Leading Moms
Our Leading Moms event is back for its second run, and better than ever. This inspirational event features inspiring speakers, musical performances, a networking breakfast, a fashion show and a whole lot more. Plus – bonus points – it happens during the school day, leaving you time to pick up your kids on your way home. This year's event is happening September 20, 2013 from 8:30am-2:30pm at the Revue Theatre on Granville Island. Regular tickets are $89, but if you book yours today, you can save $10. This is a great chance to do something for yourself this fall. What are you waiting for?
2. Attend the UBC Apple Festival
If you're eating an apple a day to keep the doctor away, then the UBC Apple Festival is what to do in Vancouver. It's happening October 19 and 20, 2013 from 11:00am to 4:00pm each day. Kids under 12 are free, and the rest of us pay just $4 each to get in, so it's a very affordable event to attend. There will be more than 70 varieties of apples for sale, and each year attendees buy more than 44,000 pounds of apples. For $5 you can taste up to 60 types of apples in the tasting tent. You can also see cider-pressing, get help with your own apple trees, drop by the children's area, explore the UBC Botanical Garden, walk the treetop Canopy Walkway, eat a slice of apple pie, and a whole lot more.
www.botanicalgarden.ubc.ca/apple-festival
3. Visit a Pumpkin Patch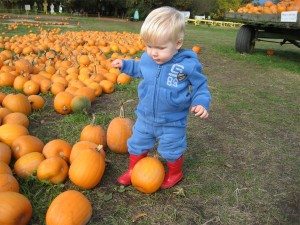 Choosing the perfect pumpkin is serious business, as any kid can tell you. It's no surprise, then, that visiting the pumpkin patch tops the list of what to do in Vancouver each fall for many local families. Local favourites include Westham Island Herb Farm in Delta, Richmond Country Farms in Richmond, Southlands Farms in Vancouver, Laity Pumpkin Patch in Maple Ridge and Hazelmere Pumpkin Patch in Surrey. No matter which pumpkin patch you choose, be sure to wear boots, bring cash and be prepared to get a little muddy as you find the best pumpkins. Pumpkin patches are farms, after all, and the fields can get soupy on rainy fall days.
4. Celebrate at the Dunbar Harvest Festival
Last year we filled you in on the Dunbar Harvest Festival. This kid-friendly Vancouver event features live entertainment, the chance to play in some hay, cow milking, green living workshops, carnival games, circus workshops for all ages, and a whole lot more. This year's event is the fifth annual festival, and it's happening September 28, 2013 from 11:00am-3:00pm in Dunbar Village. Or show up for the pancake breakfast, which is running from 9:00-11:00am in the Marketplace IGA west parking lot.
dunbarvillage.ca/events/harvest-festival
5. Ride the Ghost Train
A ride on the Stanley Park Ghost Train is a must-do for many Vancouver families each fall. This year the train runs Friday, October 11 – Saturday, November 2, 2013 from 6:00-10:00pm daily (except Thanksgiving Monday). There are also afternoon matinees from 11:00am-3:00pm on Fridays, Saturdays and Sundays, but you'll only be able to ride the train during these afternoons, as the other activities won't be happening. Those other activities include a pumpkin patch, face-painting, and a whole lot more. In fact, if you don't think your little ones are up for the train ride, you can take in the rest of the events at the park. To ride the train you must buy a ticket, and tickets go on sale this week on September 3, 2013. They go quickly, so get yours while they're hot! Adults cost $11, kids aged 3-17 and seniors are $7, and kids under 3 are free. The matinee train ride is $5.50 for all ages.
vancouver.ca/parks-recreation-culture/ghost-train.aspx
6. Honour the Harvest Moon
The Mid-Autumn Moon Festival Public Celebration is happening at the Dr. Sun Yat-Sen Classical Chinese Garden on Sunday, September 22, 2013 from 10:00am-5:30pm. This kid-friendly Vancouver event features festivities and activities for all ages. Second only to Chinese New Year, this annual festival brings families and friends together to share stories, play games and eat delicious moon cakes. The event features Chinese games, live music, storytelling, face-painting and more. Bring a photo or artifact along with a story or tradition from your own family's reunion for the story board. Admission is by donation.
vancouverchinesegarden.com/calendar/mid-autumn-moon-2013
Do you have any fall favourites that top your list of what to do in Vancouver each autumn? Leave a reply and let us know!
Amber Strocel
Amber Strocel is a writer, aspiring math teacher, suburbanite, wife and mom of two. She believes in the power of the Internet to connect people, and she believes that numbers are the poetry of the universe. You can often find her knitting, sewing, volunteering, working in her garden, and sneaking chocolate when no one's looking. She blogs at Strocel.com and shares her photos on Instagram as @AmberStrocel.