Where to Shop in Vancouver: Mavi
Getting used to your changing body is difficult enough when you are pregnant. The added realization that the majority of clothes shops automatically assume that you suddenly want to dress like an aging frump is just icing on the cake.  Luckily there is light at the end of the long, floral patterned, tent-like tunnel. A select few stores have cottoned on to the fact that just because you are pregnant it doesn't mean that you want to lose anything resembling a sense of style.  If you're wondering where to shop in Vancouver for stylish maternity wear, check out jeanswear brand Mavi. We are lucky enough to have the only two dedicated Mavi stores in Canada right here in Vancouver.
Fantastic Service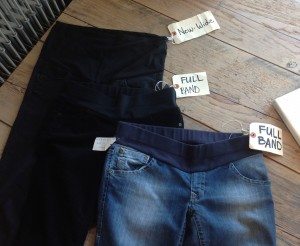 The small card in the window of its Kitsilano store saying 'Mavi maternity jeans now available' does little justice to the fabulous service that is offered inside. Choose any pair from the wide range of stylish Mavi jeans, from bootcut, skinny, straight leg or the current top seller, the 'Boyfriend' style and for just an extra $20 they will alter them to accommodate your baby bump. You can choose from a range of three waistbands: Full Band is double the width of a normal waistband, Half Band is the same width but just at the front, and New Wide stretches right over the bump. All the bands are adjustable to grow (and shrink) with your bump and you can choose the colour to match the jeans. 
While you shop the lovely Ruth and Naomi will be on hand to offer help and advice. Your new bespoke jeans will be ready to be picked up within two days.  I lived in my maternity jeans and definitely think the $20 is worth it for jeans you will wear right through your pregnancy and beyond – probably for a lot longer than you will ever admit. They come in super handy for big Sunday brunches and Thanksgiving dinners!  You can even bring in your old favourites for a maternity makeover if you can't bear to be without them (as long as they are Mavi brand).
Happy Customer
Satisfied customer Philippa Ainsworth commented, "I haven't found this service in any other store.  It's great, you don't have to bypass style just because you're pregnant.  The service was very friendly and helpful and the turnaround was quick and great quality".
It's not just the jeans, they can also modify their shorts and capri pants too so you can stay cool in this lovely sunshine we're currently enjoying.
Where to Shop in Vancouver for More than Maternity
For those of us past the maternity wear stage for now, Mavi are also stocking some gorgeous on-trend nautical themed tops and striped maxi dresses as well as their range of jeans.  Another great find is their mid-rise skinny, which are two inches longer in the body than their standard skinny jeans, perfect for when you are ready to put those maternity jeans back in the drawer but aren't quite up to the full hipster style. They offer the trendy shape with added support for any stubborn post-baby wobbly bits. The jeans and dresses can also be altered if, like me, you are somewhat challenged in the height department.
Don't worry if you aren't in Kits, their store in Yaletown also offers the same service, and is also a great answer for where to shop in Vancouver.
Mavi
ca.mavi.com |  Facebook | Twitter
Yaletown: 333 Helmcken Street, 604-669-6284
Kitsilano: 2112 West 4th Avenue, 604-738-6284
Jo Ramsay
Jo Ramsay is a producer, director, writer, Brit abroad, mom of two mischievous bundles of fun, a newly converted yoga obsessive and lover of all things comedy. Jo blogs at Titchy Jo and tweets as @JoRamsay1.