Where to Shop in Vancouver: Checking out Joe's Jeans
The 35th Joe's Jeans location – and the first in Canada – has finally opened, and it's right here in Vancouver. I was lucky enough to get invited to their media opening to browse around the store, and check out all the amazing jeans in their lovely signature store ambiance. If you're on the hunt for some great denim this may be where to shop in Vancouver.
A Whimsical Rainbow
With a super bright clean white store filled with lovely chandeliers and impeccable organization I was instantly drawn the massive amounts of colour. All the jeans selections created a whimsical rainbow around the store, filled with bright hues, pastel shades and crazy patterns. It was very pleasing to the senses. After taking transit on a dark grey rainy day here in Vancouver stepping into this store was literally like walking into warm sunshine.
The great people made me feel welcome as I checked out the stock. I loved the men's jeans – they had many my really picky husband would enjoy. Think nice simple cuts with 'nothing strange on them', as he would say. I saw lots of great options for men looking for any cut as well from skinny to relaxed fit.
Even more spectacular were the women's and little girl's jeans – and it wasn't just how they were displayed. The jeans feel so lovely, plus they have this amazing new line 'The Black That Never Fades'. The collection features an innovative abric and wash, so none of the styles will fade, no matter how many times you torture your new jeans in your washing machine. That is music to my ears, and everyone else who fears the black jean because of fading.
Where to Shop in Vancouver for More Than Jeans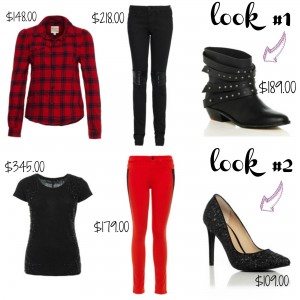 With a name like Joe's Jeans it's not surprising that they're a great answer for where to shop in Vancouver for denim. However, the amount of temptation I faced in their shoe and handbag areas was surprising. They had the cutest clutches and some really divine shoe candy for everyone to drool over. I have to say it was a hard event to leave knowing I would be heading home in the rain. The lovely staff and bright atmosphere made for a great evening of shopping fun!
As soon as I got home I dove into their website to create some awesome 'wish list' looks I really want. If you or your little ones need some great, durable jeans this holiday season, take the time to treat yourself. You can never have too many pairs of jeans, right?
Joe's Jeans
www.joesjeans.com | Twitter | Facebook
#201-650 West 41st Avenue, Vancouver
Eschelle Westwood
Eschelle Westwood is the writer of Mumfection and is a dedicated young mother to two wonderful (though mischievous at times) boys. In between school drop offs, scraped knees, and milk spills you can usually find her on Twitter or on her hilarious Facebook page.