Gluten-Free Christmas: Mincemeat Tarts
Are you looking for gluten-free options this holiday season?
It seems that lately, my family has become sensitive to food products that contain wheat. It's not really about gluten as much as it is about the wheat. Having said that, it doesn't make shopping or cooking particularly easy, especially when we've grown accustomed to bread with everything. But it's something we have to get used to.
Going Wheat-Free for the Holidays
It appears as though this sensitivity to wheat products (and milk for that matter) has been passed on to our little guy. There's nothing worse that seeing him squirm when it comes to toilet time. But without getting into details, because really, you can use your imagination, I wanted to tell you about some great finds when it comes to planning gluten-free Christmas meals.
I'm a big fan of Urban Fare these days. They seem to be catching on to the fact that people are looking for gluten-free options when it comes to baking and bread products in general. And while products that are gluten-free are not necessarily healthy, it's nice to know there are options for occasional indulgences.
Where to Shop in Vancouver for Gluten-Free Fare
Here are a few of their gluten-free options in the bakery:
[unordered_list style="bullet"]
EnerG breads and baked goods
New World Natural Foods cookie and bliss balls
Patsy Pie cookies and biscotti
Udi's breads and baked goods
Wendel's True Foods desserts
[/unordered_list]
Urban Fare also has a publication called Gourmet Fare. The winter 2013 edition features four gluten-free recipes to help you enjoy Christmas without the, ah, digestive issues that often come with.
Apricot Brandy and Mincemeat Tarts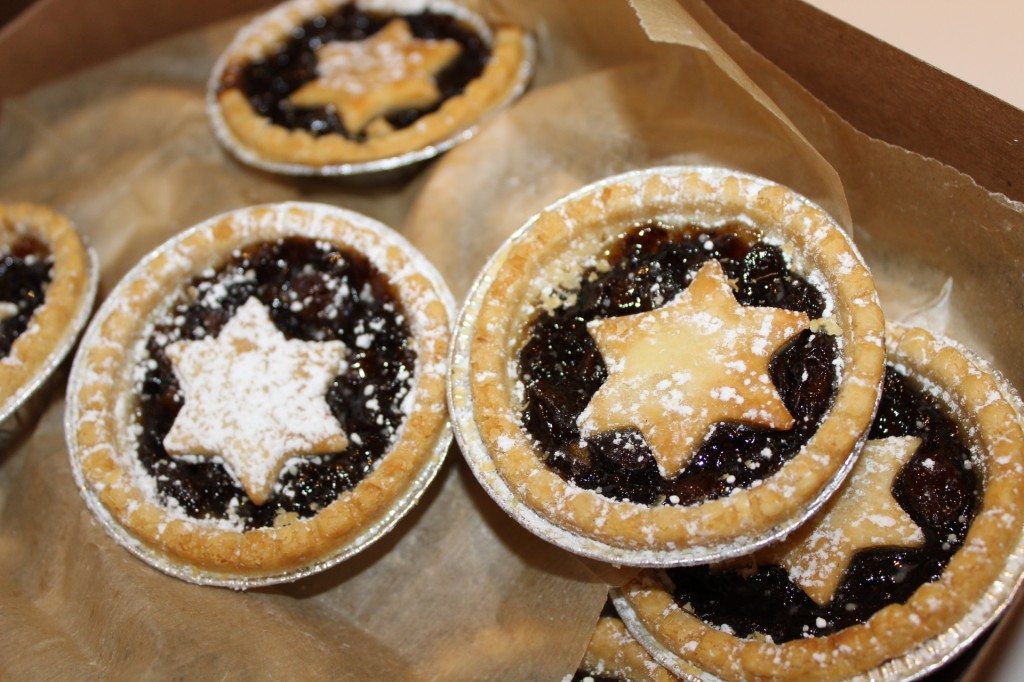 My favourite indulgence so far is the Apricot Brandy & Hazelnut Mincemeat Tarts. Here's the recipe:
[box style="rounded"]
For the pastry:
[unordered_list style="bullet"]
170 grams gluten-free flour
1/2 teaspoon cinnamon
100 grams unsalted butter
1 tablespoon Berry sugar
[/unordered_list]
For the mincemeat:
[unordered_list style="bullet"]
140 grams semi-dried apricots, finely diced
85 grams semi-dried figs, finely diced
100 grams toasted hazelnuts
1 teaspoon each ground cinnamon. grated nutmeg and mixed spice
grated zest and juice of 1 orange
50 grams butter
1 banana, chopped
3 tablespoons brandy
icing sugar, to serve
[/unordered_list]
Method:
Put the flour and cinnamon in the bowl of a food processor. Add the butter and pulse until it looks like very fine breadcrumbs. Sprinkle in the sugar and three tablespoons cold water, and pulse until the mixture starts to clump together, about 30 seconds. Empty mixture onto a cutting board and gently squeeze the pastr until it comes together into a ball ~ add water if it feels dry.
Wrap the pastry in cling wrap and chill for 30 minutes.
Pastry:
Heat oven to 400 degrees Farenheit. Roll the pastry on a lightly floured surface to 1/8″ thickness. Using a cutter, cut out 3″ discs and use to line a 12-hole muffin tin. Use a star cutter to make star shaped lids. Chill both.
Mincemeat:
Put all the ingredients into a food process and pulse on and off until evenly chopped. Spoon one to two teaspoons into each tart, dampen the edge (sides) of the pastry bottom with water and sit a smaller pastry disc or star on top. Bake for 12 ~ 15 minutes until golden brown. Lift onto a wire rack to cool and dust with icing sugar.
Yum!
This recipe was taken directly from page 19 of Gourmet Fare, published by UrbanFare.com.
[/box]
Other Gluten-Free Shopping Destinations
Terra Breads also has a lovely spelt loaf that is completely wheat and egg free. They don't claim it to be gluten-free, however, as spelt does contain gluten. As well, gluten-free products need to be prepared in an entirely different facility. People with Celiac disease are so highly allergic to gluten that even a speck of the stuff can send their digestion reeling, to say the least.
If you don't have an Urban Fare in your neighbourhood but you live in New Westminster, you can get gluten-free flour and ready made yummy treats from Cloud 9 Bakery.
Planning a Christmas Party?
Urban Fare will cater your event! Call 604.975.7556. Cloud 9 Bakery can also create a wide variety of delights for you. Give them a call at 604.249.5010.
When you're looking for gluten-free or wheat-free options in Vancouver and the surrounding areas, Vancouver Mom has you covered.
Lee-Anne Ekland
Leeanne Ekland is a stay-at-home mom of one, who's on a mission to rediscover love, wellness, and neighbourhood happenings and to have a ton of fun. She's also a lover of wine and yoga and believes that sharing her experiences at www.MomParadigm.com brings her closer to living her best life. Having started the parenting experience much later than most, she offers a unique perspective on the challenges and all that is amazing about being a mom over 40.