Guide to Vancouver Thrift and Consignment Shopping for Moms
Vancouver is on the cusp of fall and the holes in our kiddo's wardrobes have been filled with new back-to-school clothing. I still get excited by the thought of a revamped wardrobe with the changing seasons but the problem is, the clothing budget has been blown on kicks for the kids. In order to refresh my closet with some fall fashion on pennies from the piggy bank I've turned to Vancouver's many fabulous thrift and consignment stores. Here's my non exhaustive list (there are so many!) of the best Vancouver thrift and consignment stores. If you're wondering where to shop in Vancouver for great second-hand finds, read on.
Vancouver Thrift and Consignment Shopping
BC SPCA Thrift Shop | 3626 W. Broadway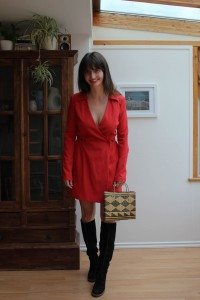 Vancouver thrift and consignment shops often have a bad rap for being dusty and dingy and the BC SPCA Thrift Shop is no exception. However, in it's dark corners are treasures to be found. Last winter I uncovered an on trend, oversized grey wool coat for $5. The coat received a myriad of compliments and collective gasps when I sited it as a thrift store find. Nothing in the shop has a price tag so there's some haggle room on the cost of items, although keep in mind,  profits go to a great cause!
Basis Wear Fashions | 3626 W. 4th Avenue
Perhaps the best kept secret of Vancouver's label loving elite, Basis Wear Fashions carries top brand names at a fraction of the cost. Sometimes as high as 70% off you can fill your wardrobe with clothing by See by Chloe, Max Mara, Tracy Reese and many more high fashion designers. Their clothing is either new with tags or second hand in mint condition. I personally love their $5 and $10 rack.
Turnabout | 3112 W. Broadway
Opened in 1978 Turnabout Luxury Resale has four locations in the lower mainland. They consign designer duds including clothing from some of Vancouver's local designers. On the higher end price wise, it's still worth a look to see if you can find a steal on your favourite name brand. Soon you'll be able to shop Turnabout online.
The Salvation Army  | Various Locations
The Salvation Army continues to be a style maven's delight. I have purchased great pieces from several locations in Vancouver and the YVR. Don't forget to hit up the shoe section for some fabulous finds.
Still Fabulous The BC Children's & BC Women's Auxiliaries Thrift Shop | 4355 Main Street
Near to my heart is the Still Fabulous thrift shop with proceeds going to support BC Children's and BC Women's Hospitals. Still Fabulous also has an outlet located in the lobby of the Ambulatory Care Building at BC Children's Hospital. Since we are regular visitors to Children's Hospital I have often stopped in the thrift store for shopping therapy.  I was talking to the clerk and she told me that the shop has been a place of refuge for parents coping with their children's health care and health scares. The act of doing something normal is a great way to deal with life stressors.
Value Village | Various Locations
Value Village has Vancouver's largest selection of second hand goods with locations all over the YVR. If you sign up for their newsletter you'll be the first to hear about their 50% off sales and other special shopping days. After a good hunt through Value Village I've walked away with a dress from Proenza Schouler for $14, the perfect jean jacket and old man knits to cozy up in during cold Vancouver winters.
There are many more affordable second hand and consignment shops in Vancouver whose proceeds go to support wonderful causes. Do you have a favourite Vancouver thrift and consignment shopping location? Let us know in the comments below!
Michelle Gadd
Michelle Gadd is an urban dwelling, Vancouver housewife and mother of two rambunctious boys. She has a passion for discovering, and writing about, ways to engage kids in city culture. Michelle created www.elasticpantcity.com as an outlet to write about life, from parenting to city living, fashion to frugality, food to faith, no subject is off the table. Michelle invites readers to take a glimpse inside her life and be inspired by the beauty of art in the every day.