Kid-Friendly Vancouver: Duckling Discovery for Preschoolers
One of the best parts of living in Vancouver is the way that our fabulous city is surrounded by nature. In fact, there are even a lot of amazing green spaces right inside the city limits. One of our favourites is Stanley Park. There's lots of kid-friendly Vancouver fun to be had in the park, and now the Stanley Park Ecology Society has another suggestion: Duckling Discovery, a program for preschoolers.
The Stanley Park Ecology Society is a non-for profit organization focused on connecting people with nature through schools and public programs. In Duckling Discovery, children aged three to five are invited to spend a little time with Mother Nature. The outdoor nature learning program introduces young children to Stanley Park's flora and fauna. This program offers a place for children, parents and caretakers to play, learn and connect with the great outdoors and each other.
Play Outside With Duckling Discovery at Stanley Park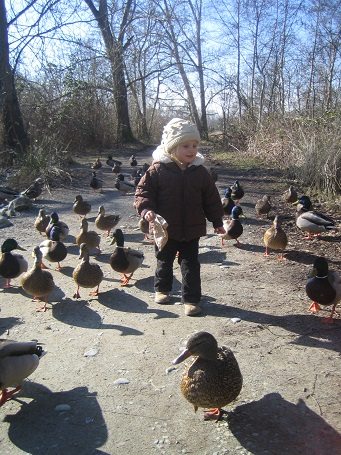 Duckling Discovery runs on September 16, 18, 23 and 25, 2014 from 9:30-10:30am. The cost is $10 for a parent-child pair, and $4 per additional child. If you're a Stanley Park Ecology Society member you'll save a little money and pay just $8 for a parent-child pair. Enjoy kid-friendly Vancouver educational experiences and fun activities centred around the natural world within the safety of Stanley Park. Get your hands dirty with the society's skilled environmental educators while you play.
If you're interested in learning more about Duckling Discovery, or you'd like to register, email [email protected] or call 604-718-6522. And of course, stop by the Stanley Park Ecology Society's webpage at stanleyparkecology.ca to find out more about who they are and what they do, and stay in the loop on upcoming programs and activities for preschoolers, older children and families.
Amber Strocel
Amber Strocel is a writer, aspiring math teacher, suburbanite, wife and mom of two. She believes in the power of the Internet to connect people, and she believes that numbers are the poetry of the universe. You can often find her knitting, sewing, volunteering, working in her garden, and sneaking chocolate when no one's looking. She blogs at Strocel.com and shares her photos on Instagram as @AmberStrocel.