Non GMO Week in Vancouver
Did you know that we're in the middle of Non-GMO Awareness Week in Vancouver? It's true. Mayor Gregor Robertson proclaimed October 20-26, 2014 Non-GMO Awareness Week following a request by the Vancouver Food Policy Council. The council is the volunteer advisory committee that helps the city move toward a more just and sustainable food system. After all, Vancouver can't be the greenest city with an unjust and unsustainable food system, can it?
Non-GMO Awareness Week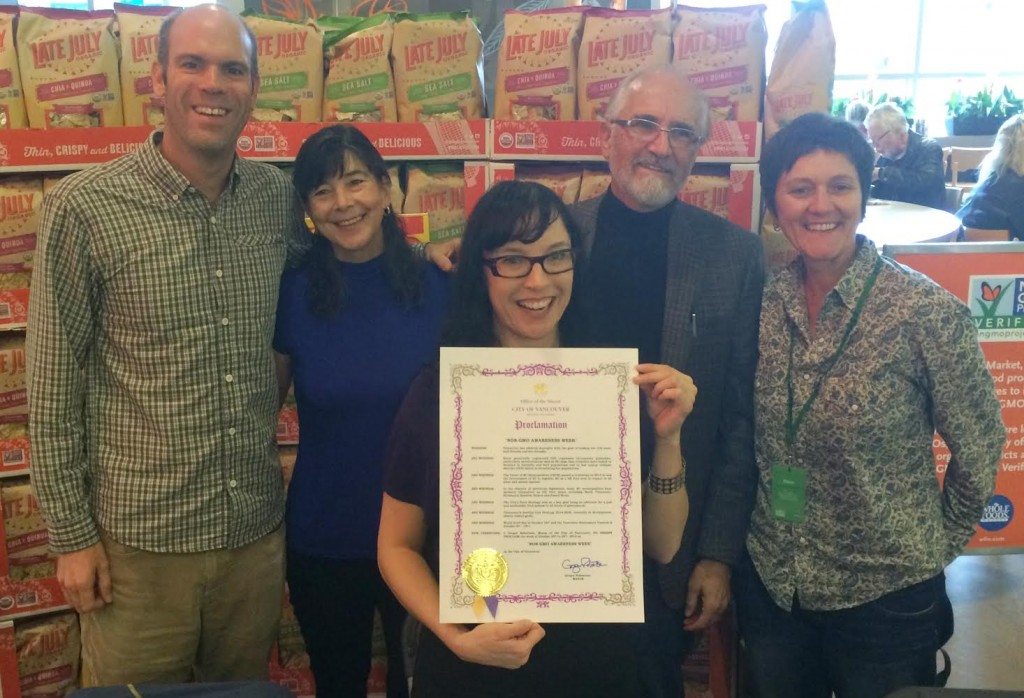 Non-GMO Awareness Week was inspired by a month-long campaign in the US. Here in Vancouver the proclamation will help local community groups raise awareness and start a discussion about the complex issues behind Genetically Modified Organisms (GMOs). News of the proclamation has inspired the creation of several events by the local community group GE Free BC. You may recall that Leading Mom finalist Teresa Lynne is active with the group. Events include a celebration dinner, a press conference with a reading of the proclamation by Councillor Andrea Reimer and a Facebook party.
Zsuzsi Fodor, co-chair of the Vancouver Food Policy Council, says the city has a role to play in this issue. "Genetically engineered foods, or GMOs, present risks to our food system. While much of the regulatory work that needs to be done falls under the jurisdiction of the federal or provincial government, municipal governments can do their part by helping educate citizens about the risks of GMO crops and the pesticides associated with them."
Whole Foods Market and Left Coast Naturals
Whole Foods Market on Cambie and West 8th Avenue in Vancouver hosted a reading of the proclamation at a press conference on Tuesday, October 21. Whole Foods was the first major grocer to set a deadline for full GMO transparency in March 2013. Joe Rogoff, Whole Foods Market Regional President in the Pacific Northwest says, "At Whole Foods Market, we believe consumers have a fundamental right to know what's in their food so that they can make informed choices about what's right for them and their families. Our shoppers are telling us they want to know when food is genetically engineered. We hope that as we provide that transparency, others in the industry will follow our lead."
Ian Walker, President of Left Coast Naturals, also participated in the press conference. In January of this year, Left Coast Naturals announced its own non-GMO policy, promising to rid its catalogue of GMOs by the end of 2015. The move will make Left Coast the first food distributor in North America to create such a policy. "Consumers are nervous about GMOs, and rightly so, but many are not sure why," says Walker. "In the absence of a ban on GMO crops, we think that educating consumers and providing them with choice are practical steps."
To stay in the loop on non-GMO issues, like GE Free BC on Facebook.
Vancouver Mom
Would you like to write for us? We welcome well-written guest submissions with a local interest slant. Share your tips, review local businesses and highlight hot trends for Vancouver moms. Get all the info on our Contributor Page!