Do you have a Christmas tree at home that's starting to drop needles and looking less than chipper? Head to a local tree chipping event. Chipping events not only save trees from landfills, they also raise money for charity. They are a great way to keep that holiday spirit going even after the tree comes down.
No matter how you compost your tree, be sure to remove the decorations and tinsel. Also be sure to bring a donation of cash or a non-perishable food item (or three). Here are some local chipping events as as well as curb side tree pickup information.
The Lions Club Tree Chipping Vancouver
January 8th & January 9th 2022 10 am-4 pm
Bring your tree to one of the Lions Club's 4 Christmas tree chipping locations in Vancouver on January 8th and 9th This year's collection sites are at the following four parking lots:
Other Lower Mainland Tree Chipping Locations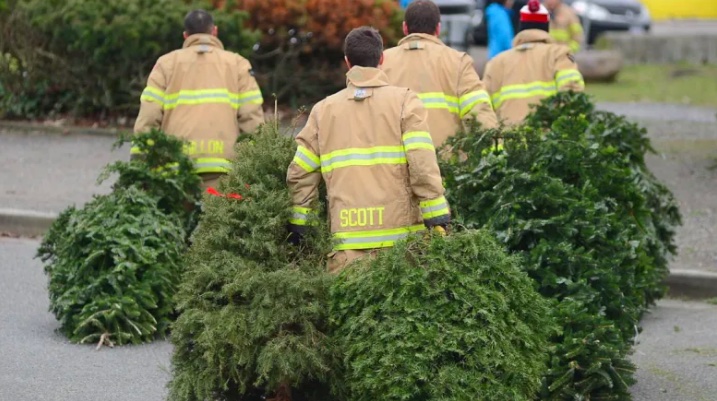 UBC Botanical Gardens, 6804 South West Marine Dr. Dec 26, 2022 – Jan 9th, 2022 10 am–2 pm. By donation- $5 min suggested.
Surrey Firefighters: Jan. 8th, 2022 from 8 am to 4 pm at Guildford Town Centre, 10355 152nd Street.
Langley Ride2survive Annual Tree Chipping: Jan. 8th and Jan. 9th, 2022 from 9 a.m. to 4:30 p.m. at Willowbrook Mall, 19705 Fraser Hwy, Langley. COVID-19 protocols will be in place. All proceeds go to the Canadian Cancer Society. You'll also find other Langley tree disposal and chipping options when you follow the link.
Curbside Christmas Tree Collection Vancouver
January 15th and January 16th, 2022
Properties that receive weekly City Green Bin service are eligible for curbside Christmas tree collection during the weekend of January 15th and 16th, 2022. To ensure pickup, set your tree out before 7am on Saturday, January 15th.
To get curbside collection ready, follow these steps:
Remove all lights, decorations, and tinsel
Lay the tree on its side 
Place it in the same location you set out your bins and be sure the tree is easily visible from the lane or street
Leave the tree loose (no bags, string, or rope)
Transfer Station/ Landfill Christmas Tree Collection
Drop off your tree for free at the Vancouver South Transfer Station or Vancouver Landfill until January 31st, 2022 Remove all lights and decorations beforehand.
For directions and operating hours go to landfill or transfer station.
Note: The Vancouver Landfill and Vancouver South Transfer Station are closed on Christmas Day and New Year's Day. ​​​​​​​​​​​
Green Bin Christmas Tree Collection
You can cut up your Christmas tree into small pieces and place in your green bin for regular pickup.
Pieces should be less than 50 cm in length (18 in) and less than 10 cm (4 in) in diameter. Be sure the green bin is loosely packed and the lid closes completely.
Note: Trees with flocking, tinsel, decorations, or sprayed with foam are not accepted in the Green Bin program.​​​​​
Harriet Fancott
Harriet Fancott is the Editor and Social Media Manager for Vancouver Mom. She has over 20 years experience in the arts, tech and mom-based blogging arenas. She lives in East Vancouver with her husband and son where they enjoy exploring all that Vancouver has to offer from festivals and events to playgrounds and beaches to sushi and ice cream (although not together).