The Goody Bag: An Essential Part of a Child's Birthday Party
Article by Silvia Savage, sharing the scoop on that kids' birthday party staple, the goody bag.
The goody bag is an expected part of a child's birthday party; a treat to give all your guests, to thank them for coming. Children wait in expectation for these gifts or treats at the end of the party, but what is it about goody bags that is so magical and exciting?
From a parent's perspective, goody bags, also known as loot bags, are far from magical and exciting. They can actually be a bit of a headache. Depending on the size of the birthday party, most of us aren't willing to spend a lot of money on goody bags. Once you add the various costs, such as entertainment, food, decorations and so forth, the budget for goody bags isn't all that big. So we go to our local department store or dollar store to see what we can find. We wander up and down the aisles, only to find the usual: bouncy balls, pencils, whistles, stickers, cheap plastic toys… the closer we look, the more we realize the items look really familiar. Perhaps our kids have brought them home from a previous birthday party this year? Or did we buy almost the exact same items last year? We inevitably ask ourselves:  What can we do differently this year?
Here are some ideas that have been a hit with kids and parents alike – tested by my own four children and their friends over the last ten years!
Create a craft project.
Instead of filling a bag with plastic toys that will be soon tossed, a craft will give your guests a project to do at home.  The following craft ideas can be used for different ages.
Having an all-girls party? Why not give them each a canvas tote along with fabric markers & 3-D stickers so that kids can personalize it. Add some lip gloss and you have the perfect goody bag for girls. This can be adapted for a pirate party as well: give each pirate a white bandana along with fabric markers so that they can truly make it their own.
An assortment of crayons or pencils with a cute notepad is always popular. If you want to get creative, you can cut up a pad of watercolour paper so that each sheet becomes four smaller sheets of paper. Wrap a ribbon around 8 of these small sheets, include a watercolour palette and paintbrush, and you have a great painting craft.
Find a cute box or small drawstring bag and fill it with a mix of plastic beads of different shapes, colours, and sizes. Include enough cording to make three to four necklaces, and you have a perfect craft for little princesses to take home.
Find one or two mini garden flower pots and fill them with foam shapes, stickers, etc.  Add some flower/seeds packets for a complete "garden party bag". Children will love to decorate their own pots and plant the seeds!
Make sure to check out your local craft store for ideas. If you are a planner, you can even get items on sale as you see them, for a future birthday.
Give a popular book or toy.
Children love books, so a paperback or picture book will give so much more enjoyment in the long run, and parents will love you for it. A great way to get inexpensive books to give out at birthday parties is to buy book packs through Scholastics. All of us I'm sure have filled out Scholastics orders – why not buy one or two book packs of popular children books and give them out as goody bags – children will enjoy the books, and you will be supporting your school as a bonus!
Similarly, a good quality toy that is popular with a particular age group beats a goody bag full of small plastic toys and candy. Again, watch out for sales. One year, for my daughter's  4th birthday party, I was able to find an assortment of Polly Pocket dolls and accessories on sale and her goody bags were a hit!
Don't forget the sweets.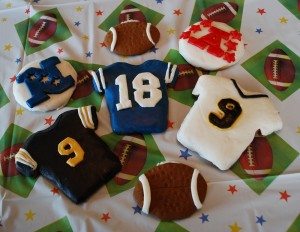 Candy is almost always included in goody bags. Kids love it and after all, it's all about the kids. But do we really want to send our guests home full of sugary candy? I think we've all asked ourselves that question, and we are all in agreement on what the answer is. A great alternative to candy, and one that is sure to please kids, is to provide a decorated cookie or cupcake. This can be the goody bag itself, wrapped in a fancy bag, or it can be added to other items. If baking is not your thing, or you simply don't have time, there are bakeries that provide this service for you, packaging cookies and cupcakes in goody bags. Some even personalize the cookies and deliver to your door!
How old is too old?
The age when goody bags are no longer given out varies, and there is a year or two where we are unsure of what to do. Are they too old for goody bags at 8? At 9? For those uncertain years, a great solution is a candied apple from your local chocolate store. If you have a small number of guests, gift cards are a great alternative. What "tween" wouldn't love an iTunes gift card?
Consider ready-made goody bags.
I was amazed recently when I asked a few friends what they found to be the biggest challenges with putting together goody bags.  The majority was in agreement that finding good quality items at a reasonable price is the biggest challenge, followed by the fact that it takes too much time to put together a nice goody bag. In today's busy world, ready-made goody bags are becoming very popular and they are the solution to our lack of time. The bags are all packaged for you and come in many popular themes. There are many new companies that sell ready-made goody bags, and the majority of them offer online shopping. Shop carefully though: some of the ready-made goody bags out there contain unique and very good-quality items, while others have the usual items found in department stores.
As a mother of four children, I have had my share of trials and errors with the goody bags I have given out over the years.  But I can assure you that once you give out a goody bag that truly says, "thank you for coming to my party", you will understand what the magic and excitement is all about. Yes, birthday parties are all about the kids, but goody bags are all about the giving.
Silvia Savage is the owner of The Party Treasure and mom to her four kids. The Party Treasure provides quality, themed birthday party kits for 3-8 year olds, with everything you need for a fun, unforgettable party.
Vancouver Mom
Would you like to write for us? We welcome well-written guest submissions with a local interest slant. Share your tips, review local businesses and highlight hot trends for Vancouver moms. Get all the info on our Contributor Page!