Throw a Greener Birthday Party
When you think birthday party, there are probably a few images that spring to mind: cake, candles, balloons, streamers, gifts, and maybe even a rousing game of pass the parcel. Sustainability doesn't usually make the list. With Vancouver's goal of becoming the greenest city by 2020, however, we're all going to need to do our part. All of that celebrating can really add up, and take its toll on the earth.
To find out how to throw a birthday party that doesn't cost the planet, we connected with Suzanne Bertani. Suzanne was one of our 2012 Top 30 Vancouver Mom Bloggers for her blog Mommy Footprint. She's also the owner of the eco-friendly party business Green Planet Parties. We knew this mom of four has serious green birthday party street cred, and we wanted to hear more.
Planning a Green Birthday Party
What are the biggest environmental offenders at a typical birthday party?
The biggest offenders are plastic decorations, plastic tableware, and plastic/junky giveaways. If you notice a theme here it's plastic. It never leaves the earth after it's disposed of. Also, most Spiderman and Dora themed decorations will be headed for the landfill because their cheap quality and theme give them a shelf life. This isn't the case when you choose decor that is handcrafted with classic fabrics that won't go out of style like Green Planet Party's cloth party banners. Tableware is another area to look at. Opt for items that can be washed and reused, or tableware that is designed to break down in the landfill or backyard compost.
What are your favourite ways to make a party a little bit greener?
Hands down either the Happy Birthday cloth banner or a personalized name cloth banner. It's the only decoration you'll ever need. It's easy to hang, handcrafted by a stay-at-home mom, designed locally by Green Planet Parties, and heirloom quality that can be passed down for generations.
I also look at goodie bags. Why give out dollar store trinkets that break after the party guests get home? It's truly pointless and not how you want your party remembered. Select one sustainable giveaway rather than loading up a treat bag with junky toys and candy. With food allergies, party hosts really need to think about organic candy in treat bags if they want to incorporate a treat.
What should moms look for when they're buying party supplies?
Moms need to ask questions. Just because something has been labelled 'eco-friendly' doesn't mean it's truly green. Ask where a product is manufactured. What is the product made from? What will happen to the product at the end of its shelf life? Can it be composted or recycled? Green washing is at an all time high, but moms are smart and know the right questions to ask.
How expensive are greener birthday party options?
Greener options only cost more initially because you are investing up front rather than purchasing new party supplies every year. You can't compare purchasing a reusable banner at the same cost as a plastic dollar store banner. But what if you use that banner for 15 years? The same goes for investing in reusable dishware because this can be used not only for celebrations. Stainless steel and glassware are trusted, non-leaching materials for table settings and can be reused for daily snacks and are safe to go into the dishwasher for easy cleanup. Instead of a goodie bag give a second-hand book as a giveaway, or incorporate the party craft as the giveaway.
Do you have any birthday party planning tips you can share?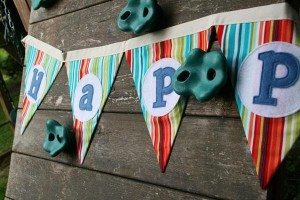 Birthday parties don't have to be elaborate or expensive. If you think back to when we were kids – what did we do at our parties? We played outdoor games, hosted in a backyard or park, made homemade crafts and ate homemade cake. It really was simple and so much fun. With hosting my own children's parties, I try to get kids moving outdoors, introduce them to a new experience, and feed them decent food. Our best parties have taken place outside hosting fairy walks, scavenger hunts, or even a game of Quidditch at a local field. They required imagination and planning but were very budget-friendly and deeply satisfying. When I walk through the forest where we looked for gifts from the fairies I'll always remember the girls hoping to catch a fairy in action. These parties are now treasured memories for our entire family. Keep it simple and if you go elaborate (like setting up a Quidditch match), make it a theme that is close to your heart so you'll enjoy every moment of the planning stage.
Thanks so much, Suzanne, for sharing your green birthday party planning tips! Now we'd like to turn it over to you – what are your tips for a more sustainable birthday party?
Green Planet Parties
Amber Strocel
Amber Strocel is a writer, aspiring math teacher, suburbanite, wife and mom of two. She believes in the power of the Internet to connect people, and she believes that numbers are the poetry of the universe. You can often find her knitting, sewing, volunteering, working in her garden, and sneaking chocolate when no one's looking. She blogs at Strocel.com and shares her photos on Instagram as @AmberStrocel.