Stocking Stuffer Ideas for the Whole Family
Coming up with stocking stuffer ideas for children is pretty easy. Coming up with stocking stuffer ideas, or great holiday party favours, for the grown-ups in your life is a little trickier. We recently connected with Kristina Ikavalko, co-founder and owner of Bag o' Swag, to get her stocking stuffer ideas for everyone on your list. Her cleverly curated collections and fabulous small gift ideas mean she has plenty of experience when it comes to thoughtfully chosen items that can fit in your pocket.
"A lot of our collections are selected thematically," Kristina shares. "This is especially helpful when you're filling a stocking for a grown-up. If your husband is into craft beers our pop-up pint glass might be a fun item to throw in there, as well as a gift card for a local craft brewery. I think considering a theme when buying stocking stuffers for adults especially not only helps the shopper narrow down choices but lends a certain elegance and thoughtfulness to the stocking."
Stocking Stuffer Ideas for Him
Need other theme ideas for the man in your life? If he likes to golf you could give him a small package of his favourite balls, tees, a divet tool, a ball marker, or a golf glove. You could also buy him a gift card to his favourite golf store, or spring for some lessons. You could also help him update his wardrobe with a fashion theme, help him stay in touch with a new phone, case, travel charger and gift cards for apps. And if he's a foodie, there are countless ways to play that up.
Stocking Stuffer Ideas for Her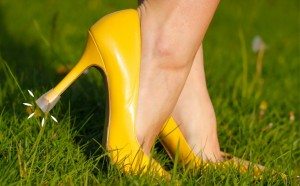 If you need stocking stuffer ideas for a woman, we found a few ideas we love at Bag O' Swag. Their Heelio Dealios will protect your floors and allow your guests to keep their shoes on at your holiday party. Or go with a wine theme, with a corkscrew, gift card and one of their collapsible wine glasses. And a female foodie would enjoy their herbs in a can, as well as some gourmet jellies or other goodies, a high-end kitchen tool or two, and maybe a gift card. For something a little more grown-up, you could also help her update her lingerie drawer.
Unique Stocking Stuffer Ideas for Kids
You can run with the stocking theme for kids, too. For a budding scientist Bag O' Swag has a Dino Volcano, Solar Print Paper or an Amazing Snowman. If your little ones are into Lego or Playmobil, or if they love a particular movie, there are lots of stocking stuffer options that fit the bill. If you have a young artist in your house markers, pencil crayons, paints, bath crayons or one of Bag O' Swag's Mini Modeling Clay tubs might be just the ticket.
For more stocking stuffer ideas, or for holiday party favours, visit Bag O' Swag online.
Bag O' Swag
Vancouver Mom
Would you like to write for us? We welcome well-written guest submissions with a local interest slant. Share your tips, review local businesses and highlight hot trends for Vancouver moms. Get all the info on our Contributor Page!