Fields of flowers are in full bloom all over Metro Vancouver and there are enough to blow up your 'gram this summer. Dahlias, wild flowers, sunflowers – take your pick and snap 'em before they're gone! Here are five of our faves.
Five Sunflowers Festivals
Abbotsford Sunflower Festival
Your all-inclusive ticket to Maan Farms gets you entry to the sunflower fields, corn maze, petting zoo, barnyard adventure. They have numerous photos ops, including a giant 40 ft rainbow. Make it a one stop shop by grabbing eats from Mama Maan's kitchen, berry or potato picking, and if you're visiting on the weekend, indulge in a wine tasting! Don't forget to pick a sunflower on your way out (it's included too!).
>> Maan Farms Sunflower Festival
Cultus Lake Flower Fest
If you're heading to Cultus Lake this summer, be sure to visit this charming flower fest. Think sunflowers, dahlias and wildflowers! Run by Jesse and his family, he wants you to breathe in the fresh air and take in the natural beauty of it all. Stop by Yarrow Pizza and Pasta or Mighty Moose Ice Cream on your way home. 
Lakeland Sunflower Festival
The newest flower fest in town opened with tulips and is now moving onto Sunflowers. We'll be visiting soon with a review!
Chilliwack Sunflower Festival
The Chilliwack Sunflower Fest is full of the prettiest long stemmed wild flowers, with the field surrounded by 8ft mammoth sunflowers. The colours are soft and muted with random pops of contrasting red. You'll also catch beautiful mountains in the background. They have a variety of props like a swing and windmill. They have over 40 varieties of sunflowers on 15 acres of this stunning farm.
>> The Chilliwack Sunflower Fest
Richmond Sunflower Festival
Eight acres of rows and rows of sunflowers ought to make any shot #instaworthy. There are 20 varieties of sunflowers and dahlias over 15 acres at Richmond Country Farms. The farm has doubled in size. Pop over to the estate winery or beer garden and catch a hay ride too! Perfect for Lower Mainlanders who don't want to drive out to the Valley.
Bonus
VanDusen Botanical Garden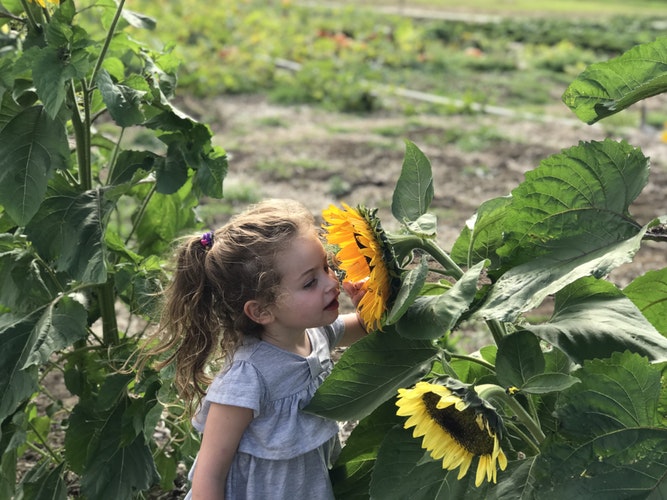 You can find sunflowers right here in the city at everyone's favourite botanical garden. VanDusen boasts sunflowers and all kinds of fragrant florals in the prettiest colours: lilies, hibiscus, silk tree, butterfly bush, roses and an assortment of perennials.
Reg Lok Von
The blogger behind Nourish Through Movement, Reg Von Lok writes about DIY and style, nourishment through movement and integrates it all with motherhood, family and life's curveballs. She lives live in the Metro Vancouver area with my husband and two girls.
Harriet Fancott
Harriet Fancott is the Editor and Social Media Manager for Vancouver Mom. She has over 20 years experience in the arts, tech and mom-based blogging arenas. She lives in East Vancouver with her husband and son where they enjoy exploring all that Vancouver has to offer from festivals and events to playgrounds and beaches to sushi and ice cream (although not together).