COVID-19: Metro Vancouver family events – Cancellations, closures and restrictions
Cancellations, closures and postponements are coming in fast and furious after the WHO announcement of a global pandemic related to the coronavirus. Stay tuned to this list as we will be updating it as they come in.
>> General COVID-19 information and relevant links
Bookmark this page for frequent updates.
COVID-19 – Cancellations, closures and restrictions in Metro Vancouver
TUTS – Cancelled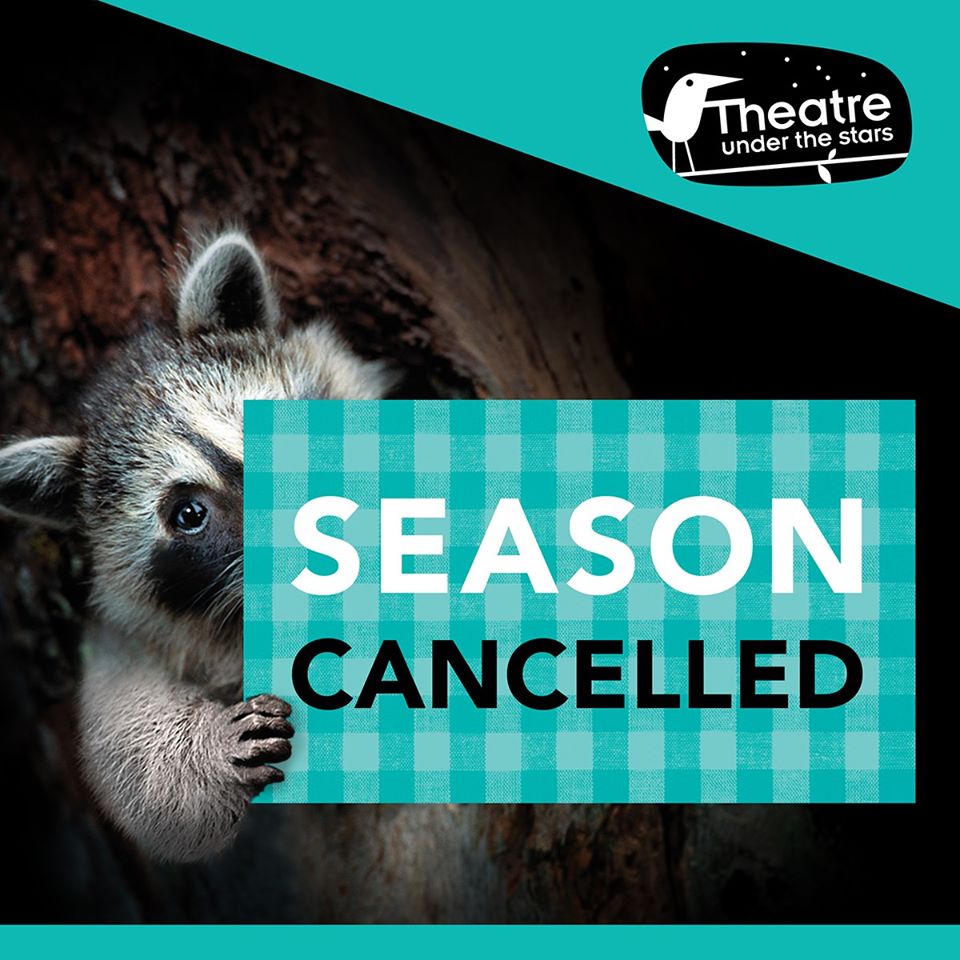 #TUTS2020 SEASON CANCELLATION: After considering every possible measure and eventuality, it is with heavy hearts that we announce the cancellation of the 2020 TUTS season: Disney's Beauty and the Beast & Hello, Dolly! All of us here at TUTS send our heartfelt wishes to you and those affected by the extraordinary circumstances surrounding the COVID-19 virus.
Children's Festival 2020
"As concerns increase about the COVID-19 pandemic and after careful consideration, we have made the difficult decision to cancel this year's Vancouver International Children's Festival scheduled for May 25 – May 31, 2020 on Granville Island. Please click here to read the official press release regarding COVID-19."
Playgrounds – Closed
The City of Vancouver has closed all playgrounds. Expect municipalities to follow suit. "Vancouver is shutting down restaurant table service, closing playgrounds and creating a task force to respond to COVID-19 in an effort to stop the virus from spreading."
HR Macmillan Space Centre – Closed
The H.R. MacMillan Space Centre will be temporarily closed to the public starting March 18, 2020. All programming will be cancelled as a preventative measure to help slow the spread of COVID-19 through our community. We look forward to getting back to our regularly scheduled programming as soon as it is reasonable to do so.
The Cultch – Closed
It is with heavy hearts that The Cultch has closed all our public spaces, including all three theatre venues as well as the Gallery and box offices until further notice.
The Boy in the Moon and Briefs will be postponed (dates TBA).
For more details, read our full statement here: thecultch.com/covid-announcement
We hope you and your families are staying safe and healthy during these difficult times.
Arts Umbrella – Closed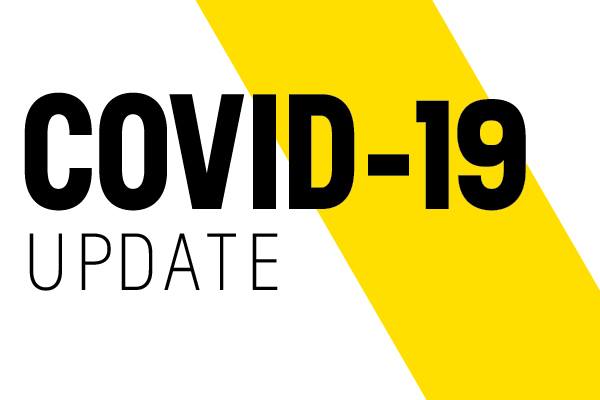 The safety of our students, staff, and families is of utmost importance to us at Arts Umbrella. Effective 4:00 pm, Monday, March 16, 2020, all Arts Umbrella Spring Break programs will be cancelled due to the evolving situation with COVID-19.
Full refunds will be automatically processed for all students currently registered in Spring Break Camps March 16-20 and March 23-27. Families can expect to receive their refund receipt by email in the coming days.
Kidtropolis – Closed
The World of Kidtropolis is closed to the public until further notice.
Place Des Arts – Closed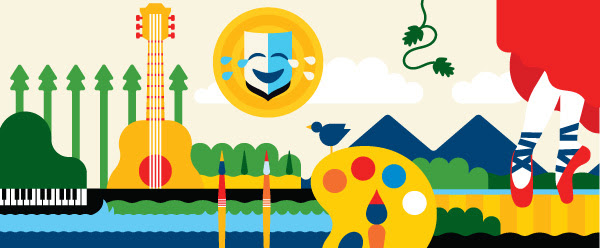 In light of the developing situation around COVID-19 and to ensure the safety of our Place des Arts community, we are cancelling our Spring Break camps and all September-June classes and private lessons until March 27, 2020. At that time, we will reevaluate the situation and update you as information becomes available.
Effective March 16, our facility is closed to the public.
As per our cancellation policy, full or partial refunds will be granted to our customers when we are able to process them. Make-up classes and lessons may be scheduled, but are not guaranteed due to the circumstances.
Thank you for your patience and understanding during this unprecedented time.
March 15 2020
After very careful consideration and with the rapid growing concerns surrounding the COVID-19 situation, Cypress Mountain Resort & Grouse Mountain have suspended operations until further notice.
Stanley Park Easter Train and VanDusen Easter Eggspedition – Cancelled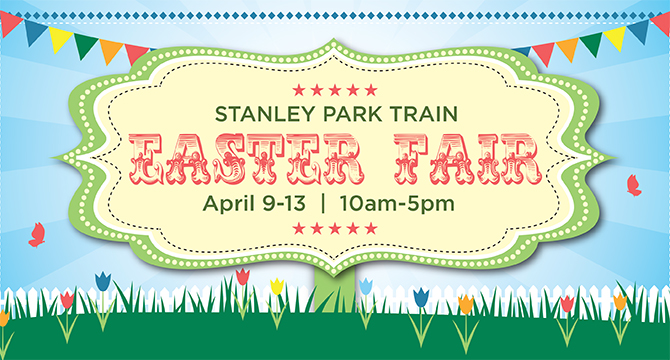 March 14 2020
At this time Vancouver Coastal Health (VCH) indicates the public risk remains low, however, yesterday afternoon the Provincial Health Officer directed new protocols that have an impact on some of our events and services. We have been advised to cancel or postpone all public gatherings of more than 250 people. Our team has done a complete review of all Park Board events that are scheduled to take place between now and June 30, 2020 and has cancelled the Stanley Park Easter Train, as well as the Easter Eggspedition at VanDusen Botanical Gardens. We will be issuing full refunds to any patrons who have already purchased tickets
Public Pools / Libraries and Community Centres across Metro Vancouver – CLOSED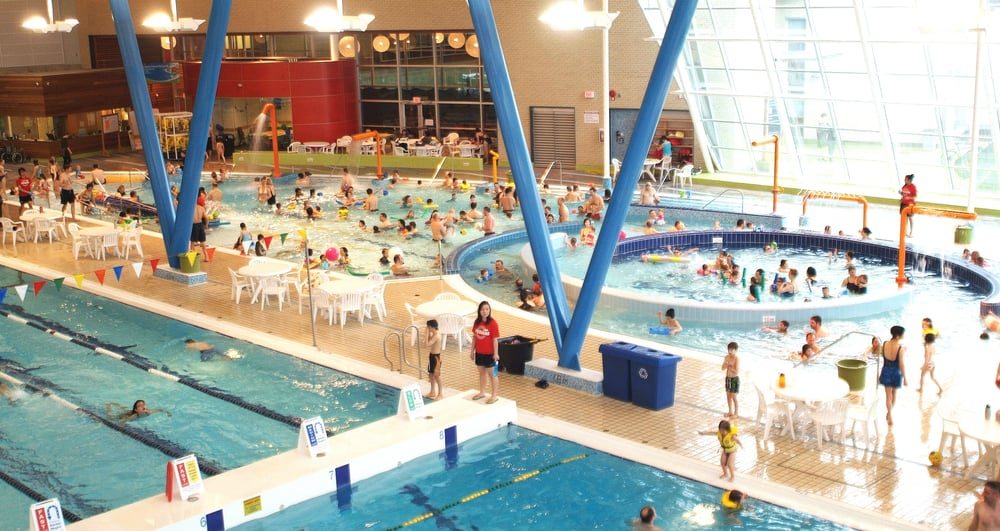 The Park Board-wide closures for Vancouver include the following but all cities in Metro Vancouver from North Vancouver to Surrey are all closing everything down.
All community centres and services on their sites, with the exception of day camps for children and licensed childcare. Those services will remain open for the time being but no new registrations will be accepted;
All park board pools, hot tubs, saunas, steam rooms, fitness centres, ice rinks, golf courses, and pitch and putts;
VanDusen Botanical Garden;
Bloedel Conservatory;
Queen Elizabeth Park Celebration Pavilion;
Concessions and the Stanley Park Info Booth;
All permitted events at sports fields and public parks, and the facilities listed above will be cancelled, with refunds offered to those impacted.
BC Place Events – Cancelled or postponed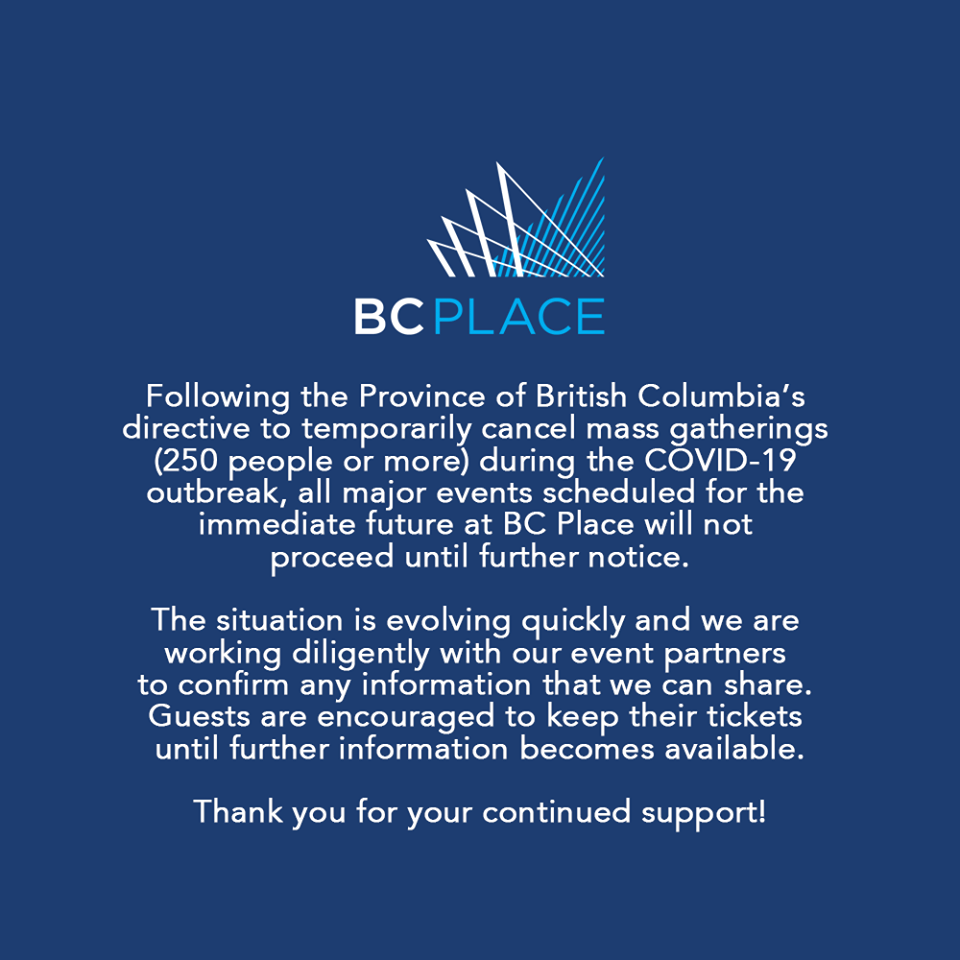 Closed March 15-22 2020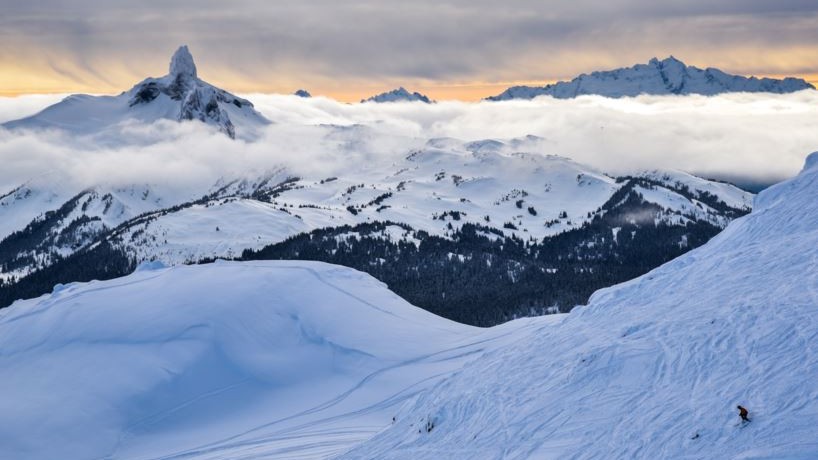 March 14 2020
Vail Resorts, which owns Whistler has made the difficult decision to suspend operations of all its North American mountain resorts beginning March 15 through March 22. Please read this letter from our CEO Rob Katz.
City of Vancouver cancellations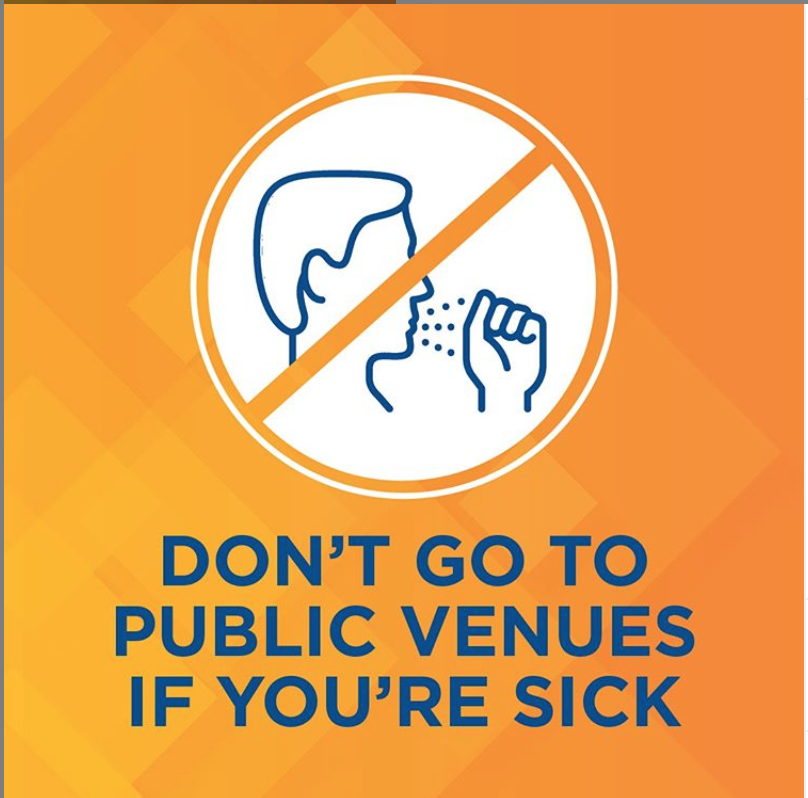 For details on event cancellations, visit the below:
Monster Jam – Postponed
March 13 2020
In accordance with the restrictions on travel and group gatherings amid COVID-19 concerns, the upcoming Monster Jam events scheduled for Saturday March 14 and Sunday March 15, 2020 at the Pacific Coliseum will be rescheduled for a later date. All tickets will be honoured for the rescheduled dates which will be announced soon.
Customers that cannot attend the rescheduled date will be given a refund at their original point of purchase. Refunds are currently available upon request – please contact TicketLeader Customer Service at info@ticketleader.ca or via phone at 604-252-3700.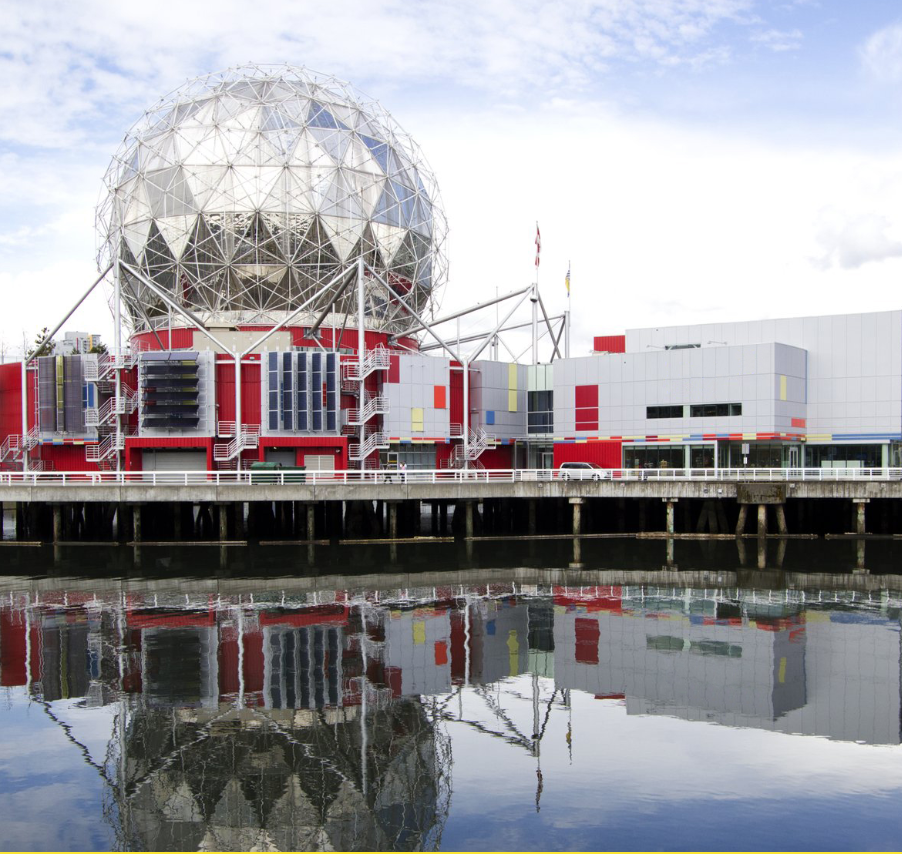 March 13 2020, message from Science World
Please note that Science World will be closed to the public until April 6, in line with the schools' spring break.
While there have been no incidences of COVID-19 identified at Science World at this time, this decision has been made in an abundance of caution based on the unique interactive, hands-on nature of our facility and our ability to manage social distancing. This will also give us an opportunity to deep clean and disinfect our facility. During this period, we will continue to pay all staff in accordance with their scheduled hours. We will take this opportunity to share as many fun spring break science activities as we can through our online channels. Thank you for your understanding and continued support.
March 13 2020
Following advice from the BC Government, Carousel Theatre made the difficult decision to cancel all upcoming performances of The House on Pooh Corner.
From Carole Higgins, Artistic & Managing Director
These are unprecedented times. We are a non-profit charity and youth-serving organization, and the month of March is Carousel Theatre for Young People's second busiest month of the year. The financial impact of the closure of The House at Pooh Corner is considerable.
We kindly ask that you consider the following options regarding your tickets:
Please consider accepting a gift certificate for the value of your ticket purchase for The House at Pooh Corner to use on a future CTYP production. This will assist CTYP's cash flow during this time.
March 12 2020
Following the directive provided by the Province of British Columbia regarding mass gatherings during the COVID-19 outbreak, Playdome at BC Place will not proceed as scheduled on March 20th to March 28th.
Refunds will be automatically issued to any advance ticket purchasers.
BC Place and West Coast Amusements wish to thank the community for their ongoing support for Playdome.
March 12 2020, from the organizers of HFE 2020.
It is with heavy hearts that Healthy Family Media is announcing the postponement of Healthy Family Expo 2020.
We now face a World Health Organization declaration that COVID-19 has reached a level of global pandemic, a blanket prohibition on events involving over 250 people in our neighbouring state of Washington, major North American sports leagues making significant alterations, many of our exhibitors facing company-mandated travel or event participation restrictions, and the exponentially growing concern of Metro Vancouver parents (including ourselves) about attending large events.
Cirque de Soleil Axel – Cancelled
March 12 2020
In light of the COVID-19 pandemic and following the World Health Organization and the Center for Disease Control and Prevention's recommendation of social distancing, all performances of Cirque du Soleil AXEL in Victoria, Abbotsford, Kelowna, Kamloops and Prince George have been cancelled.
All ticket buyers for AXEL in all cities will be refunded and will be notified on how and when their refunds will be processed by their respective third-party ticketing company. Ticket buyers who bought their tickets through Ticketmaster will be issued an automatic refund on the credit card used to purchase their tickets. No further action is required.
March 9 2020
The Japanese festival, an annual highlight of the Vancouver Cherry Blossom Festival, has been cancelled.
After careful consideration and thorough review of current circumstances, the Japan Fair Association of Vancouver (JFAV), the volunteer-run organizing committee of Sakura Days Japan Fair, has come to the difficult decision to cancel this year's event. This annual event, presented in partnership with the Vancouver Cherry Blossom Festival, was scheduled to take place on April 18 & 19, 2020.
March 12 2020
The Surrey Vaisakhi Khalsa Parade, scheduled for April 25, has been cancelled "until further notice or a significant change in the transmission of the worldwide COVID-19 pandemic.
Baby Shark Live! Postponed
The launch of Baby Shark Live!'s Canadian tour in Vancouver on March 28th has been suspended due to the global COVID-19 situation! Organizers have decided to re-schedule the Canadian tour launch in Vancouver for safety and precautionary measures.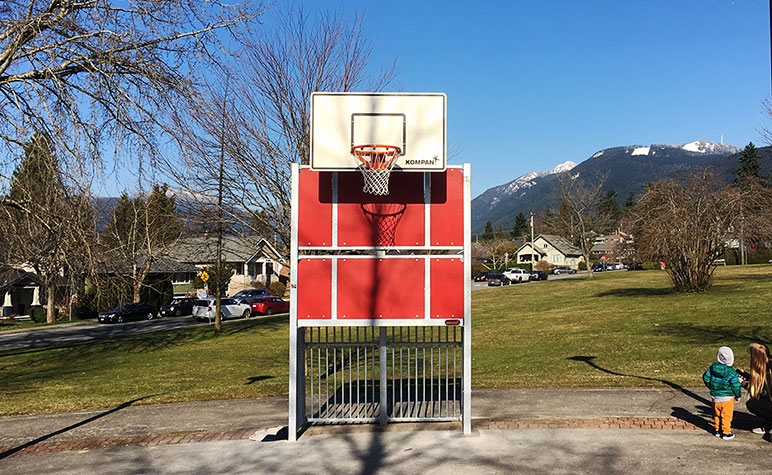 Citing ongoing risks associated with the COVID-19 pandemic, Rogers media announced Wednesday it's cancelled all remaining Rogers Hometown Hockey Tour stops this season, including one scheduled in North Vancouver this weekend (March 14 & 15).
On the upside, Rogers Sports & Media donated a multi-sport Hoop-Net donation. If you haven't seen it, be sure to check it out at Ray Perrault Park.
March 12 via the Vancouver Sun
The 2020 Vancouver Sun Run, scheduled for April 19, and the third-largest 10-kilometre event in North America, has been cancelled by organizers over concerns about the novel coronavirus. It's the first cancellation of the run after 35 consecutive years.
Registered participants will be able to pick up their race shirts for the 2020 Sun Run at a "packet pick-up" at a future date. Individuals will also have the option of paying a $15 processing fee to transfer registration to the 2021 Vancouver Sun Run.
March 12 2020
The Major League Soccer announced that the league is temporarily suspending match play for 30 days. This means the Vancouver Whitecaps season is on hold for 30 days.
"Our clubs were united today in the decision to temporarily suspend our season – based on the advice and guidance from the Centers for Disease Control and Prevention (CDC), Public Health Agency of Canada (PHAC), and other public health authorities, and in the best interest of our fans, players, officials and employees," said MLS Commissioner Don Garber.
Place Des Arts
BrickCan – Cancelled
March 14 2020
We are sad to announce that due to the public health and safety guidelines recently released from the BC government regarding COVID-19, BrickCan 2020 will not take place this May.
We are currently arranging refunds through Ticketmaster for guests who have already purchased tickets for BrickCan on May 2nd or 3rd. No further action is needed on your part and we expect refunds to be processed by early April.
BrickCan will return!
Harriet Fancott
Harriet Fancott is the Editor and Social Media Manager for Vancouver Mom. She has over 20 years experience in the arts, tech and mom-based blogging arenas. She lives in East Vancouver with her husband and son where they enjoy exploring all that Vancouver has to offer from festivals and events to playgrounds and beaches to sushi and ice cream (although not together).