5 Peaceful outings when you all need to do is chill
Summertime is chaotic. Waterslides, holidays, fun parks and now, playdates can all be very exciting but sometimes overwhelming. Overstimulation for kids can lead to physical and mental exhaustion which often results in meltdowns (sometimes for parents and kids). To break up the action, a peaceful day might be in order. Here are a few suggestions for activities to take the intensity down and find some calm, for all of you.
5 Low stimulation outings for kids
Van Dusen Botanical Garden
Stroll through the peaceful gardens listening only to the sound of the birds and the buzzing bees. The gardens span 22 hectares and is home to over 7,500 kinds of plants from around the world. Visit the vegetable garden to learn how to eat the rainbow. Cruise past the silk tree and meadow garden and then stop and smell the roses. Marvel at the butterfly bush. You can bring your own lunch and some colouring supplies to draw some favourite plants. You can also find a Sit Spot and just observe.
5151 Oak Street Vancouver
vandusengarden.org
Spanish Banks West at Low Tide
The ocean is always calming but city beaches can be busy. Spanish Banks, on the westside of the City towards UBC, is worth the drive. It's a designated quiet beach which means no amplified sound is permitted. This uncrowded beach also offers epic views of downtown and the mountains. At low tide, you can walk out into the water until it feels like you're standing in the middle of the ocean. Shallow waters make this a great place for sand castles, paddling and generally taking in the silence. Pack sunscreen and snacks so you can stay all day.
North West Marine Drive, Vancouver
Vancouver Public Library Rooftop
Take the elevator to level 9 of the Vancouver Public Library and you'll find the Phillips, Hager and North Garden, a publicly accessible rooftop garden. Take your books up, pick a bench and enjoy the incredible City views. Gardens feature arbutus hedge, honeysuckle, white roses, lavender and coral bark maple trees so the smells are amazing. Food and drinks are allowed in the garden (unlike the rest of the library) so take a snack and enjoy a quiet story time that feels like another world from the busy City below.
350 West Georgia Street, Vancouver
www.vpl.ca
Mystery Lake, Mount Seymour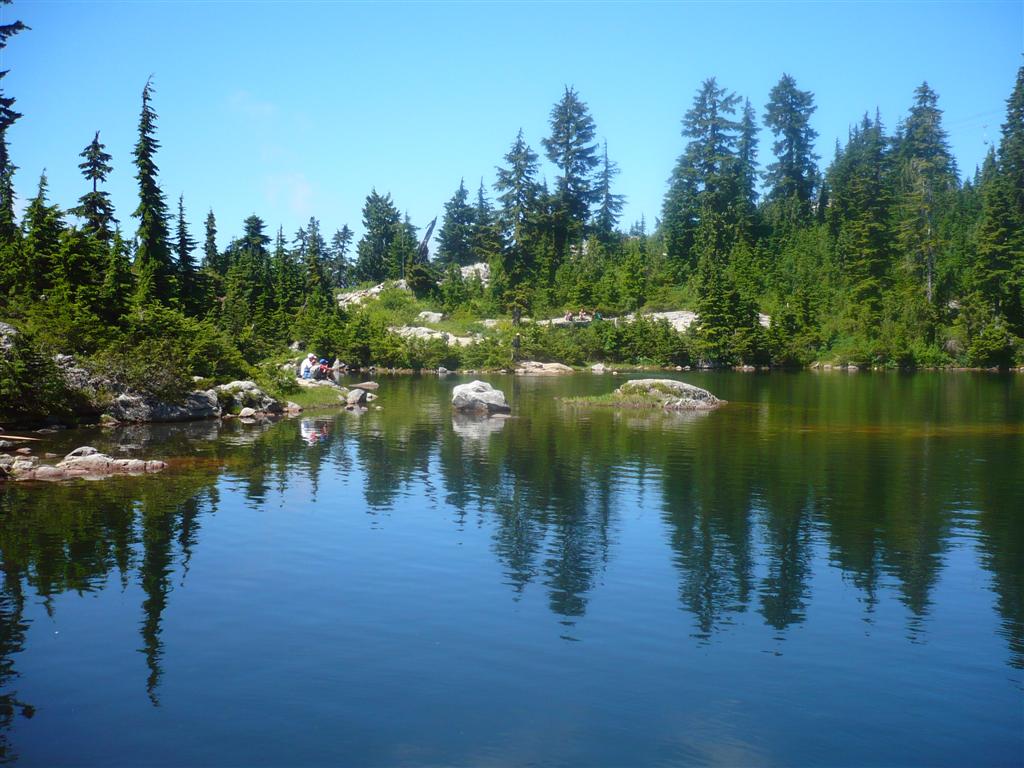 Get into the trees for a short hike and then rewards yourselves with a splash. The trail to Mystery Lake and back is about 3km and takes about an hour and a half round trip. The trail is a bit rocky so not great for strollers but babies in carriers or kids who don't mind exploring a trail will love it.  When you arrive at the lake enjoy a snack or a picnic and if you've brought a towel, head it in for a dip! Remember to take deep breaths and soak in the fresh air as you walk by birds, greenery and blue skies above.
Seymour Mountain, North Vancouver
vancouvertrails.com/trails/mystery-lake
H.R. MacMillan Space Centre
The H.R. MacMillan Space Centre, aka the Planetarium, is an out of this world experience. Explore space and our solar system and even travel to Mars in the Cosmic Courtyard Exhibit Space. Sit back at the Planetarium Star Theatre to experience planets, meteor showers, black holes, galaxies, and other astronomical wonders. Let your mind wander into the stars. Book ahead to ensure ticket availability.
1100 Chestnut Street, Vancouver
www.spacecentre.ca
Jenn Wint
Jenn Wint is a writer, communications strategist and a public relations specialist. She is passionate about storytelling and community. Jenn lives in East Vancouver with her husband, 3yo son and 1yo daughter. You'll find them hanging around Vancouver's playgrounds, water parks, coffee shops and anywhere that bakes fresh cookies in-house!