The sweetness of Strawberry Days at Maan Farms
Photo credit: Connie Hobbis of Maan Farms
The 'berry days' of summer are here!
With the announcement of BC's next step in our safe restart plan allowing for provincial-wide travel as of today, we're all feeling a little lighter and a little sweeter.
How about some delicious seasonal sweet treats to mark the occasion?
Maan Farms is serving up summer with their Strawberry Days beginning June 14th. 
Extensive play area
Bring the family! 
Enjoy the whole day along with their strawberry fields, as Maan Farms offers an entire Barnyard Adventureland experience. My mind was blown by how large this playspace is!
From a massive oversized jumping pillow to wooden climbing castles, to an entire pedal go-kart made of reused tires and yes, they even have a kid-friendly zipline. My son is 5 and probably went on… I'd say about 10 times!)  We did not forget to mention all the adorable furry animals on site.
I was not prepared to spend the entire day there, yet we did—there is just so much to do!
With timed visits (booked online) for the strawberry fields, we visited Saturday with great social distancing rules in place, mandatory mask-wearing and even got the chance to meet the matriarch of it all, Mama Maan who was ever so sweet and welcoming. It was my pleasure to meet you, I'll need to come back and try your specialty Indian cuisine. 
This summer, it's entirely about enjoying BC locally to thank the local businesses for their efforts over the pandemic season. The roots for Maan Farms go as far back as 40+ years with the Maan Family and remains one of the most beloved local family institutions of the Fraser Valley.
________________________________
How to plan your visit to Maan Farms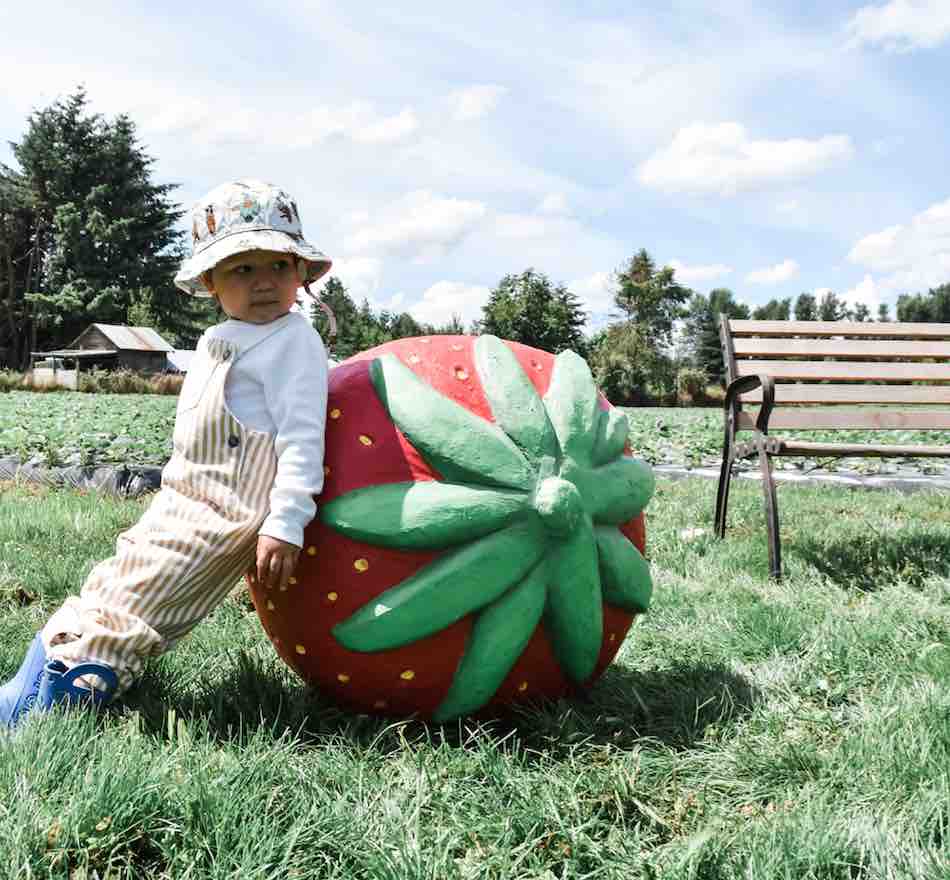 Time spent at location
3-4 hours
Admission
Open 9 am to 6 pm daily.
FREE to wander around in the Maan Farms Marketplace offering all local merchandise to their seasonal strawberry themed sweet treats
U-Pick Strawberries—must reserve time online (walk-ins are welcomed with respect to capacity) to allow for physical distancing, no outside buckets, priced per size of bucket, everyone walking age must pick into their own bucket ($5-$26)
Barnyard Adventureland—includes 7 outdoor play attractions ($16 aged 3 & up, save $4 OFF for accompanied parent) 
Ways to Save
Purchase the 'Strawberry Lovers VIP Pass' ($40, save when purchased online) for the entire U-Pick & Barnyard Adventureland experience and save on price per entry to the Barnyard Adventureland (works out to $8/ visit as it comes with a complimentary return pass) Plus, this VIP Pass includes their strawberry themed treats: a bag of strawberry mini donuts & a strawberry lemonade or wine tasting 
Parking
Complimentary parkade on site
Stroller-friendly, over grassy areas
Main Attractions
Strawberry fields U-Pick option w/ an entire Barnyard Adventureland play area
Giant strawberry photo ops for great memories 
Strawberry Princess wandering around on certain days to greet the kids 
Special notes
Hands down, they have the sweetest strawberries. (You can quote me on that!)
Maan Farms
790 McKenzie Rd, Abbotsford, www.maanfarms.com
Connie Hobbis
The author behind @buddycons, Connie writes about her detailed adventures with her kids around BC (& beyond), believer of 'presence over presents' in motherhood & literacy development in children. She shares tips on traveling with ease with kids, home organization & gentle minimalism with having less. She lives in the Metro Vancouver area with her husband & two kiddos. Before becoming a mom, she worked in the Financial Industry and is a two-time award winning People Leader. Follow her adventures & updates on Instagram @buddycons.