10 kid friendly activities to honour Indigenous Peoples Day in Vancouver
Photo credit: Unsplash
National Indigenous Peoples Day is coming up on June 21. This is a day for all Canadians to honour and celebrate the cultures of the First Nations, Metis and Inuit people as well as the immense contributions made by these groups.
>> Honouring the lives of the 215 Indigenous children
Here are some fun things to do with your kids to experience the Indigenous culture this month – and the best part is you will be supporting local Indigenous people and businesses.
1. Salmon n' Bannock Bistro
This amazing bistro is a must visit in Vancouver. They use authentic flavours to create their delicious dishes. The menu has a variety of tasty treats including the delicious bannock with butter and jam, a power salad and a salmon sampler.
The Salmon n' Bannock Bistro is Indigenous owned and operated. They are currently open for take-out. Call them to order 604-568-8971. Or you can place an order on Uber Eats. They also have a small outdoor patio which is first come, first served.
Address: 7-1128 West Broadway, Vancouver
2. Bill Reid Gallery
The Bill Reid Gallery is a breathtaking place to visit in Vancouver. It is the only local public gallery dedicated to contemporary Indigenous Northwest Coast Art. It was established by the Bill Reid Foundation in 2008 with the mandate of promoting a greater awareness of Indigenous cultures and values.
The Bill Reid Gallery offers digital education resources for students of all ages as well as various free resources, including a colour sheet you can print from the website.
Hours – Wednesday – Sunday 11 am – 5pm (closed Monday and Tuesday)
Special notes:
The last Thursday of each month from 9:30 am – 11 am are reserved for seniors, vulnerable people and first responders. Every first Friday of the month from 2 pm – 5 pm admission is free.
Address: 639 Hornby Street, Vancouver
3. Talaysay Tours
If you're looking for something fun and educational, Talaysay Tours is a perfect outing. They offer authentic Aboriginal cultural and eco-tourism experiences in and around Vancouver, Squamish and the Sunshine Coast. In Vancouver, there are several experiences to enjoy, including the Talking Totems Indigenous Art Tour in Stanley Park and the Talking Trees Tour in Stanley Park. These tours are let by a local First Nations guide and cultural ambassador. You will learn so much about the rich Indigenous history as well as enjoy beautiful Stanley Park.
They are currently offering various virtual options, including walking tours and Salish storytelling and song tours and so much more.
They also have various school tours with a current limit of 10 students per group.
A special virtual event called Spoken Treasures – Celebrating Indigenous Day taking place on June 24 at 5:30 pm. Call 1 (800) 605-4643 to book.
4. Mr. Bannock Indigenous Cuisine
Mr. Bannock Indigenous Cuisine is a food truck located in North Vancouver. They use traditional methods, such as clay and stone baking and use traditional ingredients from the Squamish First Nation in their Indigenous-fusion cuisine.
Menu items include bannock tacos, bannock burgers and so much more.
Mr. Bannock is open for curb-side pickup in North Vancouver Fridays 4 pm – 6:30 pm. Call 604-839-9337 to order. You can also order delivery through Doordash.
442 West 1st Street, North Vancouver
5. The Pow Wow Jacket
On view at the Vancouver Museum, the Pow Wow jacket, acquired at the Downtown Eastside Women's Centre Fundraiser on November 26, 2020, was donated to help raise public awareness of the human rights crisis surrounding Murdered and Missing Indigenous Women, Girls, and Two Spirited individuals (MMIWG2S). Did you know that Indigenous people, both male and female, account for 4.3% of Canada's total population, yet indigenous women and girls account for 16% of female homicide victims, and 11% of Canada's missing women?
In recognition of Indigenous Peoples Month, the jacket will be on public view at MOV for the month of June 2021.
6. Noons Creek Hatchery
Port Moody's Noon's Creek Hatchery has an event on Monday for National Indigenous Peoples Day Open House: June 21, 2-4pm with Renae Morriseau and guest. There will be bannock, and an art table for children and families. Kinder Books will be offering beautiful Indigenous literature for children. Wear your masks and be mindful of others.
7. Virtual Native Hip Hop Festival
MOA is co-presenting this year's virtual Native Hip Hop Festival, now in its 7th year, in celebration of National Indigenous Peoples Day. Hop online for a powerful evening of politics, activism, and story telling woven through each performance by award-winning musicians. This celebration of Indigenous culture and hip hop will be set in MOA's Haida House, against a stunning backdrop of Northwest Coast art and architecture.
>> Native Virtual Hip Hop Festival
8. Celebrate the Squamish and Haida through stories and songs with Bob Baker and Kung Jaadee
Mark National Indigenous Peoples Day by celebrating the Squamish and Haida through stories and songs! Sḵwx̱wú7mesh (Squamish) cultural advisor and performer Elder Bob Baker (S7aplek Lanakila) and his niece, renowned X̱aayda (Haida) storyteller Kung Jaadee will share some of their ancestors' traditions, teachings and ways of living. Following a re-telling of the Squamish and Haida stories of the Great Flood, they will each sing a song. This is a free virtual event on June 21 at 4 pm but you must register.
>> Art Connects
Now over
Indigenous performer Cris Derksens Nerd at the Virtual Vancouver International Children's Festival
This year the Vancouver International Children's Festival will be held virtually with a combination of live and pre-recorded performances and events. Cris Derksens Nerd's Whirlwind Musical Tour is a must watch event this month. She is an Indigenous cellist and composer. She will explain how she creates her musical sound which combines her classical background and her ancestry together with electronics.
Now over – Virtual workshop — Storytelling and Illustration with Christine Mackenzie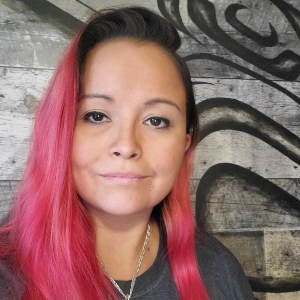 Christine Mackenzie, a Kwakiutl Nation Artist and Facilitator. will host this workshop. She will share a story and its meaning, and your child will use their imagination to create an illustration inspired by the story.
To participate your child needs pencils, pencils crayons, four sheets of paper, and felt markers (optional). This workshop is designed for children ages 3 and up, from pre-school to grade 12.
This is such a wonderful way for children to experience aboriginal culture leading up to Indigenous Peoples Day from the comfort of your own home.
>> Christine Mackenzie workshop
However you decide to celebrate Indigenous Peoples Day this year tag #vancouvermom / @vancouver_mom on Instagram in your photos for a chance to be featured on our Instagram page.
Kera Skocylas is a First Nations woman who loves featuring Indigenous people and businesses.
Kera Skocylas
Kera is a full-time mom with three kids. She lives in the suburbs of Vancouver and recently started Kids Cuddles Coffee, a 'mommy-news' blog. She loves going on adventures with her kids all over the Lower Mainland. She has a passion for writing and the news. Before becoming a mom she worked at CBC radio and at a local newspaper. Follow her on Instagram @kidscuddlescoffee