As we push forward through year three of the COVID-19 pandemic, our children continue to adjust, overcome challenges, and show growth. They laugh, they are loved, and they are resilient. That's why parents should know more about COVID-19 vaccine and kids.
According to data collected by the BC Centre for Disease Control (BCCDC), as of March 29, 2022, more than 24,800 children ages 5 to 11 have tested positive for COVID-19 in British Columbia. Between December 2021 and March 2022, vaccinated children were 3.3 times less likely to be hospitalized for COVID-19 compared to unvaccinated children.More than 1.6 million children ages 5 to 11 have received the COVID-19 vaccine in Canada as of March 2022 since it first became available in December. Now that we approach the six-month mark, it's a critical time to evaluate the research that's been collected and to review resources to help parents make the best decision for their children.
Vaccine Benefits and Safety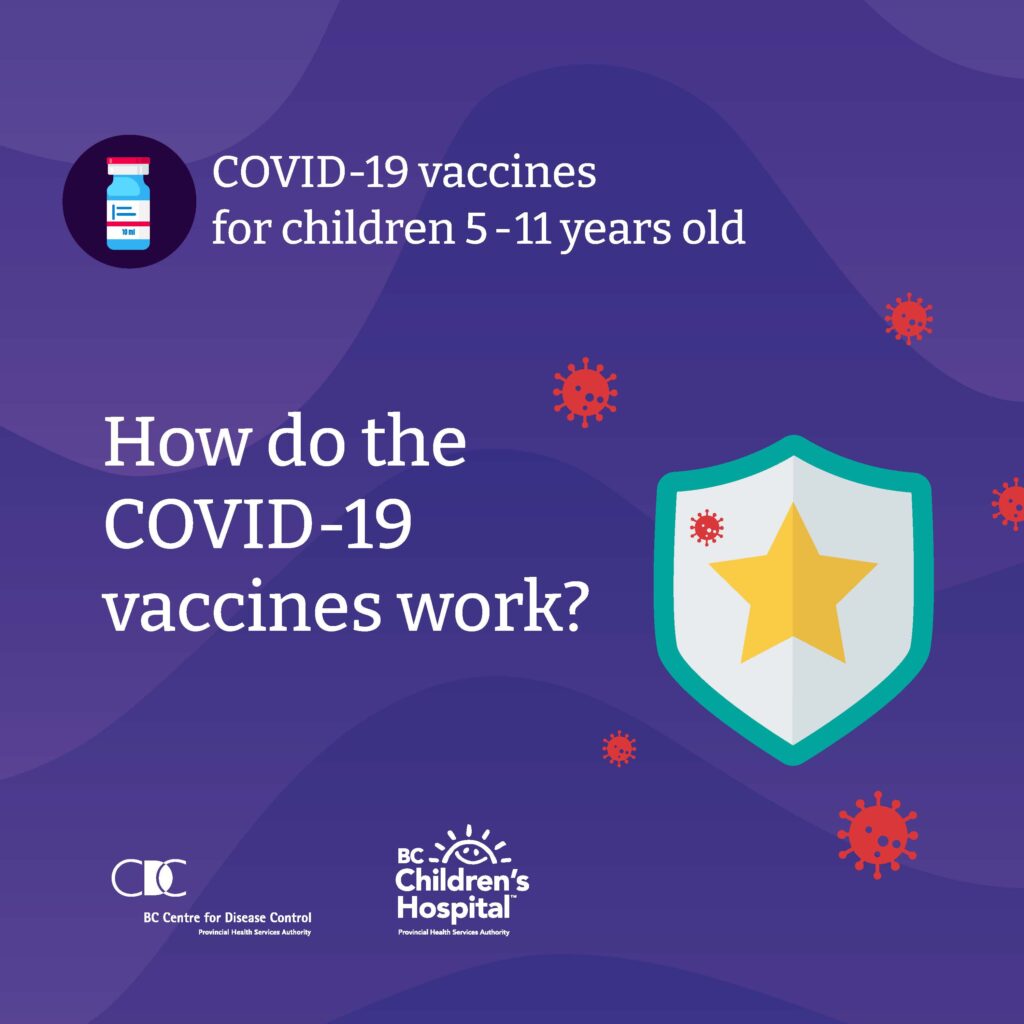 Studies continue to be conducted to ensure the safety and efficacy of COVID-19 vaccines for children. Both the Pfizer-BioNTech (ages 5 to 11) and Moderna (ages 6 to 11) vaccines have been deemed safe for children by Health Canada. No safety issues have been detected and the vaccinesare proven to provide very good protection against serious illness due to COVID-19.
"COVID-19 vaccines are safe for children and the benefits far outweigh any rare risks of serious side effects," says Stephanie Meier, Senior Practice Leader for Communicable Disease and Immunization Service with the BCCDC. "Vaccination is the best suit of armour to protect children from severe illness due to COVID-19."
For parents whose children have already had COVID-19, the BCCDC encourages them to still get vaccinated.
"While the infection does provide good protection, the vaccine can provide a stronger and longer lasting immune response," says Meier. "If you've been hesitant to vaccinate your child or have taken a wait-and-see approach, now is the time to move forward and book an appointment."
Tips to Prepare Kids for the COVID-19 Vaccine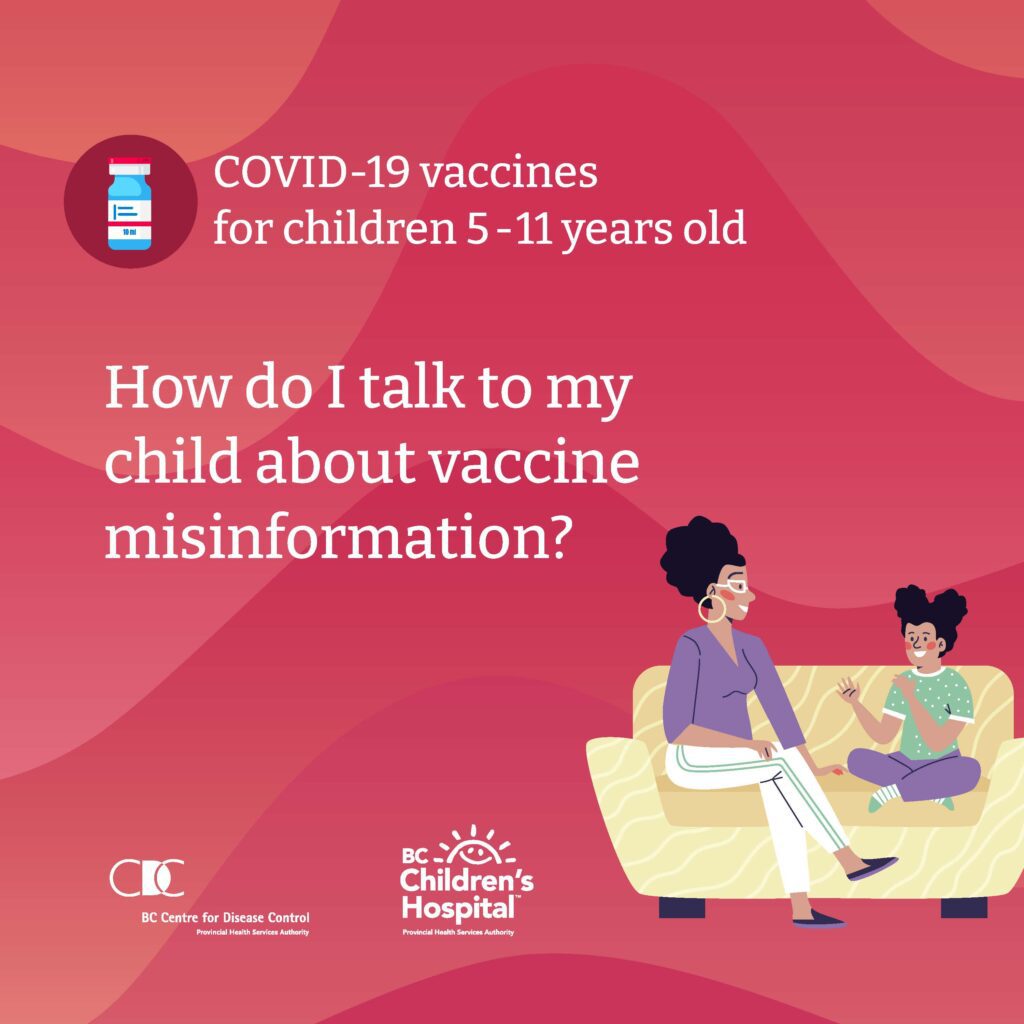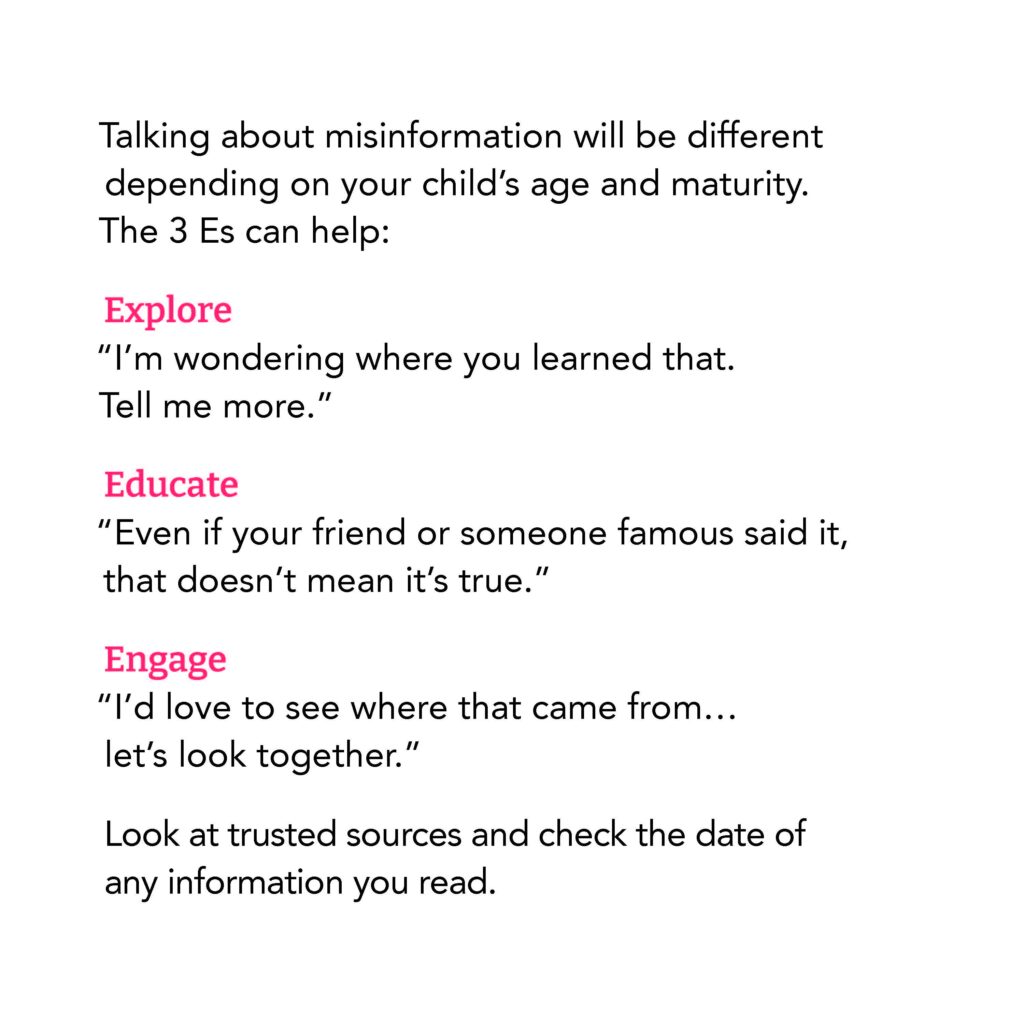 Before the Appointment
Parents can help prepare their child by informing them of what to expect and answering any questions they may have about the vaccine. The BCCDC recommends that school-age children are told one to two days before, though some kids may benefit from a longer preparation period. There are also several strategies that parents can use to address nerves, such as belly breathing (check out the BellyBreather game developed by BC Children's Hospital), colouring, and sharing helpful stories such as Jesse the Bear's vaccine superhero story. Numbing patches and creams help and are found at most pharmacies.
During the Appointment
While parents may intend to help their child with comments like "It will be over soon," the BCCDC notes that reassurances and apologies can be associated with increased stress in a child. They recommend using distraction as a strategy – shift their attention with a puzzle or engage them in conversation – as well as breathing techniques.
"Research shows that the part of the brain that processes pain is less active when children are distracted during vaccinations," says Meier.
After the Appointment
Parents can help their child following the vaccine by talking to them about side effects they may experience, including a sore arm, fatigue or tiredness and body aches. As children receive a smaller dose than adults, side effects are usually mild and only last one to three days. These side effects are normal and show that their immune system is working. Parents should also praise their child for their efforts. If they were feeling anxious about getting the vaccine and they did a great job of belly breathing or staying still, parents can reinforce their positive behaviour by celebrating their accomplishment.
As we head into summer, it's important to stay informed about vaccine safety and effectiveness. "In preparation for the fall and return to school, and the next respiratory virus season where we are likely to see an increase in COVID-19 cases, ensuring that our children are protected against severe illness will be critical," says Meier.
Be sure to check out the BCCDC, Immunize BC and BC Children's Hospital for a range of credible resources about COVID-19 vaccines for kids.
Website: http://www.phsa.ca
Instagram: https://www.instagram.com/phsa.bc
Facebook: https://www.facebook.com/ProvincialHealthServices
This post is sponsored by BC Centre for Disease Control
CDC provides specialized health care services to communities across British Columbia, on the territories of many distinct First Nations. We are grateful to all the First Nations who have cared for and nurtured the lands and waters around us for all time, including the xʷməθkʷəy̓əm (Musqueam), Sḵwx̱wú7mesh Úxwumixw (Squamish Nation), and səl̓ílwətaʔ (Tsleil-Waututh Nation) on whose unceded and ancestral territory our head office is located.

Lindsay Marett
Born and raised on the North Shore, Lindsay loves calling this picturesque part of the world home. After having spent more than 12 years working in a PR agency, Lindsay hung up her heels and stepped back to focus on life at home with her husband and two girls. She's still figuring out what she wants to be when she grows up, but you can bet it will involve writing … and eating cookies.