https://www.instagram.com/p/CYSihh4JOkN/
https://www.instagram.com/p/CKDWGZeLIPy/?utm_source=ig_web_copy_link
https://www.instagram.com/p/CKCHqjLHJYM/?utm_source=ig_web_copy_link
Who could use a mood boost right about now? Well, we've got you covered because the Vancouver Hot Chocolate Festival is almost here. It's a beloved local event that's bound to lift your spirits. Because they've got spicy, fruity, vegan, ice-creamy and inventive chocolate concoctions to please any palate-from connoisseurs to kids!
That's right, despite COVID, Vancouver's cafes, bakeries, chocolatiers, and ice cream makers are set to dazzle you with their creative takes on the classic hot chocolate. And, to sweeten the deal, every participant provides an accompanying amuse-bouche. The festival is guaranteed to delight your senses. And, if you ask us, the hot chocolate festival in Vancouver is truly a chocolate lover's dream.
Hot Chocolate Festival Details
This year there are 44 participants offering 106 unique hot chocolates throughout our city. We'll update you as soon as we find out this year's deets. Here's what we know so far:
Dates: January 15th- February 14th, 2022
Participants: Get the full hot chocolate line-up at hotchocolatefest.com
VM's Hot Chocolate Festival Tips for Families
If you've never been, here are our 4 pro tips to help make the experience even more enjoyable for everyone.
Split it: As you can imagine, these hot chocolates are rich, rich, rich! In fact, they are full-on desserts. So, if you're planning on going to a few spots, consider splitting your treats.
2. Pay attention to COVID-19 protocols: Don't forget to be safe and follow safety protocols. Many vendors provide take out options too, which can be great if nap schedules have you hustling.
3. Try out different flavours and places: You'll want to experience a variety of tastes. Try creamy for post-kids activities, plant-based for a vegan experience or try something exotic.
4. Take a Picture: Don't forget to take a pic of your hot chocolate and enter into the festivals Instagram contest. There are over $1125 in gift certificate prizes from participating vendors!
We hope you enjoy all the delicious treats this year's festival has to offer. And, if you do go, tag us with your picks in our Instagram!
Last Year's Hot Picks
As you can imagine, last year's hot chocolate fest was a huge success. In order to get you in the mood, here are our favourite contenders from 2021.
1. Unique Taste Sensations
Ahhhhh, we can still taste Beta 5 Chocolates' spicy blend. Do you love it as much as we do? It's complete with chillies, a cocoa flame powder, and served with a chocolate cream puff.
2. Vegan Perfection
We loved last year's unique Vegan options, like this delightful combo at Ever Bean Cafe. We hope that this year's selections are similar.
3. Ice Cream or Gelato at Hot Chocolate Fest
Our third favourite delectable treat of 2021 is La Glace's hot chocolate and ice cream combo. Need we say more than, Yum?!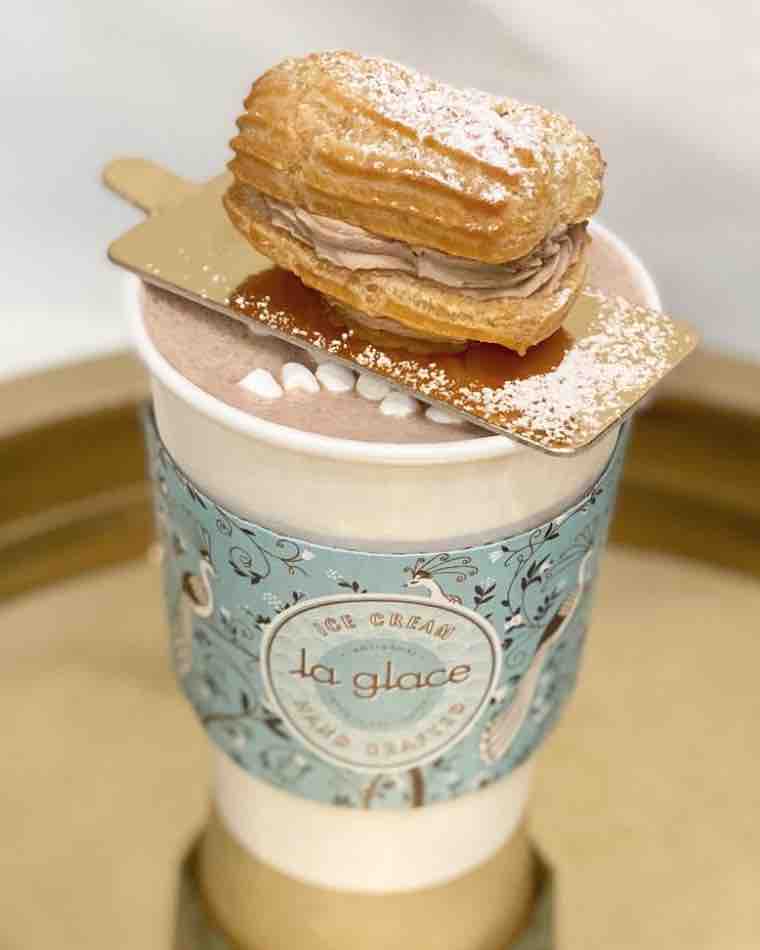 Finally, one of the things we love most about Vancouver's Hot Chocolate Fest is the fact that partial proceeds go to the Downtown Eastside Women's Job Training Program. Did you know that this amazing organization is part of the PHS Community Services Society run by East Vancouver Roasters, Growing Chefs and Fresh to Families? Now that's a tasty and charitable cause that we can all get behind.
So, if you're looking for a fun and tasty way to lift your spirits this Winter, visit the Vancouver Hot Chocolate Festival to learn more.
And, if you're interested in walking down memory lane, take a look at our coverage of the festival in 2016!
Vancouver Mom
Would you like to write for us? We welcome well-written guest submissions with a local interest slant. Share your tips, review local businesses and highlight hot trends for Vancouver moms. Get all the info on our Contributor Page!