Who could use a mood boost right about now?
A pared down Vancouver Hot Chocolate Festival is here (January 16 -Valentine's Day) to lift your spirits with spicy, fruity, vegan, ice creamy and inventive chocolate concoctions to please all palates from connoisseurs to kids!
Even during COVID, Vancouver's cafes, bakeries, chocolatiers and ice cream makers will dazzle you with creative takes on the classic hot chocolate plus an accompanying amuse bouche. It's a chocolate lovers dream with 37 participants offering 87 unique hot chocolate flavours over the next month.
We've heard that some cafes are offering Hot Chocolate Kits (for the ultimate in safe options) and will update when info becomes available.
COVID UPDATE: All featured hot chocolates will be available for takeout and most of vendors will be selling as takeout only. Some are even offering hot chocolate kits! >> The HCV Covid response
Hot picks
Unique Taste Sensations
Isphan
January 16 – February 13, 2021. Valrhona Raspberry Inspiration, Valrhona Opalys white chocolate, rose infusion and Chantilly cream, all sprinkled with rose meringue. Served with a Ladurée rose macaron. Location: Laduree.
Won't Ube Mine?
February 6 – 13, 2021 White hot chocolate with ube and corn. Served with a Cheesie-dusted, corn and ube, white chocolate wafer. Location: Beta 5 Chocolates
Better than Her
Available Jan 31 – Feb 14, 2021
Yuzu raspberry white chocolate hot chocolate. Served with a pink 'Lucky Cat' (Strawberry Yuzu with Yuzu Mochi. Location: Baker and Table
Vegan or bust
This isn't even the half of it! Vegan everything is having a moment.
The Licorice Parlour
Dominican Republic dark drinking chocolate infused with black licorice. Made with oat milk. Paired with dark chocolate-covered licorice. Location: East Van Roasters
Silk Road Fortune
Available January 18 – 30, 2021
This vegan chocolate sauce is made with pure cocoa, coconut milk infused with creamy tahini and a blend of spices (that were commonly traded along the Silk Road) to create a fragrant drink that is nutty, sweet and rounded. Topped with vegan whipped cream and a dash of sparkle. Served with a sesame cookie charm. Location: Everbean
The Good, The Bad and the Cuddly
January 12 – 22, 2021 Dark hot chocolate with oat and roasted sesame. Add a single vegan pistachio pralines ($2.50 each) and help to raise funds for the VGH Covid 19 Response Fund with this drink. Location: Koko and Monk
Faux-rerro
Available January 16- February 14, 2021. Hazelnut dark hot chocolate. Served with a chocolate praline cake truffle. Location: 49th Parallel
Ice Cream or Gelato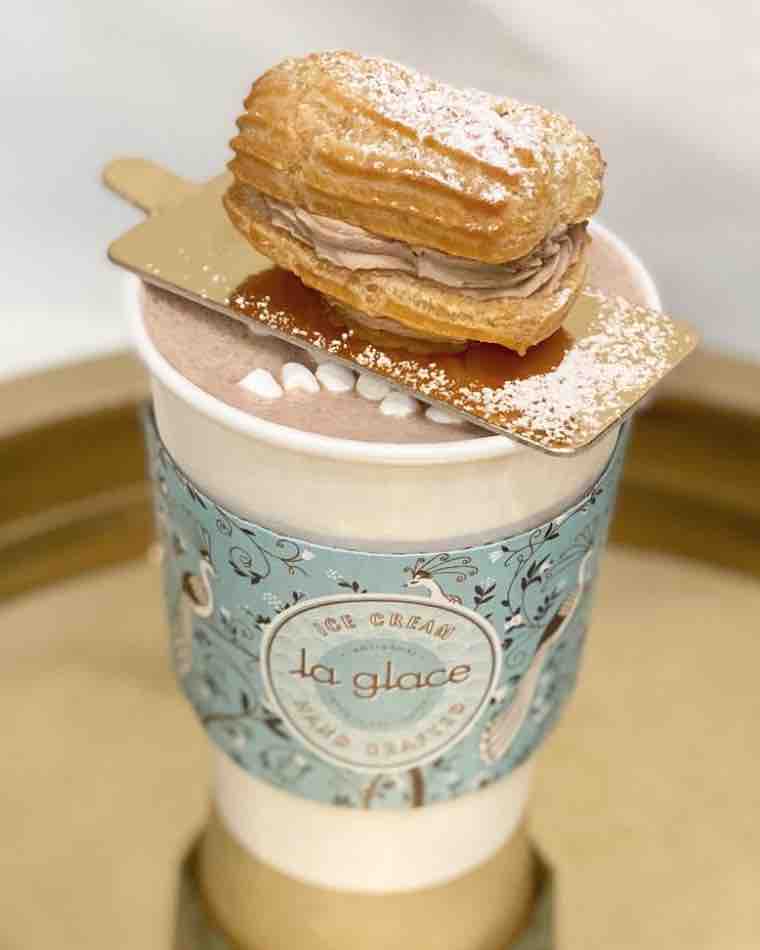 Framboise Blanche
Available January 16 – February 14, 2021 White hot chocolate poured over a scoop of raspberry white chocolate ganache ice cream. Served with a sablé star cookie. Location: La Glace
The Aztec
January 16 – February 14, 2021
Enjoy this cinnamon-spiked (cinnamon, coffee, vanilla) Hot Chocolate 70% Fleur de Cao with Mexican vanilla bean gelato to create a thick foam dusted with chili powder for a subtle savoury note. Served with a mini caramel beignet. Location: Uno Ice Cream
Pro tips for families
Split it: These hot chocolates are rich, rich, rich! They are full-on desserts. If you're planning on going to few spots, consider splitting one.
Pay attention to COVID-19 protocols: Be safe and follow safety protocols (get takeout and go for family walk).
Try out different flavours and places: Experience a variety of tastes – go creamy for post-kids-activities, plant-based for a vegan experience or try something exotic.
Post a pic: Upload and tag your favourite (or most photogenic) hot choc with @hotchocolatefest and you could win one of many prizes including gift certificates valued at $500, $250, $100 and $75
Hot Chocolate Festival
January 16 – February 14th, 2021
Get the full hot chocolate line-up at hotchocolatefest.com
Partial proceeds from the fest go to for the The Downtown Eastside Women's Job Training Program of the PHS Community Services Society as run by East Vancouver Roasters, Growing Chefs and Fresh to Families.
Harriet Fancott
Harriet Fancott is the Editor and Social Media Manager for Vancouver Mom. She has over 20 years experience in the arts, tech and mom-based blogging arenas. She lives in East Vancouver with her husband and son where they enjoy exploring all that Vancouver has to offer from festivals and events to playgrounds and beaches to sushi and ice cream (although not together).