Best of Vancouver: Congratulations to Beta5 Chocolates!
On Valentine's Day we decided to launch a new Best of Vancouver search – this time on the hunt for the city's best chocolate shops. You nominated your favourites, and we compiled a list of the top twelve. Now all the votes have been counted, and we can tell you that the Best of Vancouver honours go to Beta5 Chocolates!
Beta5 Wins Best of Vancouver Honours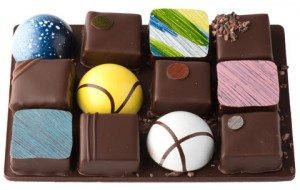 Beta5 gets its name from the form-5 beta crystal, which is the most stable form of cocoa butter crystallization. We're not sure what that means, exactly, but we know it's delicious. This modern chocolate and pastry shop can be found in a warehouse on Industrial Avenue. Their chocolate has received national and international recognition, with innovative flavours like imperial stout, caramelized banana, earl grey and nikka whiskey. They also offer "pebbles", caramels and a variety of chocolate bars, as well as delicious pastries. They were the clear winners in our Best of Vancouver voting, with 22% of you casting your ballots in their favour.
beta5chocolates.com | Twitter | Facebook
Runners-Up
Two other fabulous Vancouver chocolate shops were tied for second place. Cocoa Nymph and Purdy's Chocolatier each received 12% of the votes in our Best of Vancouver poll.
Cocoa Nymph on West 10th carries chocolates, chocolate bars and confections. They also offer workshops, where you can learn about chocolate and try truffle-making for yourself.
www.cocoanymph.com | Twitter | Facebook
Here in Vancouver, Purdy's requires no introduction. With more than 20 locations around the Lower Mainland, they've been a local staple since Richard Carmon Purdy opened his first chocolate shop on Robson Street in 1907.
www.purdys.com | Twitter | Facebook
The Top Twelve
In alphabetical order, here are the top 12 Vancouver chocolate shops according to our readers:
[twocol_one]
Beta5
beta5chocolates.com
413 Industrial Avenue, Vancouver
Charlie's Chocolate Factory
www.charlieschocolatefactory.com
3746 Canada Way, Burnaby
#2 – 1770 McLean Avenue, Port Coquitlam
Chocolate Arts
www.chocolatearts.com
1620 W 3rd Avenue, Vancouver
Chocolaterie de la Nouvelle France
chocolaterienouvellefrance.ca
198 East 21st Avenue, Vancouver
Cinnamon's Chocolates
www.cinnamons.ca
119 East 2nd Street, North Vancouver
Cocoa Nymph
www.cocoanymph.com
3739 West 10th Avenue, Vancouver
[/twocol_one] [twocol_one_last]
La Chocolaterie
www.coconama.com
160-7971 Alderbridge Way, Richmond
Mink Chocolates
www.minkchocolates.com
863 West Hastings Street, Vancouver
Unit F-110 Morgan Crossing, 15775 Croydon Drive, Surrey
Purdy's Chocolatier
www.purdys.com
More than 20 locations in Metro Vancouver
Sinfully the Best
www.sinfullythebest.com
13-3993 Chatham Street, Richmond
Thomas Haas
www.thomashaas.com
128-998 Harbourside Drive, North Vancouver
2539 West Broadway Avenue, Vancouver
XOXOLAT
www.xoxolat.com
1271 Homer Street, Vancouver
[/twocol_one_last]
* Images courtesy of Beta5 Chocolates – beta5chocolates.com
Amber Strocel
Amber Strocel is a writer, aspiring math teacher, suburbanite, wife and mom of two. She believes in the power of the Internet to connect people, and she believes that numbers are the poetry of the universe. You can often find her knitting, sewing, volunteering, working in her garden, and sneaking chocolate when no one's looking. She blogs at Strocel.com and shares her photos on Instagram as @AmberStrocel.