Braving the ski hill with kids: What to get and where to go
As the sun shines over the snow-capped North Shore Mountains on a bluebird day, it hits you: Vancouver really is one of the most beautiful cities in the world (when it's not always raining!).
But those mountains aren't only to be gazed at – they're also meant to be shredded (or tracked painstakingly slowly by little ones on skis for the first time). If you're considering taking the kids to the slopes for some first-time skier fun, check out these tips on what to get and where to go you to make your day on the hill a success.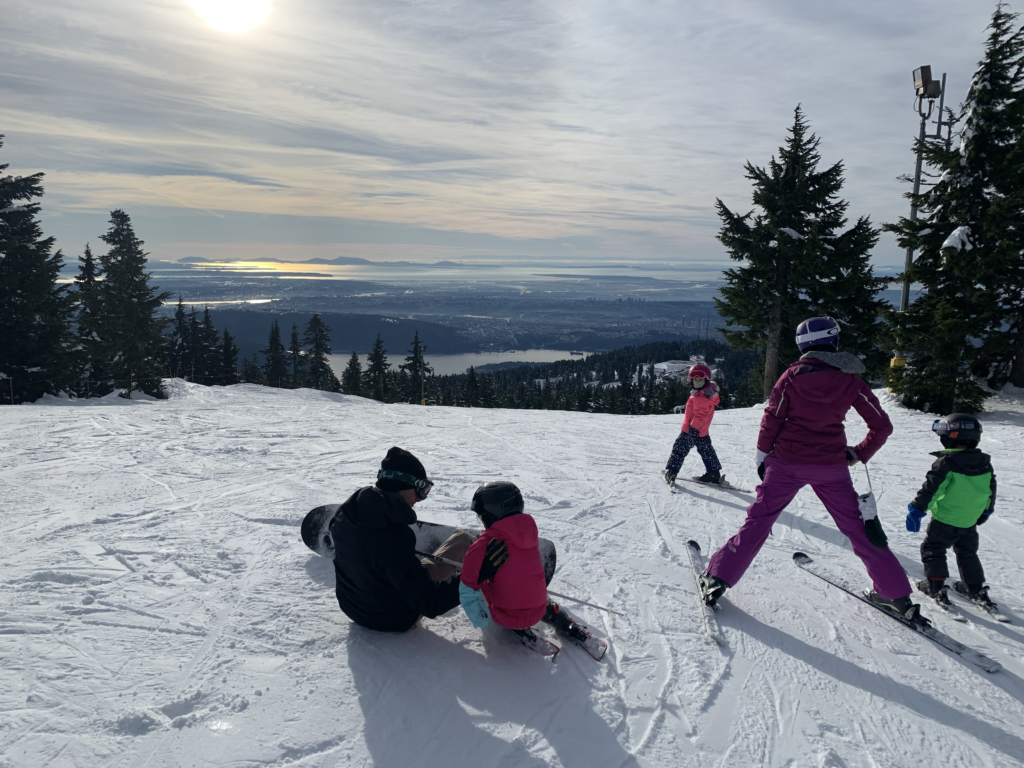 Look the part with the right mountain accessories
Get that camera ready, your kids will be saying 'ski ya later' in no time.
Skiing with kids takes preparation to a whole new level. So, before you soar over those slopes, make sure you and the family are well-equipped. 
Wear a helmet

– It is strongly recommended that helmets be worn for skiing and snowboarding. Some mountains offer helmets complimentary with rental packages but consider purchasing your own to guarantee the best fit and quality. Check out Sports Junkies in Vancouver for a great selection of helmets.




 

Love those layers

– Thermal base layers (check out the

Merino Kids

options at Mountain Warehouse) are important but be careful not to overdress – have kids wear layers that can be removed / added, as needed. Remember that kids can lose bodily warmth faster than adults

.

Invest in warm socks

– Cold toes are a sure-fire way to end a day on the mountain prematurely. Look for well-fitted, wool socks (thinner is better) designed for skiing like these

Smartwool socks

from MEC

.

BYOB –

Bring your own balaclava (no, not the dessert). These ski masks provide excellent protection against wind, keeping faces warm and free of windburn.

Bula

makes super comfy balaclavas in both a microfleece and a stretchy polyester option
Get set up with the right ski gear for kids
In addition to boots and skis, don't forget to grab the gear you need to help guarantee a smooth day on the hill. 
Buy second-hand gear

– Having your own boots and skis allows you to skip the rental line and gives your kids consistency with their gear, but don't be fooled into thinking that you need to buy new. Whether you search on Facebook Marketplace or a local sports swap, you're sure to find what you're looking for at a fraction of the price. Pro tip: Because ski boots are unlike anything they've worn before, have your kids practice walking in their boots at home

.


Protect their eyes

– Encourage kids to wear goggles even if they feel uncomfortable at first. Goggles protect their eyes from UV exposure and can shield their faces from wind and snow.

Strap those skis –

MEC

carries a variety of ski straps, which are essential when you find yourself hustling to the lift while carrying three sets of skis

.

Don't forget a backpack

– Following the above … Mom or dad should bring a backpack big enough to carry the "essentials" (read: snacks). Ideally, use one with straps on the sides that can wrap around bindings so that you can use your hands to carry poles, jackets, children … Be sure to also pop in water, sunscreen (zinc anyone?), tissues, sanitizer, and lip balm. And, snacks. Always snacks. 
Hit the slopes (gradually)
Now that you're ready to get the show on the road, remember to take it slow, check expectations and find your patience – you're about to spend a lot of time on the bunny hill (serenity now). 
Start out small

– Ski hills can be overwhelming so spend your first few visits to the mountain helping your child to balance on their skis. Many mountains have a magic carpet that runs alongside a gentle slope, perfect for beginners

Harness their potential

– As your child gets comfortable on their skis, you may consider using a harness. This device is worn around the torso with a leash attachment that is guided by the parent. It can be a great teaching tool, however, there are many instances where they are used incorrectly. If you're going to go this route, be sure to read up on ski harnesses in advance



Celebrate the wins (no matter how small) –

If your child manages to stay upright longer than 10 seconds while skiing down the smallest hill, that's a huge accomplishment when starting out

.

Call for backup:

Parents who are comfortable on skis can often teach their kids the basics, however, hiring an instructor to guide your kids and help improve their technique may be the right fit for your family. And don't kids always listen better to someone other than their parents?! All local mountains offer lessons so check websites for package details

.

Know when to call it a day and bring out the hot chocolate

– End the ski day on a high note and leave before anyone gets too exhausted or hangry. As your kids build up their endurance, you'll be able to extend your time on the mountain. Finishing with a hot cup of cocoa or treat is always a win. 
Where to go skiing in Vancouver with kids
Each of our local mountains offers its own experience – you may find that your family enjoys one mountain over another at different stages of skiing.
Cypress Mountain
Cypress Mountain is Vancouver's biggest ski resort with 53 runs to enjoy. It's an excellent option for the whole family as there's lots of variety (read: parents can alternate hanging out with the littles on the bunny hill while the other hits up the less kid-friendly black diamond runs.) The bunny hill features the low to the ground, slow-moving Easy Rider chair, perfect for building a beginner's confidence. Cypress also has a magic carpet conveniently located next to the lodge. Note that there's a parking lot reserved for families near the lodge but keep in mind that it fills up quickly. And be sure to regale your kids with stories about the "glory days" when they ask about those five giant rings at the base of the mountain. Tickets for kids five and under are $8.
6000 Cypress Bowl Road, West Vancouver
cypressmountain.com
Grouse Mountain
Grouse Mountain is the most accessible option as it's only 20 minutes from downtown Vancouver (give or take an extra 30 minutes of traffic). And, snow tires aren't required to reach the parking lot. The "Ski Wee" learning area is located a few minutes' walk from the chalet at the top of the gondola, away from the main traffic of the ski hill. The area features a magic carpet and a bunny hill with a gentle slope. When heading to Grouse for a lesson, be sure to factor in plenty of time for the gondola line-up, especially if you're in need of rentals. Bonus: Kids under five ski free!
6400 Nancy Greene Way, North Vancouver 
grousemountain.com
Mt. Seymour Ski Resort
If you're hesitant to tackle the bigger mountains, Mt Seymour provides the perfect experience for the beginner skier. Take a short walk from the parking lot and you'll find the learning area, which boasts several beginner-friendly runs that all feed into the Goldie Magic Carpet. Mt Seymour also has the smaller Wonder Carpet for even the smallest of skiers. As confidence builds, you can venture off the bunny hill and to other nearby green runs (and even brave a chairlift!) but enjoy Mt Seymour for what it has to offer – really great trails for beginners to gain experience. Tickets for kids under five are $5.
1700 Mt Seymour Road, North Vancouver
Mtseymour.ca
Skiing together as a family is one of the most rewarding activities that you do here in BC. And no matter how many tears are shed (not just by parents), you are giving them an incredible gift. They may even thank you one day … but probably not.
Lindsay Marett
Born and raised on the North Shore, Lindsay loves calling this picturesque part of the world home. After having spent more than 12 years working in a PR agency, Lindsay hung up her heels and stepped back to focus on life at home with her husband and two girls. She's still figuring out what she wants to be when she grows up, but you can bet it will involve writing … and eating cookies.