On Being One of the Top 30 Vancouver Mom Bloggers
Article by Katie Smith, who's sharing what being one of our 2012 Top 30 Vancouver Mom Bloggers has meant to her.
Being a part of the VancouverMom.ca Top 30 Vancouver Mom Bloggers has brought me experiences and connections that have blossomed into full blown friendships and business partnerships. Who could have know that being a part of this special group of ladies would feel more like being a part of 'the sisterhood of traveling pants' than a random selection of writers?
So Proud to be Part of the Community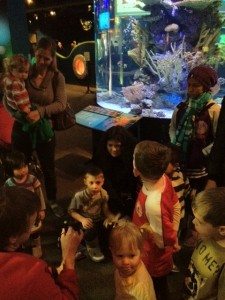 I remember that I watched the 2012 nominations like a hawk. I hadn't occurred to me that I might actually be among the women chosen that year. I was just so keen to see who these women would be! When I got the message that World By Smith was nominated I was ecstatic. I couldn't wait to throw that VM badge on my site because I was so proud to be a part of this community. I wanted more city mamas in my life, and after devoting a couple of years to growing my blog, I was starting to get the hang of reviews and giveaways and writing about the things that really mattered to me. The traffic on my blog was growing and it was like therapy to me to write and talk about the adjustment to a big city, motherhood and eventually what it was like to add a second baby to the party.
The evening of the blogger celebration I was overwhelmed by the gift basket and the recognition and even more flattered to finally meet all of these ladies I had been building connections with over the last year through social media. What started out as a tweet or retweet turned into warm hugs and your baby is growing so fast!. It was a real 21st century mom moment, to see how our connectedness as mothers has grown from neighbours you may see at the park to people living in different parts of the city, whom you might not otherwise meet.
Mom Bloggers Connecting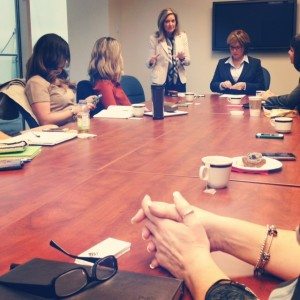 From the Top 30 Vancouver Mom Bloggers a Facebook group was born. It started as a way to stay in touch and has turned into this avenue where the 2012 honourees share our business ideas, questions and real life moments concerning motherhood. Together we have been given exposure to larger PR companies and local events that want our attention! It has been exciting to be invited to events and asked to review products that I love. Reaching out to companies that I really want to work with doesn't seem so daunting to me now because I have a group of women to remind me that our voice as bloggers is strong and worthy.
I am a part of this vibrant community of mothers and a standout event for me this year was being invited to the first ever mom blogger round table with Premier Christy Clark. A group of mom bloggers who had so much more to say than what one might expect. We all had very different agendas and political points of view but we shared the chance to speak directly to the premier about the matters that meant the most to us. I walked away from morning inspired to know that I had a voice at the table.
Katie Smith is a city mama at heart and a lover of all things Instagram (find her at worldbysmith). With two kids and a husband, living on the West Side is a mix between epic awesomeness and playground meltdown. She likes her coffee and yoga to be both strong and hot, but not necessarily in that order. She lives by the motto 'love wins'.
Vancouver Mom
Would you like to write for us? We welcome well-written guest submissions with a local interest slant. Share your tips, review local businesses and highlight hot trends for Vancouver moms. Get all the info on our Contributor Page!