VM Mom to Follow: Vivian Lam of Naetal Skincare
Credit: @mothermusemag
With Mother's Day only a month away, local products made by moms for moms are top of mind. We're excited to introduce this month's dynamic Vancouver Mom to Follow, Vivian Lam of Naetal Skincare. Vivian is a mom of two boys, a skincare enthusiast, a coffee addict, and the creator of clean skincare products.

A Richmond resident, Vivian shares with us her favourite local spots, as well as offers valuable insight on entrepreneurship, motherhood and resources for kids with hearing differences through a unique Q&A. Vivian's story of entrepreneurship and motherhood shows us that through challenge comes innovation – and that a positive perspective on possibility goes a long way.
The Naetal Skincare Story
Vivian was inspired to start her clean skincare brand after developing an uncomfortably itchy PUPPP rash (Pruritic urticarial papules and plaques of pregnancy) during her first pregnancy. After hospitalization, she was given oral and topical steroids of varying strengths at 36 weeks pregnant. Vivian knew steroids were not an option for her babies or future pregnancies. So, she came up with a formula to soothe and calm even the angriest rashes.
With over 15 years in the beauty industry, Vivian dissected and researched what ingredients are safe and unsafe for pregnant and nursing moms. Vivian felt there were no brands truly catering to moms and babies that she trusted were safe and worked well. Vivian discovered two natural ingredients that work hand in hand to combat skin irritations — colloidal oatmeal & organic calendula.
After two years of formulating and testing her products on pregnant and postpartum moms, Naetal Skincare was born. The Original Serum is the first product made not only for pregnant and nursing moms, but also for babies and kids who often have common skin irritations.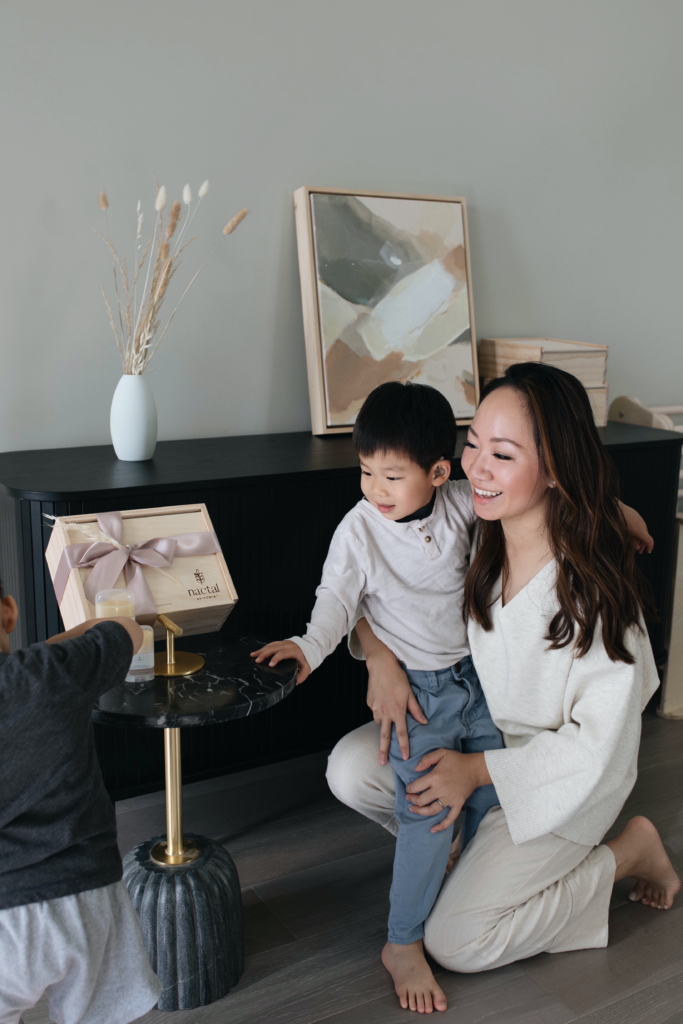 Vivian's Favourite Places in Richmond
Steveston Waterfront for the nostalgia of growing up in the area. Vivian also loves to bring her kids to Steveston Park and walk along the waterfront. She recommends enjoying a cup of flat white from Rocanini or a frozen yogurt from Timothy's.
A coffee lover since at an early age, Vivian loves scouting new coffee shops. A few favourite go-to places include The Mighty Oak and Le Marche St George. She also frequents Paragon Tea Room for their subtly flavourful Hojicha Oat Misto.
If you like Japanese fusion, Cafe L'orangerie is the go-to for pastas and desserts.  Their creamy masago spaghetti is simple but so satisfying for both parents and kids.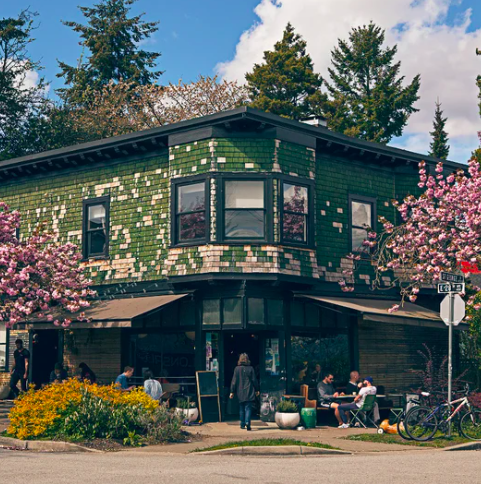 Q&A with Vivian Lam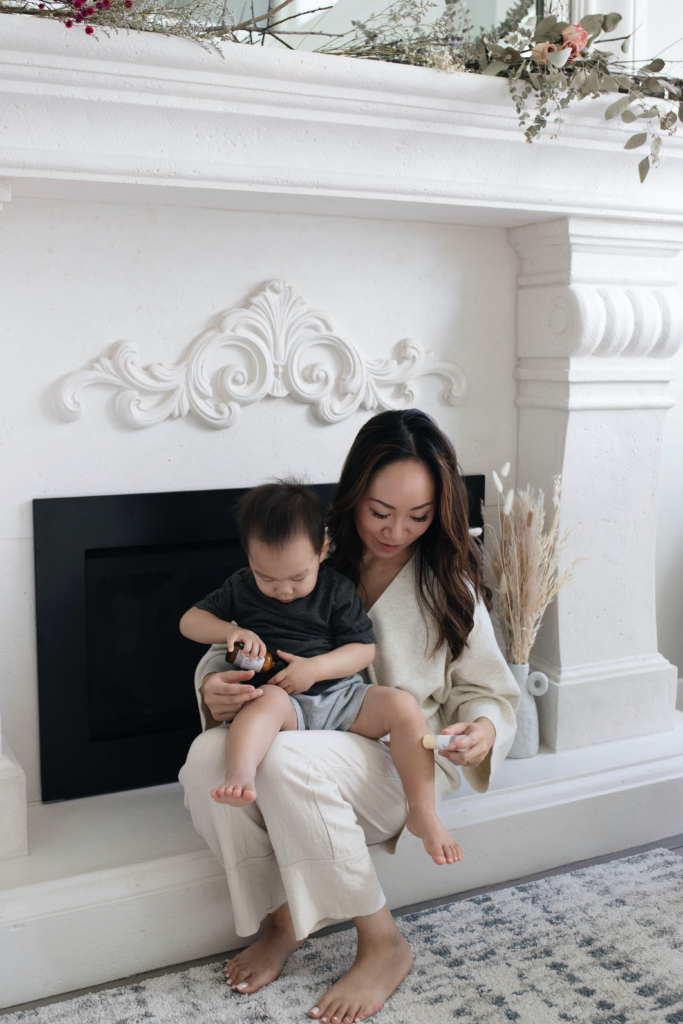 Q: In consideration of your sons' hearing differences, are there any local kids programs that offered particularly positive experiences?

My older son was born with mild-moderate hearing loss. My younger son who was born premature at 26 weeks has a rare unilateral auditory neuropathy (related to the brain). We attended Lila & Pip Sign Language (@lilapipsign) classes at The Food Truck as well as Music Together classes. Music together was great for getting the babies/ toddlers to experiment different sounds and instruments. It was very interactive and engaging. We also love going to Steveston's Language Arts Base (@lab.Vancouver) for art classes.

Other than that, we used to join Mother Goose from the Children Speech Center and different activities and meetups from BC Family Hearing Center. 
Q: You are passionate about community and your sons. How does Naetal allow you to connect these two passions?

We have created a collection that allows us to give back to community foundations that are dear to our hearts. Through a product partnership, we have created the Original Serum that features Joy's abstract artwork of our Naetal ingredients.
For every Original Body Serum sold, we donate 10% of proceeds to to three associations dear to our hearts – BC Family Hearing Resource Center, Children's Hearing & Speech Center, and Deaf Children's Society of BC. 
Q: Tell us about a community resource that has supported you in motherhood.

A: When I discovered my two boys were born with hearing differences, my main support came from the three deaf and hard of hearing agencies (BC Family Hearing Center, Children Speech Center, Deaf Children Society). They connected me with moms who are in similar situations. They also supported our family in navigating our hearing journey through resources including learning speech and ASL.
When my second child was born at 26 weeks, I was on a roller coaster of emotions. With so many complications and not knowing if my child would survive, I was mentally exhausted. Thankfully, I had the support from my family and friends, but and a team of professionals including a psychologist and counsellor from the Reproductive Mental Health at BC Women's hospital. Our NICU journey was tough but connecting with other mamas in similar situations through @dearnicumama gave me a sense of community.
Q: What is your advice to others on the journey of motherhood?
Trust your motherly instinct.  When you have a gut feeling that something is wrong, it usually is. My mama instinct saved my very premature child's life when medically everything seemed normal.
Q: Mother's Day is coming up. How should moms treat themselves?
If they are looking for skincare pampering, Naetal is launching a Mother's Day gift set collaborating with @writtenwordcalligraphy and @fortheseconds. Stay tuned as we announce this specially curated set on April 6th. It's the perfect gift set!
Follow Vivian and Naetal Skincare below:
Website: www.naetalskincare.com
Story: Vivian's PUPPP rash story
IG: @naetalskincare
Facebook: @naetalskincare
Renee Janzen
A connector by nature, Renee loves to bring people together and is fueled by thoughtful conversations, family style meals and perfecting details. Hikes for the views, thinks variety is the spice of life, and is always up for an adventure with her husband and their two young daughters. A fulltime marketer by day, Renee recently moved back to the North Shore where you can find her busy with work Zoom calls, home renos, and enjoying the great outdoors with her family.