Eight must-do iconic Canadian summer family activities
Canada's big 1-5-OH seems like a great time to get your Canuck on! How about some iconic (but local) Canadian activities from jumping in a lake or paddling a canoe to connecting with our indigenous culture.
Celebrate Canada 150 on July 1st
Free, fun and entertaining celebrations of Canada's 150th Birthday in every community. There's one of the nation's largest events at Canada Place in Vancouver, a family-centred parade and fun on Granville Island. Or, head up high to Grouse Mountain or out of town to Whistler, which is hosting a weeklong Canada 150 celebration with free concerts, crafts, a parade and street entertainment. PS: Check out our Whistler Weekend GIVEAWAY!
Connect with Aboriginal culture
The Drum is Calling Festival features music, film, fashion, food, literature, spoken word, and sport. From the iconic Buffy Sainte-Marie, to Inuktitut alt-country rising starts the Jerry Cans, to award-winning music producer and title-earning DJ Shub, you'll find music for every taste and activities for every interest. Takes place July 22-30th and it's FREE!
Go jump in a lake
There's nothing more Canadian than a plunge in a fresh, cool lake, and there are plenty in and around Vancouver. Buntzen Lake and Sasamat Lake (the warmest) near Port Moody, and it looks like Trout Lake in East Van is open for swimming this year. Planning a summer getaway? Lost Lake in Whistler is their warmest and most swimmable lake. Looking for heat? Then head to Summerland Waterfront Resort & Spa on the massive Okanagan Lake.
Take a ride in a canoe
For a quintessential taste of Canadiana, rent a canoe and go for a family paddle around Deer Lake in Burnaby. Feeling more adventurous? Head to Pitt Lake Lake rent a canoe at Ayla Canoe rental shop and paddle along Widgeon Slough keeping an eye out for ducks, herons, deer. If you're in Whistler, then don't miss your change to canoe down the River of Golden Dreams.
Star gaze
Experience the nighttime magic in the Canadian skies over Vancouver. H.R. MacMillan Space Centre has an Observatory! Open on Saturday nights from 8 pm – midnight (by donation). The Space Centre is also a great place to go with kids.
Go camping!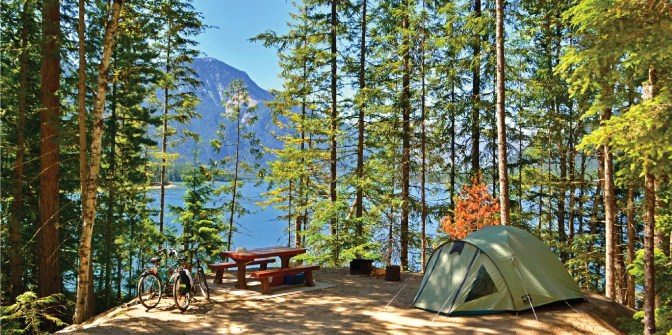 Pack up the car and head to out on a camping adventure. If you're new, pick one that's close to home like Golden Ears in Maple Ridge or get on the ferry to Sechelt and head to Porpoise Bay. These kids-friendly sites have tall trees, beach front, swimming, flush toilets and are close enough to town if you need an urban escape. Be sure to pack some kid-friendly meals. If that's all too much, try glamping instead!
Host an all-Canadian potluck
Eat locally and socialize! It's easy in the summer. Have everyone bring something Canadian: Think craft beer, Okanagan wine, salmon or spot prawns, Alberta beef, locally baked buns (or perhaps bannock?), potato salad, fresh leafy greens with local ice cream and berries for dessert (or butter tarts or Nanaimo bars). Put together a Canadian playlist or use CBC or Spotify. Obviously wear red and white!
Watch the Snowbirds
Is there anything more Canadian than watching the Snowbirds do their alley oops? The Abbotsford Air Show takes place August 11-13 and includes day-long sky high acrobatics, a Kids Zone, Static display ground exhibits, and concessions.
Harriet Fancott
Harriet Fancott is the Editor and Social Media Manager for Vancouver Mom. She has over 20 years experience in the arts, tech and mom-based blogging arenas. She lives in East Vancouver with her husband and son where they enjoy exploring all that Vancouver has to offer from festivals and events to playgrounds and beaches to sushi and ice cream (although not together).