Canada Day Celebration: Steveston Salmon Festival's 76th Year
Photo credit: Stevetson Salmon Festival
The Steveston Salmon Festival returns for its 76th year on Saturday, July 1, and it's set to be a grand celebration of the spirit of the community. Spanning from Britannia Shipyards to the Gulf of Georgia Cannery, festival-goers are invited to enjoy the day-long program, which will feature live music, exhibitions, demonstrations, hands-on activities, and the return of the popular Canada Day parade.

Things to do at the Steveston Salmon Festival
Kids Bike Parade
The festivities kick off with the Kids Bike Parade, a fun opportunity for children to cycle the big parade route to the cheers and encouragement of the waiting crowds before the floats take off. At 930 am, the colourful procession adds youthful charm, showcasing the enthusiasm and energy of young participants.
Canada Day Parade
At 10 am, the much-anticipated Canada Day Parade makes its grand return since 2019, delighting spectators of all ages. Be mesmerized as floats, performers, and community groups showcase creativity and a festive spirit in Steveston's streets. The parade highlights community with a joyous display of Canadian pride during the festival.
Salmon Bake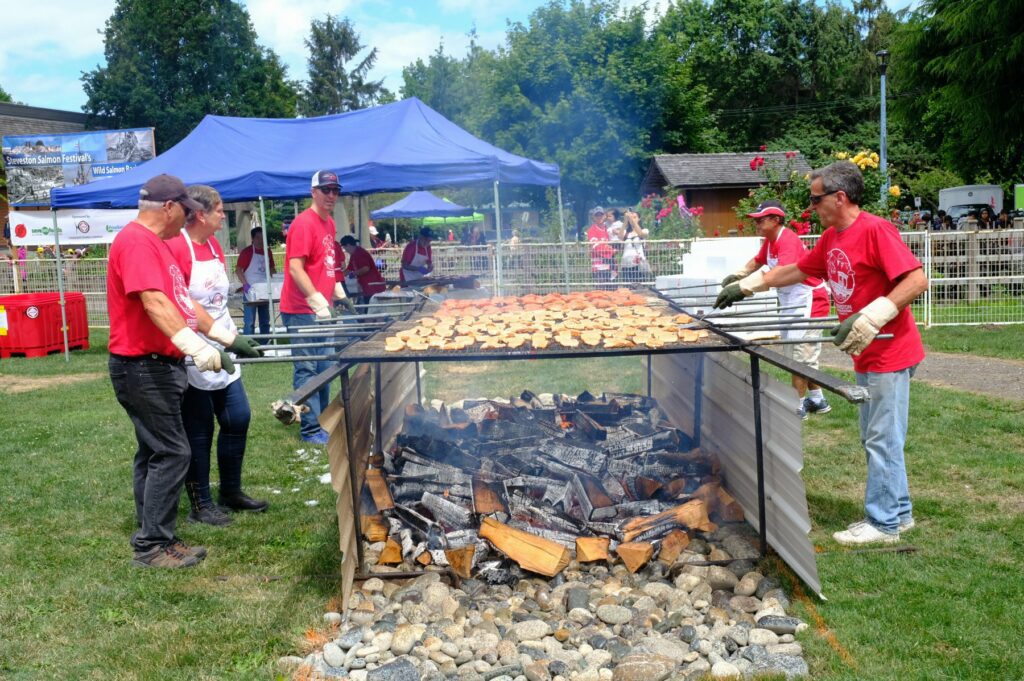 Indulge in the mouthwatering Salmon Bake at the festival grounds and savour the flavours as the day unfolds. Indulge in succulent salmon cooked to perfection, expertly prepared by local culinary enthusiasts. Available from 11am until sold out.
Sammy's Fun Zone and Bouncy Town
For fun-filled adventures, enjoy the popular Bouncy Town – an inflatable wonderland for children to bounce, slide, and play. Sammy's Fun Zone offers exciting carnival games, adding an element of excitement for participants to test their skills and win prizes. Pre-sale wristbands for Bouncy Town will be available, ensuring unlimited enjoyment for the little ones.
Have a Stop to Eat at the Food Stations and Food Trucks
When hunger strikes, explore the Community Food Stations and food vendors scattered throughout the festival grounds. These culinary hotspots offer and array of locally- made cuisine, catering to all tastes. Food trucks (like Buzz Coffee, Meet2Eat, JAPAdog, Martha's Kettle Corn, Lemon Haven) and community food stations (like A Chow Mein booth) will offer mouthwatering delicacies for every craving.
Japanese Cultural Show
Immerse yourself in the vibrant Japanese community's contributions to the fabric of Steveston at the Japanese Cultural Show. Experience traditional performances, admire intricate crafts, and delve into the captivating traditions of Japan. It's a wonderful opportunity to appreciate the multicultural tapestry that enriches the Steveston community.

Show opens from 12-430pm

>> Japanese Cultural Show times
Walk around the Marketplace
Make sure to explore the Marketplace, where local vendors proudly display their goods. Find unique treasures at the marketplace, supporting local artisans and taking home a memorable festival memento.
Spirit of Steveston Entertainment Zone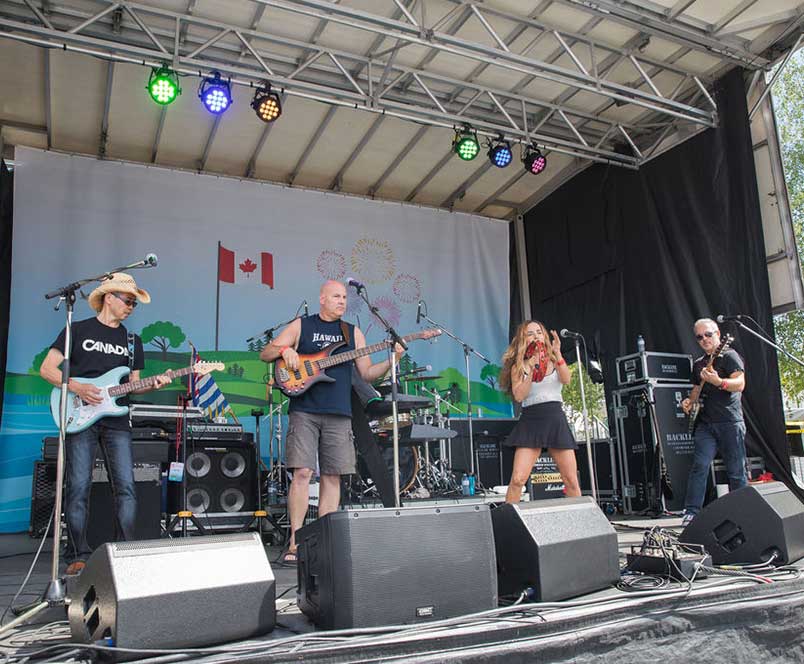 Don't. miss the Spirit of Steveston Entertainment Zone, where live performances by talented artists like Orchard Sky and Warren Dean Flandez fill the air with captivating melodies. Take a break savour local beer and wine, and enjoy a delightful evening of entertainment and relaxation.

>> The line up of performers
End the night with a Fireworks Show
As the night draws to a close, prepare to be dazzled by celebratory fireworks that will light up the sky and conclude the festivities at Imperial Landing at 1015 pm. It's a breathtaking display of colours and lights, creating a magical atmosphere and fitting end to a day filled with joy and camaraderie.
The Steveston Salmon Festival in Richmond, BC, offers a family- friendly celebration of Canada Day that is rich in traditions, cultural diversity, and engaging activities.

So mark calendars and join in the festivities for an unforgettable experience at the Steveston Salmon Festival.

For more details about the Steveston Salmon Festival:

Website: www.stevestonsalmonfest.ca
Follow them on Instagram: @stevestonsalmonfestival
Follow them on Facebook: Steveston Salmon Festival

The Steveston Salmon Festival: 76 years of community spirit. From humble beginnings to vibrant grandeur, it unites diverse individuals, symbolizing Steveston's collective spirit and camaraderie.
Vancouver Mom
Would you like to write for us? We welcome well-written guest submissions with a local interest slant. Share your tips, review local businesses and highlight hot trends for Vancouver moms. Get all the info on our Contributor Page!