Where to Shop in Vancouver: Christmas on the Drive
Vancouver has so many amazing places to go shopping during the holidays. Each neighbourhood offers something amazing, something different, but each is filled with so much Christmas cheer.  I think the most unique of all these neighborhoods is Commercial Drive: The Drive. This area offers such an eclectic bunch of shops and Christmas displays exploding with creativity. Nothing beats the luscious decorations you'll find at this time of year. From pubs to movie theaters you can see everyone in full holiday mode, spreading their cheer and making the season merry and bright. If you're wondering where to shop in Vancouver to pick up some last-minute items, you can't beat it!
Where to Shop in Vancouver … and More
Naturally the Drive one of my favorite spots to shop for a day, grab a coffee, and stroll up and down browsing all the little shops.  Stop for lunch at one of the many out restaurants on The Drive like the Red Burrito for a little spice, or Scandilicious if you are in the mood for something decadent and sweet. All the shops are in full holiday mode. Seasonal music fills the air, you're greeted with amazing smiles, and there are lots of fun things to do in the neighbourhood.
To mark the beginning of the season on Commercial Drive the community does their annual tree lighting ceremony. Carolers sing and everyone enjoys some hot chocolate as the lights on the sixty foot high tree flicker to life. Kids are smiling and everyone is filled with the happiness and joy that the holiday season really brings to this East Vancouver neighbourhood.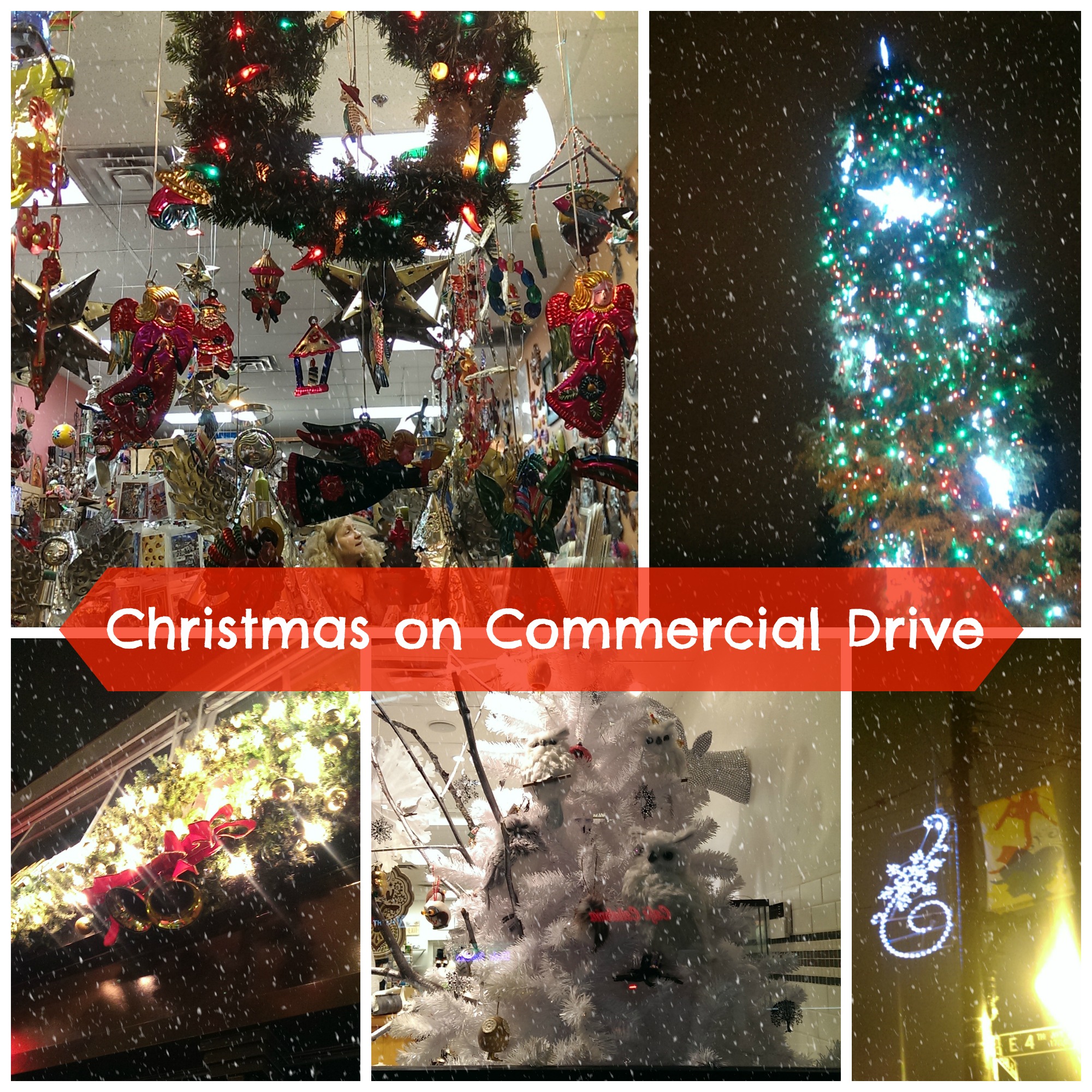 Events at the Rio
The Rio Theatre is an especially great place to visit during the holiday season. They offer season movie screenings, and of course the amazing Movies for Mommies events that offer kid-friendly fun for moms. You'll enjoy Elf, Jingle Bell Rocks!, and even adult events like the upcoming Naughty Little New Year's Eve.
With so much to do, so much to see and tons of places to shop you can really see why locals on the Drive love where they live. The best part of all, though, is knowing that when you add the Drive to your list of where to shop in Vancouver you're supporting this amazing part of our city.
My Picks
If you're wondering where to shop in Vancouver for some last-minute holiday items on the Drive, here are my favourite shops:
[unordered_list style="bullet"]
Wishing all of you a very merry holiday season filled with lots of love and laughter!
Eschelle Westwood
Eschelle Westwood is the writer of Mumfection and is a dedicated young mother to two wonderful (though mischievous at times) boys. In between school drop offs, scraped knees, and milk spills you can usually find her on Twitter or on her hilarious Facebook page.