Where to Shop in Vancouver: Does Target Hit the Mark?
I admit it – I love Target. I've always considered it a must-stop on any trips to the US. With stores opening up across Canada right now, I was both excited and filled with trepidation. On the one hand, I've always been a Target fan. On the other hand, I worried that our Canadian stores wouldn't measure up compared to their American cousins. Last month, I paid a visit to the new store in Coquitlam to find out for myself whether Target hits the mark for where to shop in Vancouver.
Where to Shop in Vancouver?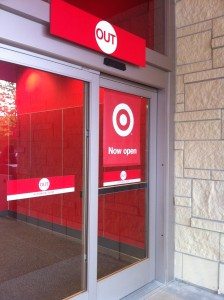 At first blush, the Coquitlam Target looks much the same as every other Target store I've ever visited. They have the same big red shopping carts, the same store layout, the same smiling staff in red shirts, and most of the same brands. Their prices are cheap by Canadian standards, but not quite as low as you'd see in the US. Their selection is also more limited than you'd see in a US Target. However, on the whole, it felt very much like Target, not a pale imitation. I've been back several times since my first visit, so obviously I'm a convert. Many of my mom friends here in Coquitlam seem to be, too – when I comment on some new shoes or a new backpack on their kids I'm hearing a lot of, "We got it at Target."
Since the store was brand-new on my first visit, I got the feeling that things were still getting up and running. The customers and staff are still working out the kinks. Some of the stock was a bit limited, but on my return visits I've seen that things seem to be getting better. I'm sure that in no time we'll all know where to pick up and return our carts and how to navigate the store, and they'll have all their kids' shoes out on the shelves. (I really love their kids' shoes!)
Trying out dENiZEN® Jeans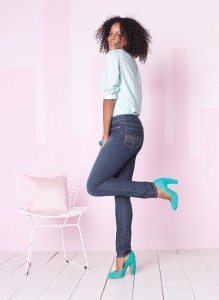 Target carries some exclusive brands in its stores. One example is dENiZEN® jeans from Levi's®. They're billed as great-fitting, high quality and affordable denim for men, women and boys, and you can only get them at Target. I recently had the chance to try out a pair of their skinny jeans myself, and I found them very comfortable. The sizing is generous, the fit is flattering, and with prices from $21.99 to $34.99 they won't break the bank. Plus, they held up well to washing. I admit I was a little hesitant to try skinny jeans, since "skinny" is not how I would describe my post-baby bod, but they really fit me well, and looked great. My only beef is that they don't have any girls' styles. Why leave my daughter out of the fun?
If you, like me, are a Target fan, it's worth adding their local stores to your list of where to shop in Vancouver, if only to check it out. Or maybe you've never set food inside one of their stores, and you just want to see what all the fuss is about. So far, there are Target stores open in Coquitlam, Delta and Langley. Other stores are opening across Metro Vancouver throughout 2013. To keep up-to-date on what's happening with Target, visit them online at www.target.ca.
Amber Strocel
Amber Strocel is a writer, aspiring math teacher, suburbanite, wife and mom of two. She believes in the power of the Internet to connect people, and she believes that numbers are the poetry of the universe. You can often find her knitting, sewing, volunteering, working in her garden, and sneaking chocolate when no one's looking. She blogs at Strocel.com and shares her photos on Instagram as @AmberStrocel.