Summer in Vancouver: Vacationing with Kids
Happy Canada Day! With the long weekend upon us, and summer well and truly here, many Vancouver moms are going to be vacationing with kids soon. Today, guest contributor Jo Ramsay has tips for traveling with children.
As the sun is (gradually) peeping out from its cloak of cloud my thoughts have begun turning to summer vacations as I wistfully dream of lying on a sun drenched beach sipping a cooling cocktail As a mom of two preschoolers I know that this relaxed idyll will stay exactly that, a dream. Though traveling with small children needn't be a nightmare. Having been born in the UK and flying regularly between the 'old country' and our new home in Vancouver, plus a few short haul trips thrown in for good measure, my boys have notched up an impressive amount of air miles. I'm definitely no expert on vacationing with kids, I'm not about to strap on a papoose and go travelling barefoot around Asia, but I have learned a few lessons along the way to make the whole ordeal a bit more bearable.
Tips for Vacationing with Kids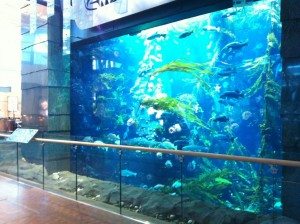 If you are flying, time your arrival at the airport carefully, too early and the little jetsetters get bored and you end up spending what feels like an eternity riding up and down escalators to keep them amused, too late and, well we all know preschoolers run on their own timetable leading to sweaty and frazzled parents. Thankfully Vancouver International Airport (YVR) is one of the most relaxed and child-friendly airports I've seen. The huge aquarium on level three of the international terminal could entertain a child for ages and with water features and sculptures dotted about, plenty of space and seating and a further tank of jellyfish on level four there's certainly plenty to occupy kids until the flight is called.
Brace yourself – when you're vacationing with kids they will get bored, they will get restless, they will roll around the floor and under the seats. Take a deep breath and remind yourself it won't last forever. There really will be a time in the not too distant future when you are no longer hermetically sealed in a flying bean can with inconsolable children and numerous glaring strangers.
Bring a Bag of Tricks
Bring a 'Bag of Tricks', full of favorite storybooks, toys and something new (and quiet, that won't irritate you or your fellow passengers after five minutes). The first time I took my boys on a transatlantic flight I filled a bag with individually wrapped up 'surprises' – dollar store toys, crayons, sticker books, chocolate buttons etc, the unwrapping caused huge excitement and killed a bit of time and the promise of a dip in the bag acted as a great incentive for good behaviour. We had plenty left at the end, which Santa was very pleased about as they doubled up as handy stocking suffersers.
Embrace modern technology. In our family all rules are off for TV and iPad use when on a flight or long car journey. If a few extra hours of screen time means happy relaxed children, fellow passengers, flight attendants and parents then why not? I've found bringing our own kid-sized headphones helps when vacationing with kids, as airline ones don't comfortably fit their ears.
Flying with a Stroller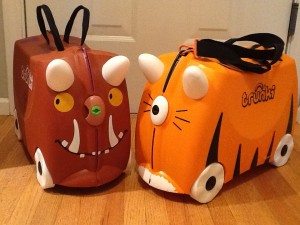 If flying with an infant, nurse or bottle-feed them on take off and landing to help stop their little ears popping. Also bring a sling or baby carrier (we used a backpack carrier that was small enough to double as a piece of hand luggage). Some airports will allow you to take the stroller to the door of the plane and have it waiting there when you disembark but others won't. At YVR you have to pick the stroller up from the oversized baggage area, so it's best to be prepared. Always go for the bassinette if available, even if your little wriggler won't sleep in it it's great to store bits and bobs.
I swear by the boys' Trunki suitcases (available online at www.westcoastkids.ca/Trunki and at stores such as Wanderlust, 1929 West 4th Avenue, Kitsilano). The kids enjoy having responsibility for their own luggage and love riding them. They turn a last minute dash for a connection into a fun game.
Snacks, Snacks, Snacks
Bring lots of snacks when vacationing with kids, both healthy ones for energy and 'naughty' ones for emergencies. Though be careful with fruit, we recently had to scoff a bunch of grapes under the steely gaze of a US immigration officer and arrived in the country looking like a family of Marlon Brando tribute acts.
Stick to your routine. If the flight or car journey is close to their bedtime why not get them changed into their comfy PJs? If you have space it's really handy to bring their favorite pillow or blanket too. Overnight flights are your friend, the white noise of the engine seems to lull little ones to sleep (and if not it also dulls the sound of any protestations for other passengers). I find keeping their routine of bath, story, bed (or rather bath, mess about, story, go to the toilet, ask for a drink, ask for favorite toy, do a headstand, bed) also helps with jet lag and encourages them to settle wherever they are (eventually).
What are your tips for vacationing with kids?
Jo Ramsay is a producer, director, writer, Brit abroad, mom of two mischievous bundles of fun, a newly converted yoga obsessive and lover of all things comedy. Jo blogs at Titchy Jo and tweets as @JoRamsay1.
Vancouver Mom
Would you like to write for us? We welcome well-written guest submissions with a local interest slant. Share your tips, review local businesses and highlight hot trends for Vancouver moms. Get all the info on our Contributor Page!