Podcast: Stand Up Paddle Board
You have likely seen them out on the water – people standing up on long surf boards, paddling around. They're participating in the new and growing sport called Stand Up Paddle Board, or SUP for short. But what's the deal with this sport? Why would a Vancouver mom want to do it? What benefits does it offer? And just how kid-friendly is it? We recently connected with Vancouver mom and SUP Instructor Dawn Joseph for our podcast. If you want the scoop, this is one you'll definitely want to listen to.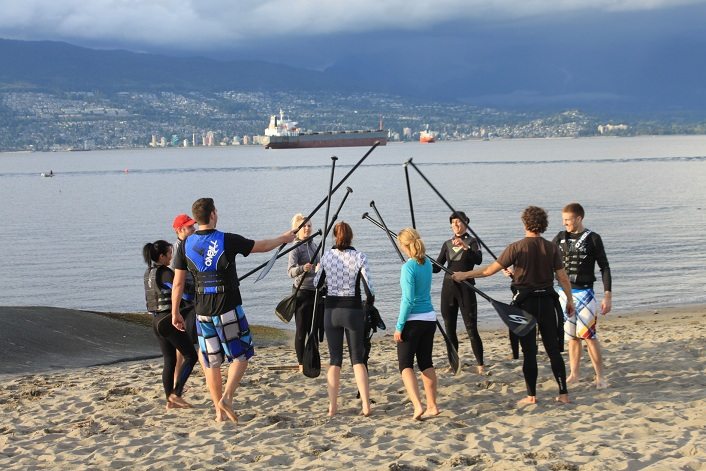 You Won't Fall In
One of the big fears that many people have when they consider trying SUP is falling in, according to Dawn. We have to say, we can understand that fear. But during our podcast, Dawn reassured us that the paddle boards are very stable. As a Stand Up Paddle Board Instructor, Dawn has seen very few people fall in. The boards are so stable, in fact, that Dawn teaches a bootcamp class on paddle boards. At an SUP boot camp class you'll do all the same kinds of moves you might do on dry land, like push-ups, lunges and squats. On top of that you'll use your paddle and engage your core as you stand barefoot on a surface that moves slightly. Plus, you'll be able to enjoy the gorgeous scenery from the water around Vancouver.
Maybe that all sounds like a little bit much for you, though. If you'd like to make your first SUP experience a more sedate paddle on some calm water, that's fine, as well. Dawn says that by the end of her first class, she usually has all of her students standing up and paddling on their boards. She suggests a class for your first experience, to make sure your technique is sound. Plan to spend about an hour, and choose a day when the weather is cooperating.
SUP Podcast
During our podcast, Dawn talked about how she got into Stand Up Paddle Board. She talked about the sport, and how you can try it for yourself. She described her Stand Up Paddle Board Bootcamp in more detail. And she talked about taking your kids on your paddle board. If you're curious about SUP, or you'd like to shake up your workout, you'll want to be sure to listen to the podcast:
SUP Bootcamp Vancouver
Amber Strocel
Amber Strocel is a writer, aspiring math teacher, suburbanite, wife and mom of two. She believes in the power of the Internet to connect people, and she believes that numbers are the poetry of the universe. You can often find her knitting, sewing, volunteering, working in her garden, and sneaking chocolate when no one's looking. She blogs at Strocel.com and shares her photos on Instagram as @AmberStrocel.