Podcast: Birthday Party Planning and Hiring a Pro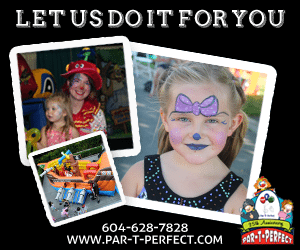 Planning the perfect birthday party isn't easy, and it isn't cheap, either. To save money, a lot of Vancouver moms call on friends and family, borrowing a bouncy castle from a friend or getting their sister to do face-painting. At VancouverMom.ca we're all about calling on your community for help – but we also know that sometimes a bargain isn't really a bargain. When is it worth it to spend the money to hire a birthday party pro, and how do you choose one? We recently connected with Robin LeBlevec of Par-T-Perfect to get an expert perspective for our podcast.
Talking to a Birthday Party Planning Pro
As a birthday party planning pro, Robin has seen it all. During our podcast she pointed out that sometimes, when it comes to party help, you get what you pay for. The bouncy castle that you got on sale at a local kids' store is not the same thing as an industrial castle that someone sets up and supervises for you. If you have a lot of kids – and especially a lot of older kids – those smaller castles may not stand up to all that jumping. Kids are going to line up for great face painting, but they may not bother if they can't tell your Spiderman from your Superman. Doing your research can help make sure that your birthday party is a great time for everyone, including you.
How do you choose a party planning company? "We have had the panic call on a Saturday afternoon," says Robin. "Can you have a castle here in two hours, the people we rented from just cancelled on us!" No one wants to be left in the lurch with a dozen kids to entertain. She suggests asking how long a company has been in business, and asking for referrals. You can also check the Better Business Bureau online to see if they have any valid complaints outstanding. Check out their online presence, find out of they have real office hours, and make sure that when you're comparing companies you're comparing apples to apples.
What if it Rains?
One question that a lot of Vancouver (or should we say Raincouver) moms have is what to do if it rains. Robin says, "Depending on the amount of rain falling or winds blowing we will determine the safety measures and we will decide in the moment which way to go. The great part of our business is that if weather doesn't allow for us to set up an inflatable, we will be prepared to have fun with the kids with games and other activities like face painting, balloon twisting and crafts. We will make sure to still arrive with our party energy and have as much fun as possible so we do not leave you hanging with 15 kids in your house. We're here to help you mom – you have enough to do!" Amen to that.
If you'd like to hear more of Robin's birthday party planning ideas and suggestions, and her tips for hiring a party planning pro, you'll want to take the time to listen to our podcast. We learned a lot – from issues with insurance and liability, to how to handle party food. We know you'll learn a lot, too!
This article was sponsored by Par-T-Perfect. For 25 years Par-T-Perfect has been delighting kids and entertaining adults through extraordinary parties, creative themes, and professional staff who are dedicated to making lasting memories. Block Party? Summer BBQ? Birthday Party? Corporate Event? Call us for all your party needs, inflatables for indoors and out, theme parties (Survivor, Pirates, Western, Princess Dress Up, SPA-tacular, Bear Stuffing) and many more… Christmas parties (Santa & his elves)… any occasion, all year long. No private, corporate, or community event is too big or too small. Let Us Do It For You!
Amber Strocel
Amber Strocel is a writer, aspiring math teacher, suburbanite, wife and mom of two. She believes in the power of the Internet to connect people, and she believes that numbers are the poetry of the universe. You can often find her knitting, sewing, volunteering, working in her garden, and sneaking chocolate when no one's looking. She blogs at Strocel.com and shares her photos on Instagram as @AmberStrocel.