Kid friendly hikes in metro Vancouver
Guest post by Michelle Carchrae.
Getting out for a hike is one of life's great pleasures. Stepping onto a trail can be like stepping into another world, far removed from the pressures of the city. In Vancouver, hiking trails of all kinds are right at our doorstep (sometimes literally!) and many are perfect for going hiking with kids. Here are some of our favourites:
Rice Lake in the Lower Seymour Conservation Reserve
If you're just getting started hiking with kids or you want a short trail with a nice view, Rice Lake is the perfect destination for a family hike. Located in the Lower Seymour Conservation Reserve, this easy trail meanders around the lake, past picnic tables and a fishing pier, with no major hills or rocky patches. While bikes and dogs are not allowed, it is smooth enough to bring a stroller.
Huckleberry Trail in Pacific Spirit Regional Park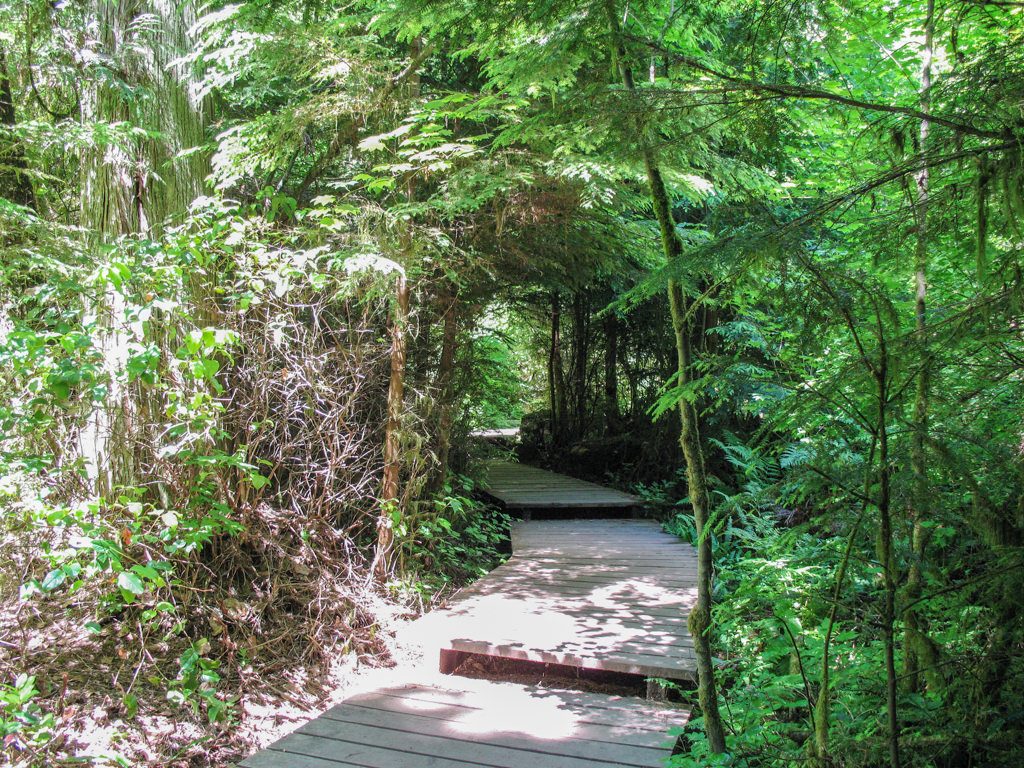 Another source of short, easily accessible hiking trails is Pacific Spirit Regional Park, located just east of UBC. We recently went hiking along the Huckleberry trail, and we discovered that huckleberry trail is lined with, guess what? Huckleberry bushes! The Huckleberry trail is wide, smooth, stroller friendly and well maintained, although if you plan on venturing off onto other trails it is wise to pick up a copy of the trail map at the office, website or trail head. Please remember to double check your identification of any wild berries in a field guide before eating them.
Goldie Lake on Mount Seymour
Another source of wild berries is Goldie Lake on Mount Seymour. This trail has a higher elevation and is more rugged than the Rice Lake or Huckleberry trails, but it's still a good hike for kids since it's short and there's lots to see. Goldie Lake is best in August and September; any earlier and you might find snow on the ground, any later and you might miss the wild blueberries.
Lighthouse Park in West Vancouver
My favourite local hike is Lighthouse Park, just a short drive down Highway 1 towards Horseshoe Bay. Lighthouse Park is one of the only places to find old growth trees in Metro Vancouver, and it's also got lots of places to climb out on the rocks and enjoy the stunning views. While there are lots of hills and the smaller trails that branch off the main path are definitely not stroller-friendly, the park itself is fairly small and most trails are easy enough for kids.
These trails are our family's favourites because they are short enough for our 3 year old to walk on her own, and each trail has some interesting features, such as wild berries to identify, old growth trees or a beautiful view. They're also easily accessible from the city and often have many different trails available in the same park, so we can try a different route the next time. Hiking with kids can mean slowing your pace or carrying a young child in a backpack or baby sling, but taking kids hiking while they're young is an opportunity to share a love of nature and a chance for everyone to learn a bit about local wild edibles.
Michelle Carchrae is a freelance writer and mama to two girls. She writes about attachment parenting, parenting resources and life with kids at The Parent Vortex.
Vancouver Mom
Would you like to write for us? We welcome well-written guest submissions with a local interest slant. Share your tips, review local businesses and highlight hot trends for Vancouver moms. Get all the info on our Contributor Page!