The recent sub zero temperatures may have you searching for the ultimate Canadian experience of outdoor skating! While there were a few days of safe outdoor skating at higher elevation locations like Rice Lake in North Vancouver, the Vancouver Board of Parks & Recreation and City of Coquitlam have been warning residents not to venture on to frozen ponds and lakes in and around Vancouver. This is especially true with temperatures set to warm up and the ice not being thick of enough for safe foot (or paw) traffic. Fear and frost not – you can still bundle up and get the winter experience at one of Vancouver's great outdoor skating rinks. Lace up and hit the ice for a twirl, a leap or a spin at one of these local spots.
Outdoor ice skating rinks
Shipyards Outdoor Skate Plaza *Free*
Hours: The Skate Plaza is open daily, 1:00-8:00pm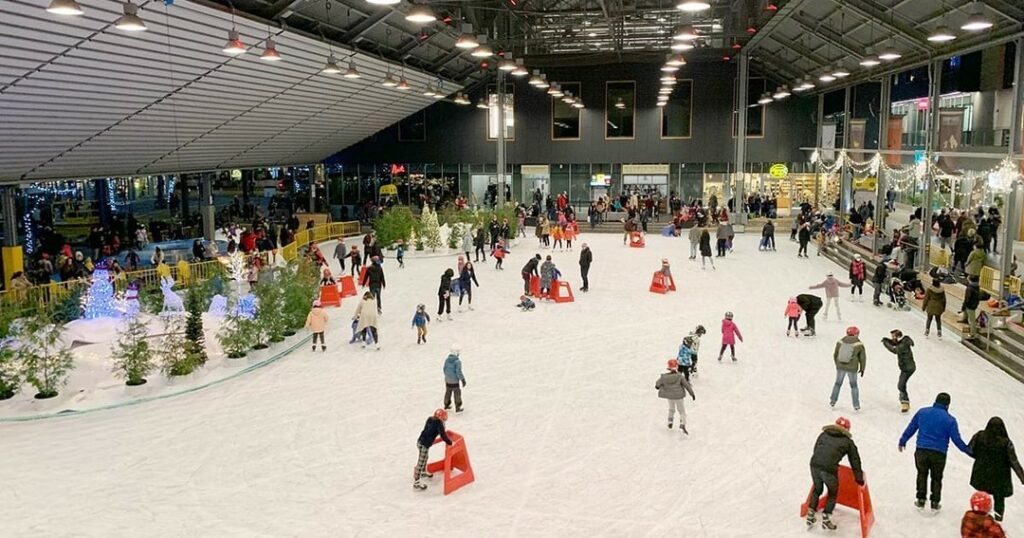 Did you know that North Vancouver is home to the region's largest outdoor skating rink? Located on the waterfront at the Shipyards, this skating rink is worth a visit for the views alone! With 12,000 feet of space to enjoy, the Shipyard Commons skating rink is open and ready to welcome you for the season.
This outdoor skating plaza offers daily skating, as well as free helmets and skate aides. There are limited rentals available ($7/adult a d $5/kids). If you have your own skates – you skate for free! During the 2021/ 2022 skating season, the skate plaza will be operating at half capacity to give everyone a little more room to safely enjoy the experience.
Masks are now mandatory on the ice. Snowfall may require brief closures of the ice for snow clearing or a full closure of the ice – get the latest updates on Facebook or Twitter.
Pro tip: The rental lineups can be lengthy so it's advisable to bring (or borrow) your own skates.
Robson Square Outdoor Skating Rink *Free*
Opens Dec 2, 2021
Hours: Sunday to Thursday 9am-9pm, Friday and Saturday 9am-11pm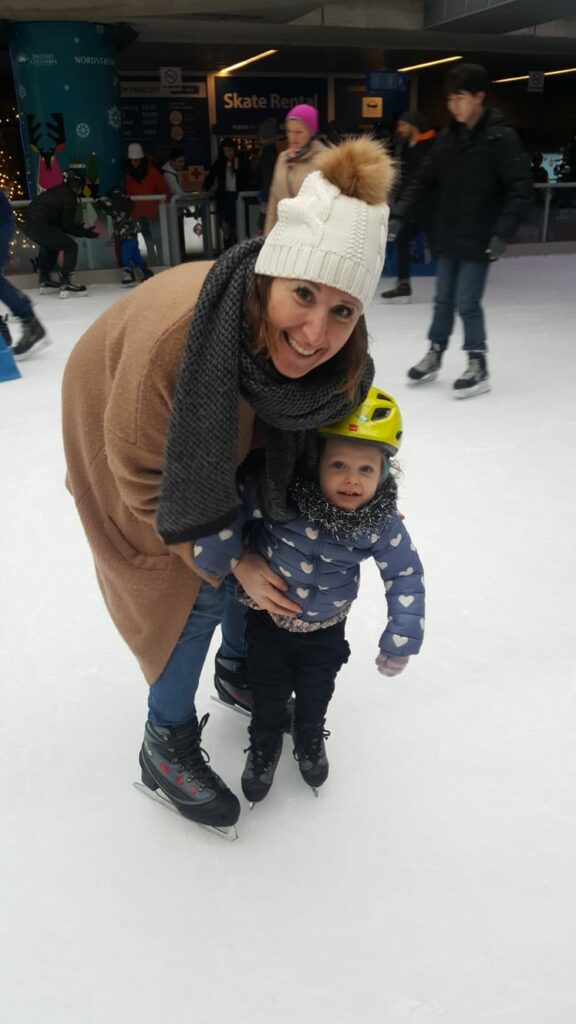 Enjoy this outdoor ice skating rink right in Vancouver! A Vancouver favourite tradition, you can enjoy skating on this icy oasis in the heart of the hustle and bustle of the city. This year they have are opening a new indoor skate rental and updated café. There are lockers, a patio with heaters and a a skate dryer!
Proof of vaccination is required along with wearing masks both on and off the ice.
Grouse Mountain Ice Skating Pond
Until March 2022, North Vancouver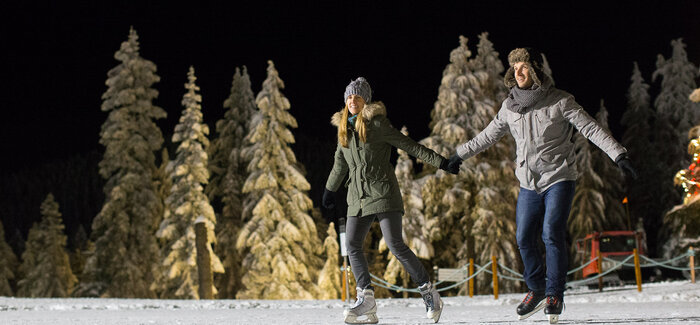 Nothing beats skating outdoors on an 8,000 square foot mountaintop skating pond, surrounded by snow-capped trees on the top of Grouse Mountain. Enjoy this picture perfect outdoor ice skating location along with some of the best views of downtown Vancouver that the city has to offer. Open now until early Spring (be sure to check daily weather conditions). Fun with the kids or perhaps even consider a unique date night?
Proof of vaccination is required to board the Grouse Mountain Gondola and participate in mountain activities.
>> Mountain top skating at Grouse Mountain
Outdoor Pond and Lakes
There are a host of outdoor lakes in and around Vancouver. With sub zero temperatures this year many people have been spotted on frozen lakes and ponds. Though some lakes at higher elevations offered a unique experience of outdoor skating, the Parks Board and others are currently recommending that people stay clear of popular spots like Trout Lake, Como Lake, La Farge and others where the ice is not thick (or consistent) enough to be safe.
@parkboard/Twitter and l i g h t p o e t/Shutterstock
In a tweet shared on Tuesday, December 28, 2021 the Vancouver Board of Parks and Recreation warned people of the thin ice in the city's parks.
"Although it has been very cold, and the edges around some of Vancouver's lakes/ponds seem thick enough, it is not safe," reads the tweet.
"Do not go on the ice, or let your pet go on the ice, at Trout Lake, Lost Lagoon, Jericho ponds, or any other body of water."
The Parks Board shared that should you be in a situation where you fall through the ice, you can follow these steps to help yourself:
Yell for help
Reach and grab onto the ice
Kick hard and push your stomach onto the ice
Roll like a log on the ice
Do not get up to walk to shore
If you can't get yourself out, hang onto the ice and keep yelling until help comes.
If you see someone go through the ice, call 911 and do not attempt to save them yourself.
Renee Janzen
A connector by nature, Renee loves to bring people together and is fueled by thoughtful conversations, family style meals and perfecting details. Hikes for the views, thinks variety is the spice of life, and is always up for an adventure with her husband and their two young daughters. A fulltime marketer by day, Renee recently moved back to the North Shore where you can find her busy with work Zoom calls, home renos, and enjoying the great outdoors with her family.