Spring Break is just around the corner, and if you're still trying to decide which programs to register for, we've got you covered. Here's our list of the Top 5 Kids Camps in Vancouver. Explore them all and let us know what you think.
Spring Break Camps in Vancouver
Elevate Ultimate
Elevate Ultimate offers a variety of half and full-day spring break camps for kids 4- 19 years of age and all experience levels. Check out their program calendar below to see what works best for you! If you're not ready to jump in yet, follow them on Instagram to learn more about Ultimate Frisbee and how It popped out of seemingly nowhere to grow exponentially. Elevate's programs cost between $239- $339 depending on whether you choose a half or a full-day option.
Shoreline Studios
Got a performer in the house? Shoreline's week-long acting workshop introduces students to what it takes to become a working film and TV actor! Campers train with some of the top-working actors in Vancouver to learn different approaches and gain practical, comprehensive experience and knowledge in a fun, safe and supportive environment! Make friends, learn and explore characters, and learn more about yourself. The cost is $359 for 7-9-year-olds and $440 for kids ages 10-15.
>> Shoreline Studios
Free Kick Timbits Soccer 
Free Kick Timbits Soccer offers fun, active half-day soccer camps for kids ages 6-12. It's run by former Canadian National team player Carrie Serwetnyk. Campers celebrate their own World Cup, complete with country flags and music. And, as a bonus, all players receive a Timbits uniform, soccer ball, socks and a medal! Their camps run at two awesome locations this year, Shaughnessy Elementary and Jericho Turf. The cost is $145.
>> Free Kick
Richmond Martial Arts
Richmond Martial Arts offers a fun full-day camp experience where kids spend their day doing martial arts, cheers, parkour, arts and crafts, and fun indoor games. The camp's name is Richmond's Best Camp, and they offer onsite care between 8:30 am and 6 pm. It's a great opportunity for kids interested in Parkour and Martial Arts to get their feet wet. The cost is $298 for one week and $598 for both. They also offer single-day camp purchases.
Little Kitchen Academy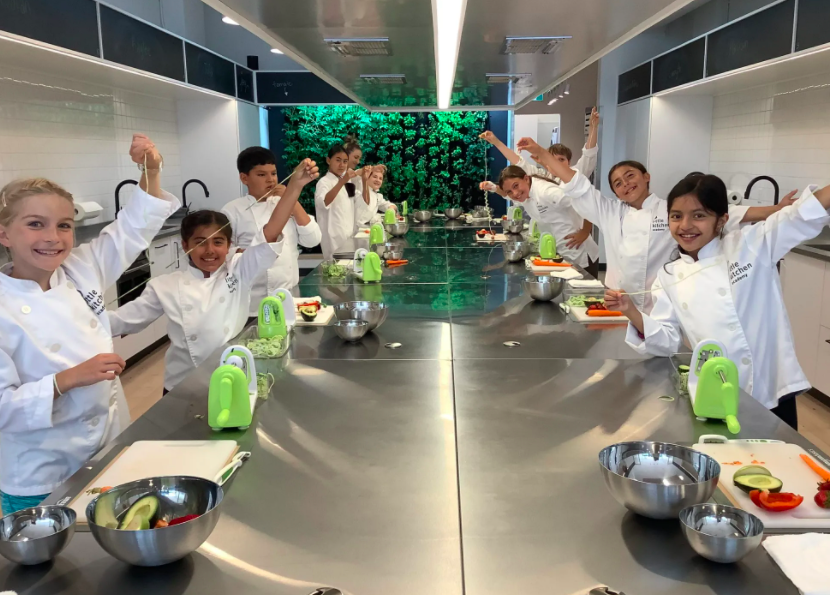 Little Kitchen's Spring Break Camps are popular, so you'll want to act fast because they book up quickly. If you can't secure a camp spot, registration for their spring sessions are open. Little Kitchen's programs will inspire your child to try new foods and take on new challenges. You'll see their confidence and independence grow, both inside and outside the Kitchen!
Vancouver Mom
Would you like to write for us? We welcome well-written guest submissions with a local interest slant. Share your tips, review local businesses and highlight hot trends for Vancouver moms. Get all the info on our Contributor Page!