The thing about disc sports is they are perfect for a socially distanced world. You get a workout just running place to place, building stamina and having a great time, all 6 feet apart. Ultimate Frisbee is a perfect outlet for kids who need to blow off steam but would like a change from ball sports. Disc Golf, where kids hit a target (or a chain basket) with a flying disc in as few throws as possible is less strenuous but perfect for social distancing, patience, and mindfulness and honing accuracy.
Elevate Ultimate is the go-to for all things disc in Metro Vancouver. They offer all manner of programs for youth from spring break and summer camps to leagues and weekly programs, and their high-energy coaches are all seasoned players who love working with kids in a safe, inclusive and respectful space.
Five ways your kids can experience disc sports with Elevate Ultimate
Weekly programs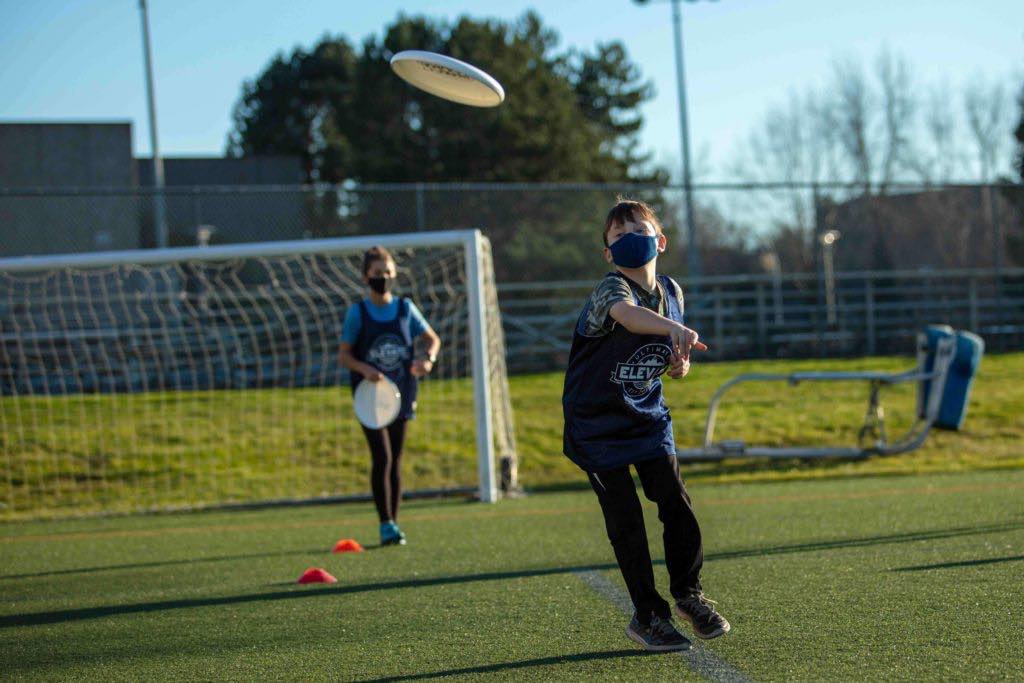 This Spring, they're conducting Weekly Ultimate Frisbee programs across Lower Mainland and Victoria. Designed for athletes at all levels from grade 1 to 12.
>> Weekly Ultimate Frisbee programs
Elevate Courage Camp for female-identifying athletes
In their years of coaching and playing ultimate, Elevate has made a heartbreaking observation: young female-identifying athletes, when playing in a mixed or co-ed environment, do not see themselves as playmakers and do not hear their voices as having value. To counter this, they're conducting the Elevate Courage Camp.
Disc Golf League
If you're a Disc Golf fan, Elevate is launching a Disc Golf League in Spring! The DG league will give you a chance to throw some discs with the best and funnest in the sport, all year-long.
>> Sign up for their newsletter to stay posted
Spring Break Camps
Looking for a fun, positive, socially-distanced spring break camp? Sign you kids up for an ultimate frisbee or disc golf camp for kids aged 6 – 19. Elevate focuses less on perfection and more on meeting the athletes and parents' goals with a focus on values like conflict resolution, sportspersonship, and gender equity.
>> Sign up for a Spring Break Camp
Strive and Uplift Programs
If you're looking for a virtual add-on or option, Elevate has partnered with Whole Athlete Academy to offer Strive & Uplift programs, a strengthening and conditioning program suitable for both you and your kids.
COVID-19 Protocols
Disc sports are typically socially-distanced and outdoors, which makes them safer. While the coaches follow all COVID-related regulations, they are very agile when it comes to making changes as the regulations change.
Are you convinced yet? Sign you kids up today for an Elevate program and watch them flourish.
If you're seeking a fun, socially-distanced sport for your athlete, Elevate Ultimate is where it's at. The academy provides a range of disc sports for kids aged 6 – 19 and school programs. Loved by 1000+ parents for their high-energy coaches, they ensure the safest (but funnest!) experience. With focus on values like conflict resolution and sportspersonship, Elevate offers an experience that will stay with you forever. www.elevateultimate.com
Harriet Fancott
Harriet Fancott is the Editor and Social Media Manager for Vancouver Mom. She has over 20 years experience in the arts, tech and mom-based blogging arenas. She lives in East Vancouver with her husband and son where they enjoy exploring all that Vancouver has to offer from festivals and events to playgrounds and beaches to sushi and ice cream (although not together).