In The News: The Importance of the Arts with Roundhouse Radio
March 4, 2016 – Crisp Media CEO Christine Pilkington sat down with a table of passionate moms, who all work in the arts, with RoundHouse radio's  Minelle Mahtani on her wonderful show Sense of Place.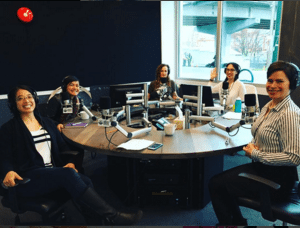 Minelle spoke with Christine Pilkington of Crisp Media, Joan McCauley, Executive Director of Place des Arts, Kim Thé – Artist Manager at Will Stroet and Mary Hay from Artmania about the need for the arts in children's lives.
Take a listen!
Check out our full list of media appearances! 
Harriet Fancott
Harriet Fancott is the Editor and Social Media Manager for Vancouver Mom. She has over 20 years experience in the arts, tech and mom-based blogging arenas. She lives in East Vancouver with her husband and son where they enjoy exploring all that Vancouver has to offer from festivals and events to playgrounds and beaches to sushi and ice cream (although not together).