Best off-the-beaten path restaurants to try something new
If you're tired of all your regular spots and are itching to try something new, check out these local gems. Your curiosity will most certainly be rewarded.
House of Dosas
Open late, the star of this place is the dosa, a crispy, savoury Indian crepe filled with a variety of spicy fillings and served with a variety of house-made chutneys. Most dosas are gluten-free, except those made with semolina, which are noted on the menu. All dosas are half-price on Monday, so be prepared to wait; the rest of the week, it's still very affordable. They like kids here, and they've got high chairs if you need them.
1391 Kingsway, Vancouver
Amay's House
Amay's House on Victoria Drive features Burmese dishes you might never have tasted before. Four can eat for under $50; many dishes are suited to sharing. Definitely try the Myanmar Tea Leaf salad, an unexpectedly wonderful dish of chana dal, peanuts, garlic, tomatoes and fermented tea leaves, and don't pass up a bowl of Mohinga, the national dish of Myanmar. Mohinga is a noodle soup in a subtle catfish broth that is unlike any soup you've ever tried.
5076 Victoria Drive, Vancouver
James on Hastings
If you're craving Peking Duck, this is where you should go. Two courses will run you about $35, but it will serve four if you include a starter or a side – the gai lan with garlic is always a delicious choice. If you're feeling celebratory and/or flush, they do a multi-course king crab dinner that is very worthwhile. Open late, they also offer take-out and delivery service.
2683 East Hastings Street, Vancouver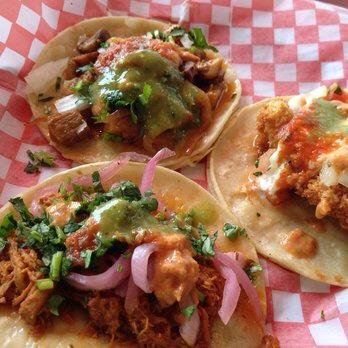 Sal y Limon
This place is always super busy, but it's very close to Robson Park and they do take-out. Though vegetarian options are available, the pork is where they really excel – try the tacos al pastor. If you're worried that take-out tacos might be challenging to eat, try the torta (a Mexican sandwich on a soft white bun); the lamb and cumin torta is fantastic, if you're not feeling porky. Save room for churros, and don't forget a bottle or two of pineapple Jarritos.
5-701 Kingsway, Vancouver
Emily Wight
How about: Emily Wight is a working mom, science communicator, author, and the blogger behind Well Fed, Flat Broke. Her best-selling cookbook, Well fed, flat broke: Recipes for modest budgets & messy kitchens, from Arsenal Pulp Press, is available in local bookstores and online