Vancouver Bloggers Unite for Blood Donation
What do mom bloggers have to do with blood donation? More than you might think.
Here at VancouverMom.ca we're immensely proud of our Top 30 Vancouver Mom Bloggers. We've honoured five groups of 30 bloggers so far, and each time it's inspiring and exciting and humbling to see the work these women do. On social media, the bloggers have united to create an online community, supporting and encouraging each other, and sharing tips and ideas. So when one of our group goes through a difficult time, it's no surprise that we all want to know how we can help.
Marilyn's Story
One of the first Vancouver mom bloggers we honoured in 2010 was Marilyn Belsham, for her blog A Lot of Loves. Marilyn has also written a number of articles for our site. We love how real she is, and how easy to relate to. We were shocked and saddened, therefore, to learn that following surgical complications she was in the ICU, in a medically-induced coma. When some bloggers approached her family to ask what we could do as a community to support her family, her husband mentioned blood donation.
The good news is that Marilyn is now on the mend. However, she was very sick, and the outlook was not always so rosy. While she was unwell, she received a lot of blood – well over 100 units. That means that Marilyn is here today, and her two children still have their mother, because dozens of people took the time out of their lives to donate blood. This is no small thing. Blood donation is a very real way to make a difference in the life of another person.
Blood Donation Saves Lives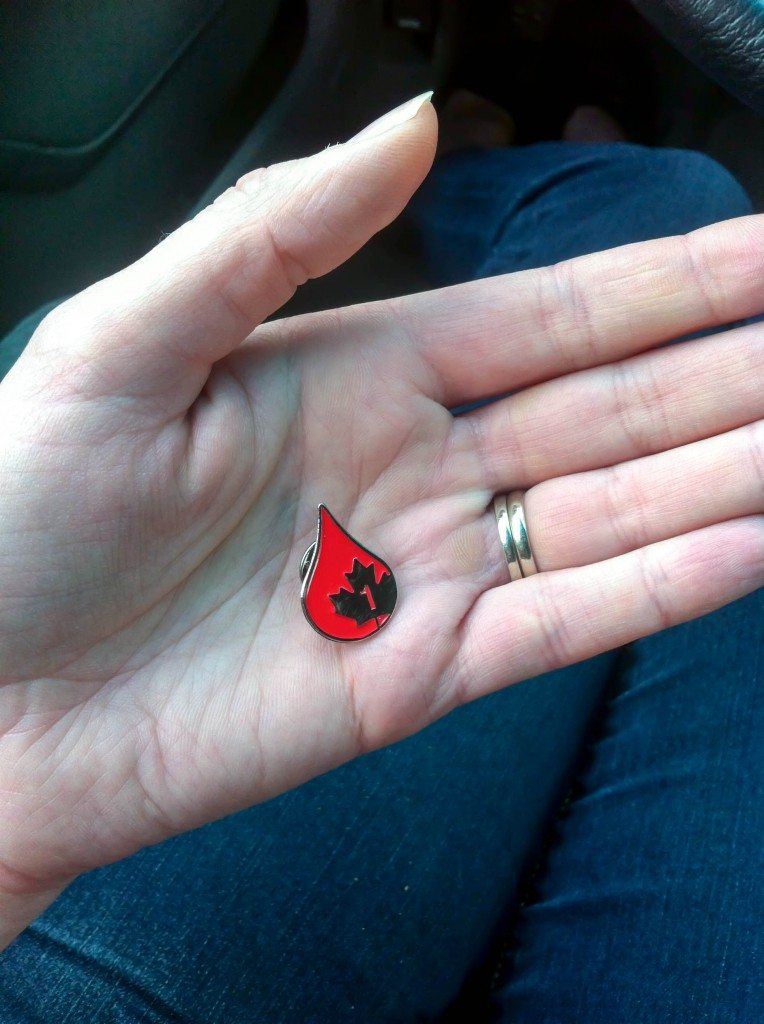 It's easy to think that blood is something that
other
people need, but in fact Canadian Blood Services reports that approximately every minute of every day, someone in Canada needs blood. According to a recent poll more than half of Canadians say they, or a family member, have needed blood or blood products. I myself received two units of blood following the birth of my first child, when I hemorrhaged. Blood transfusions are received by people of all ages, ethnicities and genders, including premature infants. You don't know when you or someone you love may need blood – but I can assure you that you will be immensely grateful for this resource if that moment arrives. And since there is no universally accepted substitute for human blood, every blood transfusion comes from a donor.
Blood donation takes about an hour. First, you'll need to make sure you're eligible. Blood donors you must be at least 17 years of age, in general good health, and feeling well on the day of donation. There are minimum weight and hemoglobin requirements, as well as other restrictions. It can be frustrating to be denied the opportunity to give blood as a willing donor, but Canadian Blood Services is working to protect the health of both blood donors and recipients. If you're eligible to donate, there are permanent clinics in Vancouver and Surrey, and mobile clinics all across Metro Vancouver.
More Ways to Help
Blood donation isn't all that Canadian Blood Services does. They also collects plasma, platelets and stem cells. And
new parents can donate cord blood to the public blood bank at BC Women's – find out more about that here. If you're not eligible to donate blood, you can also help by volunteering, or spreading the word. Blood donation saves lives. Those of us who know Marilyn, and have been touched by her, can testify to that. That's why many local mom bloggers are donating blood, and why we're uniting to encourage you to donate, too.
To find out more about blood donation, including eligibility requirements and blood clinic hours and locations, visit blood.ca.
Amber Strocel
Amber Strocel is a writer, aspiring math teacher, suburbanite, wife and mom of two. She believes in the power of the Internet to connect people, and she believes that numbers are the poetry of the universe. You can often find her knitting, sewing, volunteering, working in her garden, and sneaking chocolate when no one's looking. She blogs at Strocel.com and shares her photos on Instagram as @AmberStrocel.