Valentine's Day Beautification at Trinity Salon & Spa
Recently I was given a chance to head over to Trinity Salon and Spa to check out the services they have. They're located in North Burnaby, not far from the Gilmore SkyTrain station, making them an easy destination for moms in Burnaby and East Vancouver. My visit was just in time, with Valentine's Day a few days away, and I was incredibly pleased with my experience.
Valentine's Day Pampering
The shop itself is lovely, lined with beautiful products to browse around for any and all kinds of skin and hair. It is well lit and the smell is just divine as you would expect. I was warmly welcomed by the gorgeous skin experts and asked if I was in need of refreshments. When you visit for the first time ou are handed forms to fill out. They even let you sit in this heavenly massage chair as you do your paperwork or wait for your service to begin. The total body massage chair really helps ease you into your new environment, massaging even your calves.
After filling out your first visit forms you are asked tons of questions about your skin (if you are getting a facial as I was). For example, where you would rate your skin now, where you would like to see it, what your routine is now, how much time each day do you have to focus on your skin, do you have sensitivities/allergies, etc… This helps your specialist get a really good feel for your skin (excuse the pun) and what you really need. It's great to get a fully catered experience for you and your skin, matched with a heavenly massage, amazing smells and calming music. I never wanted to leave.
Enjoy Some Couple Time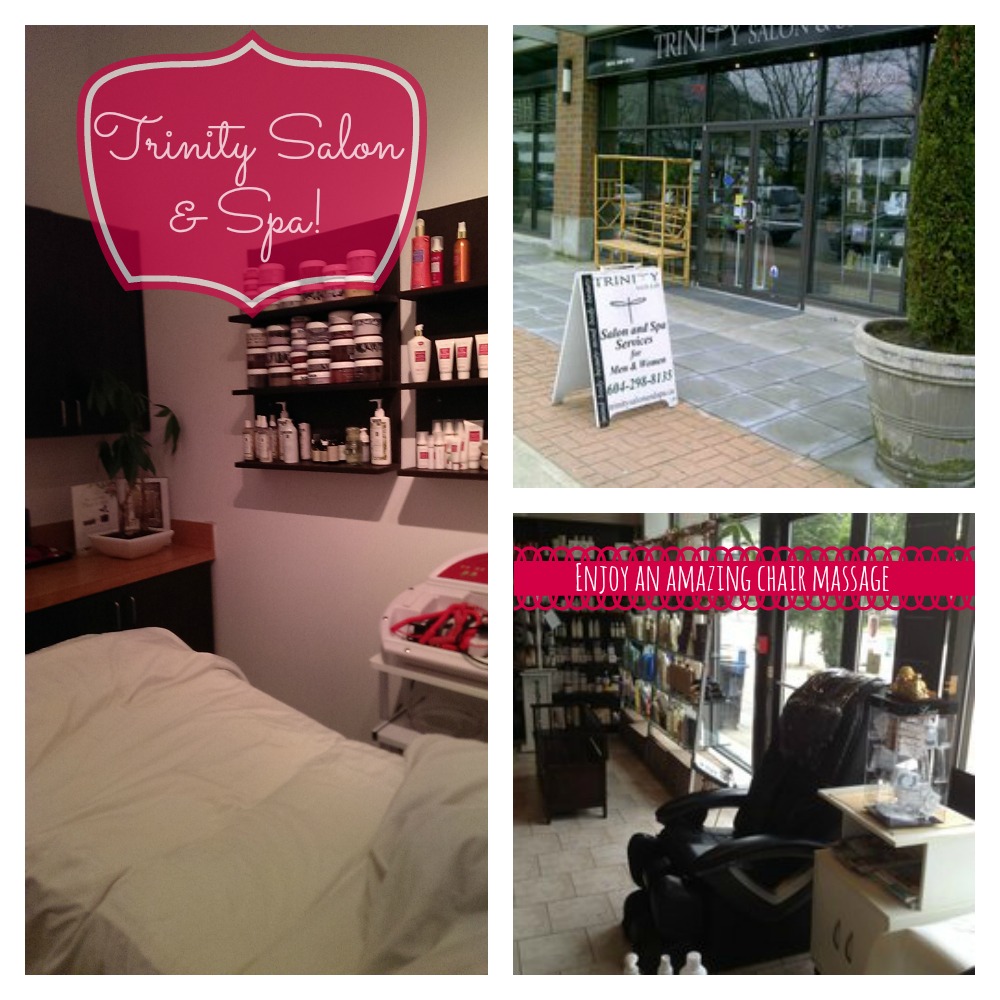 This is the perfect excuse to really invest in some great pampering for you or your loved one this Valentine's Day.  Not only do they have great services for ladies, they have really incredible men's services as well. When you are in there buying for your sweetie you won't feel terribly guilty if you book a little something for yourself on the same day.  And men, make sure when you buy her something you are getting in on the action. After all nothing would be better than getting the chance to relax with the one we love this Valentine's Day.  s moms are just looking for a great way to have a deep connection and some shared relaxation would have to be the best way possible to accomplish this. And, after doing it once, you will definitely want to make it a regular thing.
Get in there and enjoy a treatment today or buy a gift for yourself and your spouse – you won't regret it!
Trinity Salon & Spa
trinitysalonandspa.ca | Twitter |
4138 Dawson Street, Burnaby
604-298-8135
Eschelle Westwood
Eschelle Westwood is the writer of Mumfection and is a dedicated young mother to two wonderful (though mischievous at times) boys. In between school drop offs, scraped knees, and milk spills you can usually find her on Twitter or on her hilarious Facebook page.