You Say: Celebrating Valentine's Day with Kids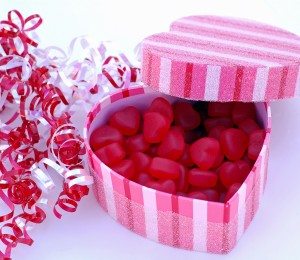 Valentine's Day is tomorrow, and many Vancouver moms are spending today helping their little ones make cards. Like all holidays, Valentine's Day changes a lot after you have kids. Instead of trying to squeeze into a slinky dress for a hot date night, many of us are stocking up on craft supplies and making Valentine-themed sensory bins. Of course, we still love our partners, and we'll likely kick up the spice a notch or two on the home front. But we also love our kids, and we want to make the day special for them, too. With these new little valentines in our lives, we thought we would turn to you for our latest You Say feature, to find out how you're spending Valentine's Day with your kids.
You Say: Kid-Friendly Valentine's Day Celebrations
Several of you shared how you'll be celebrating Valentine's Day with your kids over on Facebook. Here's what you said.
2013 Top 30 Vancouver Mom Blogger Carolyn Leanne Béchard said they will be, "[Eating] home made pizza and [spending] time together as a family."
Wear Those Deals is buying some special gifts for her kids. "My adult daughter panties from Panty by Post (one of our deals) and my son chocolate and a gift card to Subway. He's a hungry student at SFU!" We love Panty by Post, too!
City Mom Now Fraser Valley City Leader Danielle Christopher shared, "I just posted on CMN, all about having fun together." Read her suggestions at What to Play for a Family Valentine's Day.
Angelica Cuevas de Lebesnerais says they'll be celebrating with, "Lots of love, hugs! [And] a card made by me."
Alisa Hutton shared her plans, "Just a good old school Valentine's celebration, decorations, treats, games, love, laughter and fun!"
Ashley Cau is giving her kids, "Books, stuffed animal and chocolates."
Lee-Anne Ekland shared, "My son and I will spend the day together having a 'lovefest' as we call it. That is, random bouts of hugs and kisses, tickles and cuddles, and then we'll make a card for his dad and bake some gluten-free cookies. He gets to choose all our activities so depending we might head to Science World to take in the Lego exhibit. Then we'll have a quiet dinner together with dad and watch a movie with popcorn and chocolate. That is if our little man wants to. Perfect!"
What about you? There's still time to weigh in on this You Say feature. Just leave a reply and let us know how you're celebrating Valentine's Day with your kids!
Amber Strocel
Amber Strocel is a writer, aspiring math teacher, suburbanite, wife and mom of two. She believes in the power of the Internet to connect people, and she believes that numbers are the poetry of the universe. You can often find her knitting, sewing, volunteering, working in her garden, and sneaking chocolate when no one's looking. She blogs at Strocel.com and shares her photos on Instagram as @AmberStrocel.