Unwrap Etsy Pop-Up Holiday Market
I love Etsy. Each time one of their emails hits my inbox I fall into a small black hole of handcrafted joy. However, when it comes to Christmas, sometimes you just want to go shopping and have it all, physically, done. Right now there's a cute Etsy pop-up in Chinatown that's a great place to start.
All the Etsy Goodness in Vancouver
All 36 vendors are local to Vancouver, and there's some beautiful work here. A Love My Local bamboo cheese board in the shape of British Columbia would make a great hostess gift. The animal pillows by Triple Studio stood out a mile – beautiful illustrations of elephants, giraffes, and penguins printed on pillows for $25. I've seen versions of this idea for three times the price and nowhere near as lovely.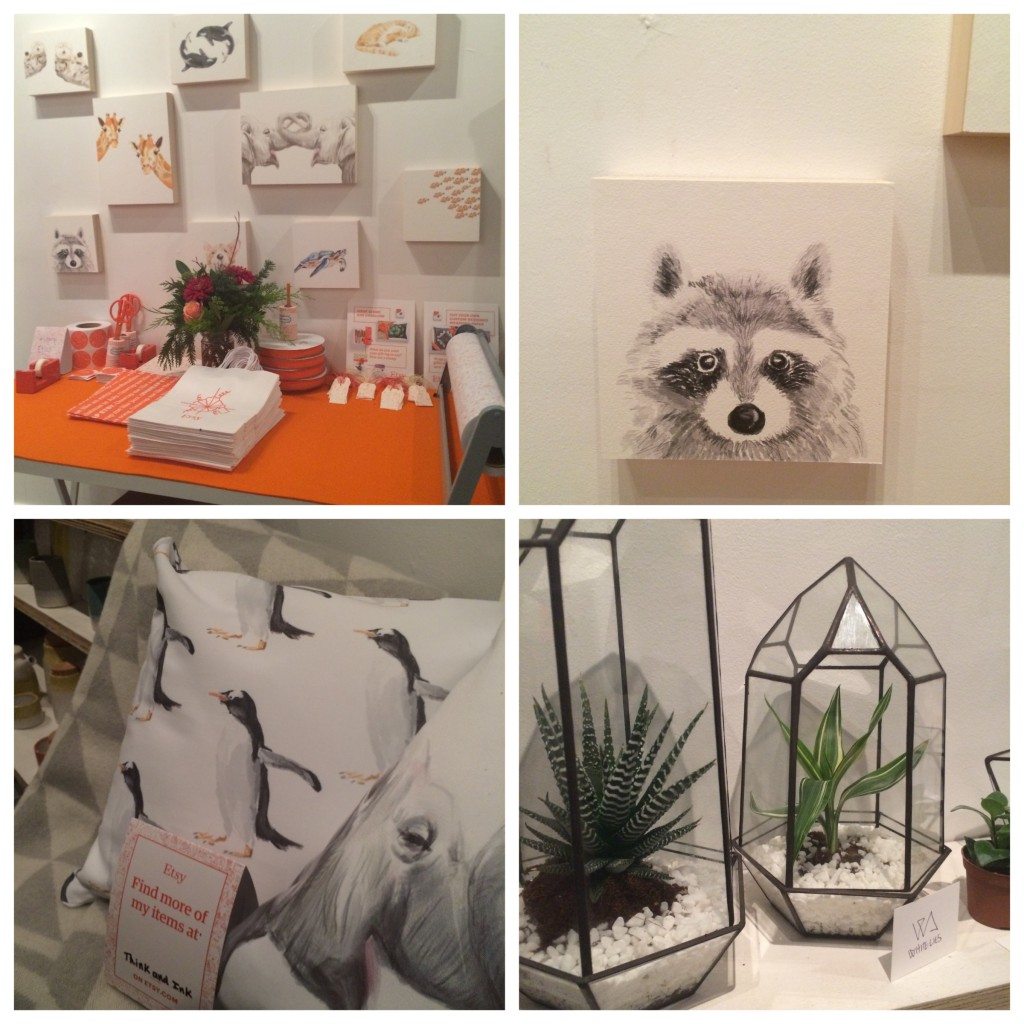 Cards, Magnets, Pillows and More
There's a wide selection of cards from super cute comic narwhals to understated letterpress designs. White Lies Jewelry has a selection of glass panelled terrariums and jewelry dishes. Searching for sushi-shaped fridge magnets? Between Momomints and CraftEdVan, you have several options. There's the bonkers splatter-painted fanny packs from Blim, and the surreal dreamscape pillows and prints from Living Feral. I think nearly anyone would appreciate the delicate cat-ear rings from Foe and Dear.
The pop-up shop also features a wrapping station with Etsy orange ribbons, gift bags, tags, and stamps, so you can truly get it all done and dusted right there. It's definitely worth adding to your list of where to shop in Vancouver this holiday season.
Photo, clockwise from top left: Wrapping station. Racoon print, penguin pillow by Triple Studio. Terrariums by White Lies Jewelry.
Unwrap Etsy Holiday Market
Facebook
November 14-19, 2014
434 Columbia St, Vancouver
Erin McGann
Erin McGann is the former Managing Editor for Vancouver Mom and Toronto Mom Now. She drinks just a bit too much coffee, is a bit obsessed about sourcing local food, plays the cello moderately well, spends too much time on Twitter, keeps honeybees on a rooftop, and has a thing for single-malt whisky. Erin is working on a novel set in turn-of-the-century Vancouver, which her husband, son and dog have to hear about all the time, and also blogs at Erin at Large.